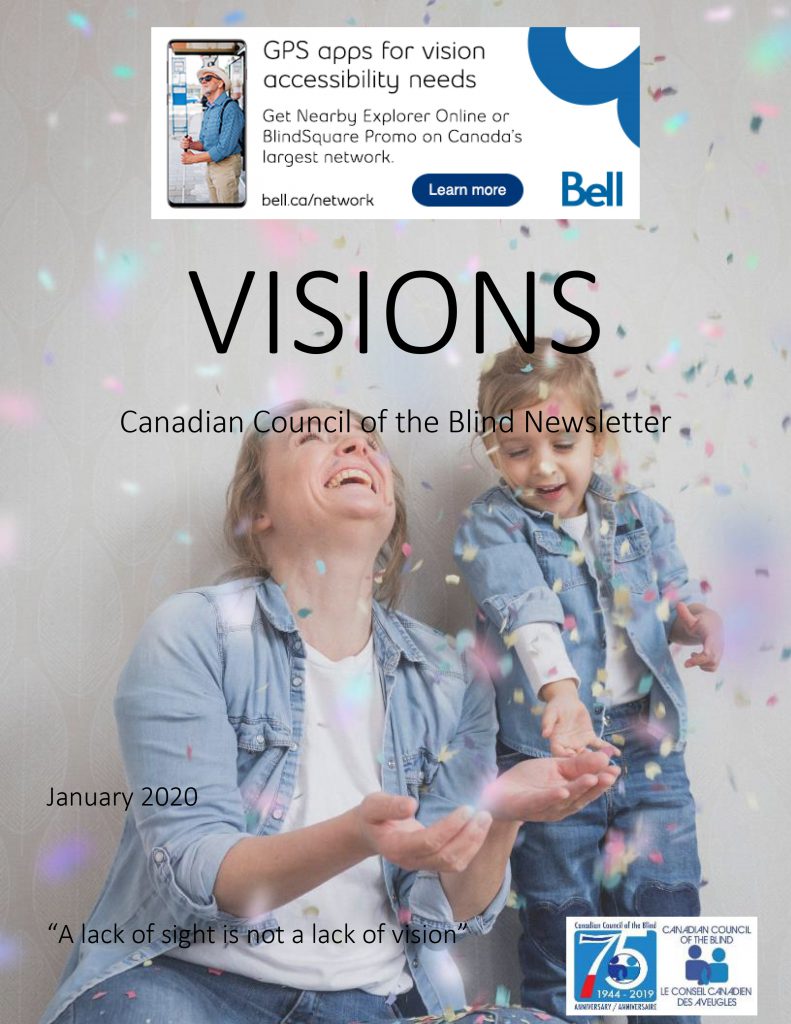 Advertisment: Get GPS apps for vision accessibility needs, brought to you by Bell. BlindSquare Promo and Nearby Explorer Online provide for safe, reliable, and independent travel by voicing directions, points of interest, and descriptions of surrounding areas both indoors and outdoors. Take advantage of these apps anywhere you go on Canada's largest network. Learn more at bell.ca/network. Get Nearby Explorer Online for both Apple and Android devices for $0, or get BlindSquare Promo for Apple devices at an exclusive price of $9.99 for Bell Mobility customers (regularly priced at $54.99). Exclusive price available for a limited time only. Visit bell.ca/accessibility or call 1 800 268-9243 for more information.
VISIONS
Canadian Council of the Blind Newsletter
January 2020
"A lack of sight is not a lack of vision"
President's Message++
What an exciting year – 2020!
2020 could mean perfect vision, but for most reading this message, it is not possible for now, but we can't say never with the speed of technology, some may regain some, or a lot of sight in the years to come. Meanwhile we will continue to enjoy life! For those who already have 20/20 then we remind you to have your eyes examined, maintain a healthy lifestyle, and encourage others to get their eyes examined as well.
I hope everyone has had a relaxing time over the holidays as we get back into work mode. We are looking forward to a busy February with White Cane events taking place in many areas.
February begins in Ottawa with the AMI Canadian Vision Impaired Curling Championship and with some changes to evening activities to keep everyone busy. This year the Experience Expo by the Toronto Visionaries will take place at the end of the week including a forum – check out the ad in the newsletter for the time and place. Fighting Blindness Canada will be holding a Vision Quest in Ottawa on the 11th and together we will hold a summit on the 12th with a dinner in the evening. So some exciting events to check out.
We look forward to a new decade with many changes in our lives as we continue to work with our current programs, and start some new ones, while we make Canada more accessible, improve eye health and the lives of those living with blindness.
I would like to end this message by wishing everyone a healthy and prosperous new year.
Louise Gillis, National President
Announcements
White Cane Week 2020++
Get ready for another fun and exciting awareness week from February 2 to 8. Events include our annual AMI Canadian Vision Impaired Curling Championship and countless local activities. Please visit the CCB website to keep yourself updated on the many exciting events that will be taking place this year across the country. And stay tuned for reports on events in upcoming newsletters!
In Memory: Bill Rizzo++:
As Father Time can be unpredictable, in a time where we were celebrating with family and friends, it is with heavy heart that I advise that a dear friend, and longtime CCB Member and support has left us.
On December 23, Bill Rizzo passed early in the morning in Kingston, Ontario with Wife Lynn at his side, after a series of ongoing health issues. There will be a celebration of life for Bill on Thursday, January
16th at 1:30 pm at Kingston Alliance Church 540 Palace Road, Kingston, ON.
Bill will be sadly missed by the many people he touched over his long career with CCB, as well as his many friends and acquaintances in Kingston and beyond. We have lost a wonderful person.
Submitted by Jim Tokos, CCB 1st Vice-President
January 2020 is Accessibility Month at SBBC++:
For the month of January Small Business BC, Community Futures and Public Services Procurement Canada are offering a number of seminars free of charge to persons with disabilities. Seminars are in-person or via webinar. You just need to follow the link at the end of the below announcement to begin the free registration process. Please feel free to share with anyone you think might be interested.
Announcement:
We have partnered with Small Business BC (SBBC) and Community Futures – Entrepreneurs with Disabilities Program (EDP) to make January 2020 Accessibility Month at SBBC. All of the seminars and webinars in January will feature:
* Free AIRA Access coverage of the building, so that blind and visually-impaired business people can navigate the venue.
* Live ASL interpretation;
* Presentation materials revised to improve readability for those with vision or cognitive impairments
* Dedicated wheelchair accessible space in the room.
* Free access to any presentation for anyone who identifies as having a disability (paid for by Community Futures).
* A "tip sheet" to help presenters make their presentations more accessible. Once it is reviewed by PSPC HQ, we will share with all of the January presenters.
PSPC recognizes that there are likely to be lessons learned over the course of the month before we can truly offer barrier-free service. To the extent possible, we will incorporate those lessons during the month rather than waiting until the end.
Attendees can participate in person at SBBC's Waterfront Station offices or online by registering at Small Business BC:
In Memory: Roy Lesperance ++
September 5th, 1935 – December 30th, 2019
Roy Lesperance, a member of the CCB Windsor/Essex Low Vision Chapter passed away peacefully on Monday, December 30th at Hospice of Windsor at 84 years of age.
Roy Lesperance was a man of singing, service and tenacity. His life was full and by its conclusion had been well used up. He died peacefully in his sleep, having spent the day visiting with the entire Lesperance clan and with the contentment that there was nothing left for him to do.
Born in Sandwich East Township in 1935, Roy was afflicted at birth with congenital cataracts. Never having more than 5% of his sight, he became determined at a young age to not let that affliction define his life. As a young man he was named "Speedo" by his brothers and sisters not just because it was a hit song of the day, but because of his cross country running pursuits. Yes, you read that right, as a young man he was blind and he ran cross country…
Roy attended the School for the Blind in Brantford., Ontario where he learned ways to overcome his disability. He also started developing a love for music along with other students at the school, where he started to develop a distinctive bass singing voice and learning to play guitar and piano.
Upon returning to Windsor Roy started a vocal group called "The Teen Tones". When they won a local Catholic Youth Organization talent show they started to get serious about music, rehearsing the hits of the day and performing at local shows. The Teen Tones eventually became The Chantones when the four members all realizing their French Canadian heritage and looking for a unique name took the phrase "nous chansons" meaning "we sing" and The Chantones were created.
In 1958 a singer who was originally from Windsor, but who was now Detroit based named Jack Scott (Jack Scarfone) was looking for a new sound. At the time Scott was recording on Carlton Records and wanted a more polished sound so he called the Chantones in Windsor and invited them over to his house in Hazel Park where they rehearsed for hours on his front porch, honing the vocal arrangements for the songs he had written and getting them ready to be cut in the studio.
Scott had written a song called "Greaseball" about a friend of his who had spent some time in the Guelph Reformatory, but fearing that the term was a little too derogative the label had him change the name of the song to "Leroy". "Leroy" was cut in the recording studio, prominently featuring the background vocals of The Chantones. Recorded in that same session was a song called "My True Love" also prominently featuring the The Chantones, most especially the bass vocals of Roy.
Roy would reminisce of their time in the studio: "Jack liked the heavy bass sound. When we recorded Jack would put me on my own microphone so he could bring up the bass vocal in the final mix down". Once Scott had the sound that he wanted "on the wax" he sent it to the record company where "Leroy" was released as an "A" side single and "My True Love" as a "B" side. Leroy was zooming up the charts and had already sold over 250,000 copies when a DJ decided to flip the single over and start playing "My True Love". Now a double sided hit single "My True Love" went on to peak at #3 on the Hot 100 while "Leroy" topped out at #25. The single went on to sell over a million copies.
The Chantones went on to record other hits with Jack Scott such as: Goodbye Baby, The Way I Walk and the huge smash "What in the World's Come Over You" which also peaked at #3 on the Top #100. The Chantones also recorded many of their own songs while signed to Carlton, Top Rank and Capitol Records, including a song that Roy had written "Once and Only Once".
In 1961 while Roy and the group were performing in Atlanta, Georgia, their car broke down on Peachtree St. While waiting for a tow the guys ran into a couple of girls who had come to see their nightclub show earlier in the week. One of those girls was Joyce Lou Woods. As Dad's lifelong friend and roommate in the Chantones Jack Grenier later said: "Roy met Joy that day and he fell fast and hard for her". They were married on December 16th of that year in Goldsboro N.C.
Now with a family, Roy decided to depart life on the road with the Chantones and return to Windsor. Soon he was offered a position with the Canadian National Institute for the Blind as a management trainee in Toronto. Roy went on to work for the CNIB in Toronto, Kingston and eventually in 1979 back in his hometown of Windsor. Having first benefitted from the services of the CNIB as a child Roy was passionate about helping blind people adjust to their circumstances.
He was often instrumental in assisting companies to design and build appliances and aids that would help people adjust to their blindness. He was also passionate about educating sighted people about blindness. Each year during White Cane Week Roy would often tour local Elementary schools where he would speak about and take questions from the students about blindness and demonstrate some of the latest technology that was available to help blind people.
He retired from CNIB in 1997.
A dedicated Dad, Roy never let his lack of sight slow him down. Whether it was acting as the Manager for his son Mike's hockey or ball teams and making sure that everyone showed up for games and practices or heading up a raffle so the team could attend a major league baseball game, he was always involved.
Roy never gave up his love for singing or for playing the guitar. Family picnics were never complete until the guitars came out and songs were sung. Roy also joined up with a number of fellow members of the Lions Club to form "Lions Pride" a group that went into local nursing homes to sing for the patients there. As Roy became more comfortable in retirement he started to perform by himself going out with his brother Ray to perform in local nursing homes where he became sought after as an entertainer, eventually performing over 1100 shows. He was recognized for these efforts in 2013 when he was inducted into the Windsor Music Hall Of Fame.
Advertisement: Get GPS apps for vision accessibility needs, brought to you by Bell. BlindSquare Promo and Nearby Explorer Online provide for safe, reliable, and independent travel by voicing directions, points of interest, and descriptions of surrounding areas both indoors and outdoors. Take advantage of these apps anywhere you go on Canada's largest network. Learn more at bell.ca/network. Get Nearby Explorer Online for both Apple and Android devices for $0, or get BlindSquare Promo for Apple devices at an exclusive price of $9.99 for Bell Mobility customers (regularly priced at $54.99). Exclusive price available for a limited time only. Visit bell.ca/accessibility or call 1 800 268-9243 for more information.
Experience Expo Poster
Mark your calendar now! Join us at 'experience' expo 2020. Canada's only consumer show dedicated to Canadians who are blind and low vision. The Canadian Council of the Blind's Toronto Visionaries' Experience Expo 2020 Sat. February 8, 10 am to 4pm.
Presenting Sponsors: Accessible Media Inc. Bel VIA Rail Canada
Gold Sponsors: Bayer, Baushe and Lomb, Best Western Plus, Labtician Thea, Novartis
The Miles Nadal Jewish Community Centre 750 Spadina Avenue, Toronto, ON M5S 2J2.
For more information please visit www.ccbtorontovisionaries.ca.
An Experience Expo Special Event
Your special invitation to attend
The Visionaries Forum:
Independence through fainful employment
Check your calendar and RSVP now!
Saturday, February 8 at 4:00pm
Miles Nadal Jewish Community Centre, Al Green Theatre, 750 Spadina Avenue, Toronto, ON
Last year's forum on Assistive Technology was an overwhelming success, and this year's is expected to be no different. This is your chance to participate in a panel dedicated to a full discussion on achieving gainful employment and the barriers confronting Canadians who are blind or partially-sighted. The forum will be followed by a question and answer session.
The panel will include experts from across the employment spectrum and will be announced the first week of January 2020.
Space is limited to the first 150 reservations. Please send your RSVP to the CCB Toronto Visionaries Voicemail Line at 1-416-760-2163 or RSVP via email to [email protected]
Braille Resources: Where to find them and how to create your own
Looking for braille books, games, or household items? Join us for our first teleconference of 2020 and learn where to find and purchase braille resources.
We will host a lively panel discussion on this topic. If your favourite game or book is not available in braille, our presenters will provide tips and tricks that will enable you to create braille resources of your own.
Date: January 25, 2020
Time: 1pm – 2:30pm Eastern (10am Pacific, 11am Mountain/Saskatchewan, noon Central, 2pm Atlantic)
This teleconference will be held on the Zoom platform and is free of charge to all BLC members. If you are a member of a blindness organization which is a corporate
member, you can also attend free of charge.
To register or to inquire about renewing or obtaining a membership, please email [email protected] by January 23, 2020!
Assistive Technology
Hello. This is Gerry Chevalier from the GTT Edmonton Chapter. This weekly blog provides tips that I find useful as a keyboard user of Windows. The information is for Windows10 and Office 365, although many tips still apply to older versions. The tips do not require a screen reader unless specifically noted. Thus, the tips apply whether you are a keyboard user or low vision mouse user.
Here is a new tip.
Windows Desktop Icon – How to Create a Shortcut key
It's possible to launch desktop icons by holding down Control+Alt while pressing another shortcut letter. To set up a Control+Alt hot key sequence, select the desktop icon by arrowing to it or pressing its first letter. Then press Alt+Enter. Tab to the edit box that is labelled, Shortcut Key. Press the single key that you wish to use as the shortcut key. Just type the single key as Windows will add the Control+Alt keys. For example, if you have an icon to go to the CELA Library web site, you might type the letter C. It must be unique as you can't use the same letter for multiple icons. After typing the single letter TAB to the OK button and press spacebar. You are done.
Now, to launch the icon, simply hold down the Control+Alt keys while pressing the shortcut letter even if you are not on the desktop.
That's it for this tip. Until next time, happy computing.
This is just one example of the informative weekly tips provided in this blog! Check it out!
If you are interested in reading the blog posts, you can read them on the GTT National blog web site ( http://gttprogram.wordpress.com/
If you prefer to receive the posts in your email inbox there is a Follow link at the bottom of that web site where you can submit your email address.
Then you can simply watch your inbox each Wednesday for a new tip!
Exploring the use of smartphones and tablets among people with visual impairments++:
Are mainstream devices replacing the use of traditional visual aids?
I urge you all to check out this well done report by Natalina Martiniello and how it impacts the community of blind, partially sighted and deaf-blind people. You will find the website to be well marked with Heading navigation, so visit the below link with confidence.
Smartphones and tablets incorporate built-in accessibility features, but little is known about their impact within the visually impaired population. This study explored the use of smartphones and tablets, the degree to which they replace traditional visual aids, and factors influencing these decisions. Data were collected through an anonymous online survey targeted toward visually impaired participants above the age of 18, whom had been using a smartphone or tablet for at least three months. Among participants, 87.4% felt that mainstream devices are replacing traditional solutions. This is especially true for object identification, navigation, requesting sighted help, listening to audiobooks, reading eBooks and optical character recognition. In these cases, at least two-thirds of respondents indicated that mainstream devices were replacing traditional tools most or all of the time.
Users across all ages with higher self-reported proficiency were more likely to select a mainstream device over a traditional solution. Our results suggest that mainstream devices are frequently used amongst visually impaired adults in place of or in combination with traditional assistive aids for specific tasks; however, traditional devices are still preferable for certain tasks, including those requiring extensive typing or editing. This provides important context to designers and rehabilitation personnel in understanding the factors influencing device usage.
To read more, please visit:
https://www.tandfonline.com/doi/full/10.1080/10400435.2019.1682084#.Xcr3YgJRFKU.linkedin
Resources
GTT Resources: Disability Supports for Smart Phones/Tablets and Computers, Revised December 10, 2019++:
Please check out this list of resources for your own use:
Disability Supports for Smart Phones/Tablets and Computers
For those who use access technology with the below noted systems, apps and devices, you may access free technical support by using these toll free numbers/email/BeMyEyes contact points.
1. Apple Accessibility Support
1-877-204-3930
2. Microsoft Disability Answer Desk
1-800-936-5900 or,
BeMyEyes app for iPhone and Android:
A) On the BeMyEyes main screen tap on Specialized Help.
B) Scroll to Microsoft and 1-finger Double Tap to open.
C) Scroll to the Call Microsoft Button and 1-finger Double Tap to launch the call.
3. Amazon.ca Disability Line and email address:
1-877-586-3230
http://www.amazon.ca/gp/help/contact-us
4. Amazon.com Disability Line:
1-888-283-1678
5. Google Home/Mini Disability Support:
1-855-971-9121
BeMyEyes app for iPhone and Android:
Contact the Google Disability Support Team for questions on assistive technology or accessibility features within Google products.
A) On the BeMyEyes main screen tap on Specialized Help.
B) Scroll to Google and 1-finger Double Tap to open.
C) Scroll to the Call Google Button and 1-finger Double Tap to launch the call.
6. Freedom Scientific/VFO
Toll Free Number: 1-800-444-4443
7. Rogers Accessibility Desk
1-877-508-1760, or
*234 on any Rogers phone.
In the News
Advocacy
New Federal Cabinet++:
Mandate letters for the new federal cabinet were recently released.
Of note, was the Honourable Carla Qualtrough
Minister of Employment, Workforce Development and Disability Inclusion, which included:
As Minister of Employment, Workforce Development and Disability Inclusion, you will lead the Disability Inclusion file, implementing our Disability Equality Statement.
In particular, you will:
• Continue your efforts in leading the Government's work to promote disability inclusion:
◦ Ensure the timely and ambitious implementation of the Accessible Canada Act, putting relevant policies and practices of the new Act into place and supporting the operationalization of the Canadian Accessibility Standards Development Organization, in consultation with the disability community;
◦ Conduct a comprehensive review to ensure a consistent approach to disability inclusion and supports across government that addresses the unfairness and inequities in government programs and services, and challenges the biases built into government processes. This includes a definition of disability consistent with the Accessible Canada Act;
◦ Undertake initiatives to improve the economic inclusion of persons with disabilities and specifically target barriers to full participation in the labour force, including addressing discrimination and stigma, raising public awareness and working with employers and businesses in a coordinated way; and
◦ Create a workplace accessibility fund to help increase the availability of accommodations that help close the gaps in access to good paying jobs and education.
Also of note, the Health Minister's letter included:
· Ensure that every Canadian has access to a family doctor or primary health care team;
· Set national standards for access to mental health services so Canadians can get fast access to the support they need, when they need it;
· Continue to make home care and palliative care more available across the country; and
· Continue to implement national universal pharmacare, including the establishment of the Canada Drug Agency, and implementing a national formulary and a rare disease drug strategy to help Canadian families save money on high-cost drugs.
It also mentioned the following, among other priorities:
· Ensure that Canadians have access to the medicines they need by taking action with manufacturers, provinces and territories and other stakeholders to address drug shortages.
· Work with Parliament to study and analyze the possibility of national dental care.
· Consider amendments to the Canada Health Act to achieve progress on these priorities, including new accountability standards so that Canadians can know what to expect from the public health system when they need it.
Also of note, the Deputy Prime Minister and Minister of Intergovernmental Affairs' letter mentioned: "Work with the Minister of Finance and the Minister of Health to strengthen Medicare by renewing our health agreements with the provinces and territories. This renewal should: ensure that every Canadian has access to a family doctor or primary health care team; set national standards for mental health services; make home care and palliative care more available; and continue to implement national universal pharmacare."
CNIB Know Your Rights++:
The below is an announcement on CNIB programming, which provides a great service for ALL persons with vision loss, and also offers a way for Members/clients to self-advocate which is definitely a good way for persons with vision loss to learn to speak up for their rights if they feel they have been violated.
*Know Your Rights *
Through Know Your Rights, the CNIB Foundation Ontario has developed plain language resources to empower Ontarians who are blind, partially sighted or Deafblind to better understand their rights, navigate the provincial legal system, and self-advocate to challenge discrimination.
In the fall of 2018, the CNIB Foundation Ontario received funding from the Law Foundation of Ontario to present legal information in a way that speaks directly to our communities' specific needs.
We held eight focus groups across the province, where more than 40 participants and community members shared their experiences with discrimination. Through this research, we identified eight key areas of concern: education; employment; housing; healthcare; transportation; built environment, and government and consumer services. We also identified a need for self-advocacy and essential legal information resources.
In honour of Human Rights Day, we're thrilled to share the Know Your Rights handbooks with you. In addition to these resources, the Know Your Rights team has produced several educational videos and facilitated training for CNIB Foundation Ontario, Vision Loss Rehabilitation Ontario and Deafblind Community Services staff, and community partners.
Visit www.cnib.ca/KnowYourRights
to learn more. If you have questions or comments, please email [email protected]
The CNIB Foundation Ontario continues to seek opportunities to advance this vital work. We will be working with law students from Pro Bono Students Canada to develop additional resources in the coming months.
A special thanks to Avery Au, Shannon Kinch and Kat Clarke for bringing this project to life.
Bausch + Lomb Announces HEALTH CANADA Approval Of VYZULTA for the Treatment of Glaucoma++
Bausch + Lomb, a leading global eye health company and wholly owned subsidiary of Bausch Health today announced that on December 27, 2018, Health Canada issued the Notice of Compliance (NOC) for VYZULTA™. VYZULTA™, the first prostaglandin analog with one of its metabolites being Nitric Oxide (NO), is indicated for the reduction of intraocular pressure
(IOP) in patients with open-angle glaucoma or ocular hypertension. i VYZULTA™ is the first new innovative treatment for open-angle glaucoma in Canada in almost twenty years.
"More than 250,000 Canadians have glaucoma, which is a chronic disease that results in vision loss over time. Ninety percent of all glaucoma cases are primary open-angle glaucoma (POAG)ii," says Richard Lajoie, president, Bausch Health, Canada. "With today's approval of VYZULTA™, doctors and patients with glaucoma now have a new innovative treatment option that can help provide consistent and sustained IOP reduction. High IOP is the only modifiable risk factor that can help slow down the progression of the disease to help patients maintain healthy vision."
Anti-glaucoma medications work to reduce IOP, which is a major modifiable risk factor for glaucoma progression. Reduction of intraocular pressure reduces risk of glaucomatous visual field loss.
The most common ocular adverse events include conjunctival hyperemia, eye irritation, eye pain and instillation site pain. Increased pigmentation of the iris and periorbital tissue and growth of eyelashes can occur.
"VYZULTA™, represents an evolution in topical monotherapy in Canada in the treatment of glaucoma," says Dr. Ike Ahmed, assistant professor, University of Toronto; clinical professor, University of Utah; director, Glaucoma & Advanced Anterior Segment Surgery (GAASS) Fellowship, University of Toronto; and research director, Kensington Eye Institute, University of Toronto. "It is a unique molecule that targets two outflow pathways to improve IOP reduction. I am pleased to see that a recognized eye care company like Bausch + Lomb is investing in innovative research to advance the treatment of glaucoma ultimately to help eye care providers and their patients to preserve sight."
www.ccbnational.net 1-877-304-0968