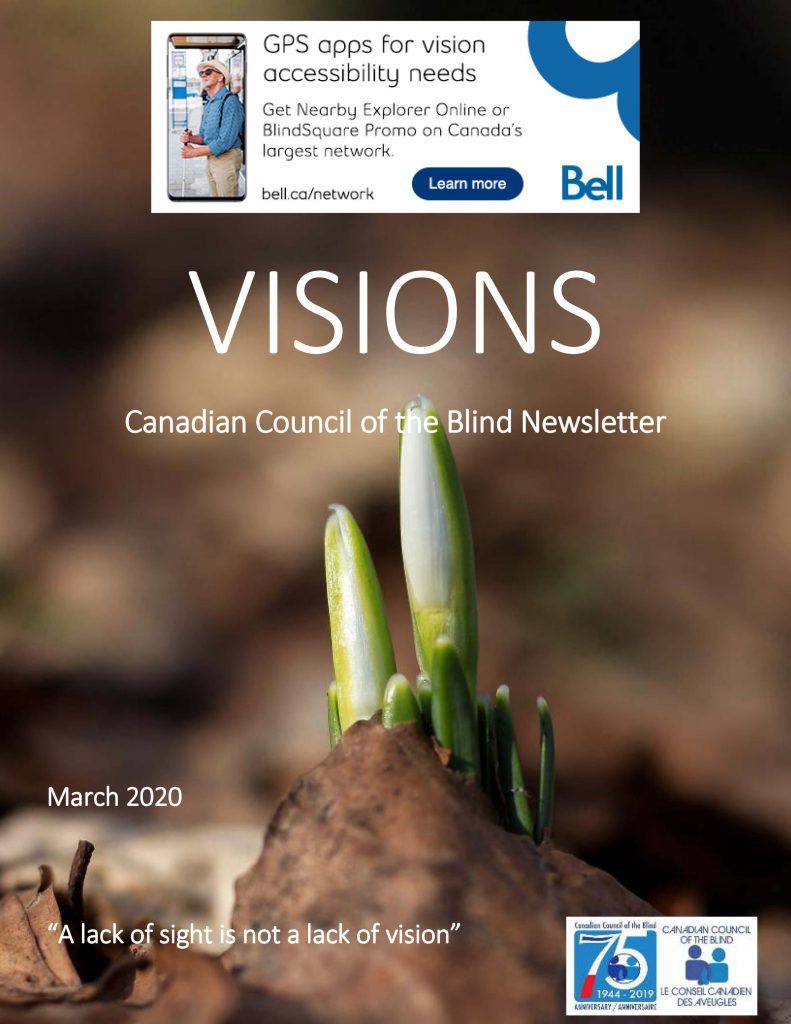 Advertisment: Get GPS apps for vision accessibility needs, brought to you by Bell. BlindSquare Promo and Nearby Explorer Online provide for safe, reliable, and independent travel by voicing directions, points of interest, and descriptions of surrounding areas both indoors and outdoors. Take advantage of these apps anywhere you go on Canada's largest network. Learn more at bell.ca/network. Get Nearby Explorer Online for both Apple and Android devices for $0, or get BlindSquare Promo for Apple devices at an exclusive price of $9.99 for Bell Mobility customers (regularly priced at $54.99). Exclusive price available for a limited time only. Visit bell.ca/accessibility or call 1 800 268-9243 for more information.
VISIONS
Canadian Council of the Blind Newsletter
March 2020
"A lack of sight is not a lack of vision"
President's Message++
After a very busy February we are "marching" along into a month of some very interesting times in March. You will see some very interesting articles in this issue as well.
Our White Cane events were very exciting especially with the Forum, the Summit and the Gala dinner. Our panel and keynote You Tube videos are now available at:
Keynote Speaker: Deputy Minister Yazmine Laroche, Public Service Accessibility, Treasury Board of Canada Secretariat
Panel 1 – Vision Research (Doug Earle, President, Fighting Blindness Canada)
Panel 2 – Living with Vision Loss (Louise Gillis, National President, Canadian Council of the Blind)
Panel 3 – Equity and Access to Vision Care (Francois Couillard, President, Canadian Association of Optometrists)
It would be good to hear of any activities that the individual chapters have undertaken for White Cane Week.
There are a number of Accessibility committee meeting that our representatives have been attending as the Government undertakes varying roles in making Canada accessible. These meetings are in preparation of Accessibility Standards and as soon as we have some information that we can share it will be made available through our website and in future newsletters.
Our membership and advocacy committees continue to meet. The advocacy committee continues to work on transportation in various regions. As well the committee is being kept up to date on the Accessible BC Act and changes around ARIA services. Again once there is positive news on these items they will also be available.
As we continue to work with many organizations and companies to improve accessibility we are very pleased when we have success. One of the most recent successes was in working with Sobeys to make prescription labels accessible directly from their pharmacies through ScriptTalk. Please read their press release in this newsletter under the title Talking Labels Makes Prescriptions Easier to Access for the Visually Impaired at Pharmacies Across Empire's Family of Brands
For more information, check our CCB web site. Or this link.
https://corporate.sobeys.com/wp-content/uploads/2020/02/ScripTalk-Press-Release-02062020.pdf
Louise Gillis, National President
Announcements
Her Excellency the Right Honourable Julie Payette, Governor General of Canada, to Serve as Viceregal Patron, to the Canadian Council of the Blind
February 26, 2020 – Ottawa, ON – The Canadian Council of the Blind (CCB) is honoured that Her Excellency the Right Honourable Julie Payette, Governor General of Canada, has agreed to serve, as its viceregal patron. We recognize this longstanding practice and are committed to Her Excellency's goal "to build on this tradition of recognizing exceptional contributions to Canadian society, by increasing the reach and impact of this relationship."
"The Council is humbled by the continued recognition of its advocacy on behalf of the 1,560,000 Canadians living with vision loss and its role in changing what it means to be blind," said the CCB's National President Louise Gillis. "Whether it's an awareness initiative or advocating governments for improved access and funding, the CCB identifies and addresses the specific barriers and obstacles that confront those with vision loss living in Canada. Our original mission and role (outlined in 1944), to promote the well-being of people with vision loss through advocacy, education, gainful employment, social association, and achieving a better quality of life, continues to this day."
Toronto Ski Hawks Ski Club 2nd Annual Charity Dinner at Medieval Times
*Live Described! This event will have described audio*
Travel through the mists of time to a forgotten age and a tale of devotion, courage and love. Imagine the pageantry and excitement that would have been yours as a guest of the queen ten centuries ago.
See their electrifying show featuring heroic knights on spirited horses displaying the astounding athletic feats and thrilling sword play that have become hallmarks of this unique entertainment experience.
Mark your calendars and join us on Saturday, April 4, 2020 for a medieval tournament and dinner, located at Exhibition Place, Toronto.
Doors open: 6:15pm
Seating: 7:15pm
Dinner & Show: 7:30 to 9:30pm
Cost: $70 per ticket; $65 for CCB members
Please RSVP with the following information:
– Your Full name, phone number, and email
– Total number of dinner-goers in your party
– If anyone in your party will need veggie meals or halal meals
– Specify any allergies or dietary needs (E.g. lactose-free, gluten-free)
Parking is $13 in the lot beside the building; specify to the attendant you are visiting Medieval Times.
Book online at: www.torontoskihawks.org/tickets
Deadline for reservations: Friday, March 20, 2020
World Blind Union Women's empowerment award
This award is meant to demonstrate to persons with sight loss in developing countries that they can be active in society. This is the first time for this award which will be given out during the General assembly this June. I realize that many of you are not aware of folks from developing countries who have been active in the blind community so it is for your awareness. If you do know someone that you may think would be a candidate, then please contact me and I will send you a nomination form. Nominations must be received before March 31, 2020.
Submitted by Louise Gillis
National President, Canadian Council of the Blind
Talking labels makes prescriptions easier to access for the visually impaired at pharmacies across Empire's family of brands
Stellarton, NS – Empire and its family of brands, continue to lead the grocery retail sector in providing inclusive customer experiences as the first national pharmacy network in Canada to offer ScripTalk audible prescription labels at all its in-store and stand-alone pharmacy locations, including Lawtons Drugs, Sobeys, Safeway, Thrifty Foods, Foodland, IGA (western Canada) and FreshCo.
A first-of-its kind at the national level by a Canadian pharmacy network, this rollout offers Canadians reliable access to simple, innovative technology to improve independent management of prescription medication.
ScripTalk audible prescription labels enable blind, low vision or print-impaired pharmacy patients to hear important prescription label information free of charge using En-Vision America's Pharmacy Freedom Program.
With ScripTalk, pharmacists are able to code prescription labels with RFID or Radio Frequency Identification technology. Patients can then use a small, hand-held, base prescription reader called the ScripTalk Station Reader, available free of charge, to hear important prescription information and instructions read aloud (i.e. an audible label). Patients can also access talking prescription labels by using En-Vision America's mobile phone application that is compatible with the coded prescription labels.
"We're proud to offer ScripTalk at all of our pharmacies across the country. ScripTalk is an easy-to-use yet innovative technology that is breaking barriers for those who are blind, have experienced vision loss, or are otherwise not able to read vital prescription information," said Vivek Sood, Executive Vice President, Related Business, Sobeys Inc. "With this technology, we're empowering our patients to independently manage their medications safely at our pharmacies, in their homes, or wherever they may be."
"We at the Canadian Council of the Blind (CCB) are very pleased to be working with Empire and its family of brands to make prescriptions and important medical information more accessible for those of us who are unable to read or have difficulty reading medication labels. ScripTalk provides independence for people with print disabilities. The ScriptTalk audible prescription labels and readers are helping to overcome major issues that our community has struggled with for years.
We're thrilled to see this innovative new technology being offered across all of Empire's banner pharmacies in Canada, including Safeway, FreshCo, and more," Said Louise Gillis, CCB National President.
CCB's Louise Gillis went on to say, "With Sobeys' new talking labels, individuals with sight loss are now able to manage their medications more safely and independently. The CCB estimates that there are 1.5 million Canadians living with vision loss, ranging from partial sight to total blindness. This population is seriously underserved with limited accessible pharmacy provided options for prescription labels. This puts them at risk for misinformation when accessing the pharmaceutical information on the attached labels."
All Empire banner pharmacy locations across Canada, including Lawtons Drug Stores, and in-store pharmacies located in Sobeys, Safeway, Thrifty Foods, Foodland, IGA (western Canada) and FreshCo banners have implemented the ScripTalk service.
About En-Vision America
En-Vision America, a Palmetto, Fla.-based company, provides high-tech products aimed at solving problems for individuals with disabilities.
The company has spearheaded many innovations relating to labeling including voice-enabled products like i.d. mate, the talking bar code reader, and ScriptAbility, which includes talking prescription labels, Braille, large print, dual language and Controlled Substance Safety Labels (CSSLs). Originally founded by Philip C. and David B. Raistrick in 1996, the cornerstone of the company is based on one single premise: To provide those with disabilities equal access and greater independence through technology. Today, more than 20,000 individuals are using ScripTalk. For additional information, visit http://www.envisionamerica.com/.
Braille literacy Canada scholarship.
The 2020 competition for the Edie Mourre Scholarship is now open and will be accepting applications until March 31, 2020.
Are you interested in pursuing a certification in Braille transcription?
Or maybe you have always wanted to study Music Braille?
Perhaps you have been contemplating pursuing Braille studies but the cost has held you back? Your time could be now!
The Edie Mourre Scholarship fund is intended to assist those who are pursuing employment as a braille transcriber or proofreader, or as an educator. Eligible codes include: Unified English Braille, Code braille français uniformisé, Music Braille, or other braille systems.
More information on the program and an application form (in English and in French) may be found online at
http://www.brailleliteracycanada.ca/en/professional-development/edie-mourre-scholarship.
Good luck, and we invite you to share this announcement with others!
Advertisement: Get GPS apps for vision accessibility needs, brought to you by Bell. BlindSquare Promo and Nearby Explorer Online provide for safe, reliable, and independent travel by voicing directions, points of interest, and descriptions of surrounding areas both indoors and outdoors. Take advantage of these apps anywhere you go on Canada's largest network. Learn more at bell.ca/network. Get Nearby Explorer Online for both Apple and Android devices for $0, or get BlindSquare Promo for Apple devices at an exclusive price of $9.99 for Bell Mobility customers (regularly priced at $54.99). Exclusive price available for a limited time only. Visit bell.ca/accessibility or call 1 800 268-9243 for more information.
Call for Participants to form an Accessible Book Club
We are interested in starting a book club! We would meet by phone on our tag line once a month at an agreed upon time. The books would be chosen by the participants on an annual basis in order to give ample time to obtain books from libraries. Changes can always be made within the year if necessary or desired. One specific book would be read and discussed each month. If you're shy, don't feel you have to do a lot of talking especially for the first while. There are usually people to fill in the gaps! Of course we can have people without a visual disability as it is easy for them to obtain books that are available to people with a reading disability. If you would like to join a book club, please get in touch with me and include your e-mail address. If you do not have e-mail please get in touch by phone to make communication easier. Contact me at [email protected]il.com 902-567-6871 and we will make arrangements for a get together and book talk. Submitted by Michelle Bartram
Assistive Technology
Introducing a New Assistive Technology Blog: Windows from the Keyboard Tips
This is Gerry Chevalier from the GTT Edmonton Chapter. This weekly blog provides tips that I find useful as a keyboard user of Windows. The information is for Windows10 and Office 365, although many tips still apply to older versions. The tips do not require a screen reader unless specifically noted. Thus, the tips apply whether you are a keyboard user or low vision mouse user. Here is a new tip.
Windows External Media – How to Safely Remove from the Computer When you are using external media such as a USB drive or SD memory card, there is a recommended method to safely remove it to prevent corruption of the files on the media.
First, use Alt+F4 to close all File Explorer or other apps (e.g.
Word, Excel, Notepad etc.) that are using the external media.
Then you can log off or shut down your computer after which it is safe to remove the media.
If you prefer to remove the media without shutting down your computer, then press Windows key + E to open File Explorer.
Arrow down to the drive that contains your external media (E:, F:, G: etc.).
Press the Applications key to bring up a context menu for that drive.
Arrow down the menu to the Eject item and press Enter to eject the drive. It will not actually pop out of your computer unless it's a CD/DVD drive, but its file system will be released by Windows.
Now it is safe to physically remove the media.
Note that depending how your computer is set up or how you were using the drive will influence whether the Windows Eject function is required but it's always safest to shut down or use Eject to prevent any corruption of the media's file system.
That's it for this tip. Until next time, happy computing.
How do *YOU* Read? NNELS Survey and Focus Groups of Book Reading Habits, Needs and Preferences of Print Disabled Canadians
Follow these links to the National Network for Equitable Library Service (NNELS) ( https://nnels.ca/contact ) survey if you wish to have your reading preferences known.
NNELS is conducting a survey of the book-reading habits, needs and preferences of people with print disabilities in Canada.
Focus Groups
As part of the "How do *YOU* read?" study, NNELS will be conducting six Focus Groups across Canada and online.
Please contact them if you are interested in participating.
Adding Alternative Text to Facebook Photos
Did you know you can help those who have a visual impairment enjoy Facebook even more by doing a quick little thing when you post pictures? After you post a picture on your mobile device, click on the picture so that you see black around the pic, then click on the 3 dots in the upper right hand corner. There you will see "Edit Alt Text". Click on this and add a quick description of the photo. Click save. THEN when folks are using voice over to "read" posts and pics, they will hear your description of the pic. Easy, peasy….it gets quicker the more often you do it!
In the News
Navigation app breaks down barriers for the visually impaired –
Northern Ontario Business
Jeff Godfrey is doing his best to ensure a barrier-free Canada.
The general manager of Y4U Technologies in North Bay has created a platform to solve the issue of building accessibility for those who are blind or partially sighted. He discovered that high unemployment rates and low incomes are persistent problems among this demographic. One of the reasons for this is inaccessible workplaces.
After Bill C-81 was passed in June 2018, Godfrey took a closer look at the accessible building models currently available to the public. He realized that he had the chance to create something, using a sustainable development model, which would address the problem that exists with building navigation.
"I saw an opportunity to innovate on the existing information and technology that we had to have a positive social impact," said Godfrey.
Working with his employer, SRP Building Products, Godfrey and his business partner, Marc Rayner, started to develop AccessiBuild, an indoor navigation system geared towards the visually impaired, in 2019.
The team uses architectural software to create detailed digital maps of physical spaces. The maps are then uploaded onto the platform and made available for download. Anyone who downloads the mobile app on their phone can access the blueprints. Although the creators are targeting those with visual impairments right now, anyone can use it.
They hope to continue to adapt the software in the future for other demographics, including people who use wheelchairs or speak other languages.
Distance and bearings measurements can be customized to suit the user's needs. For example, the app can tell the user how many steps to take to the next door, and whether they should orient themselves left or right.
Using SRP's LiDAR technology, which uses light detection and ranging, the company builds 3D models of spaces that are accurate up to three millimeters. The end product is a streamlined app that makes navigating indoor spaces much easier.
The company's goal is to practice sustainable development. In other words, they want to create technology that will have a positive impact on the world socially, economically, and environmentally.
AccessiBuild is meant to be less cumbersome and expensive than existing technologies on the market. 3D models of physical spaces produce huge data sets which need to be converted and compressed to be useful to someone without access to architectural software. Godfrey and Rayner have sought to simplify the process.
AccessiBuild is free to use, which is important for those without much disposable income. Buildings will pay an initial fee to have their layouts mapped.
The company has been working with various organizations and local users to test the platform. Brian Bibeault, committee chair of the Municipal Accessibility Advisory Committee in North Bay, has been acting as the company's main tester, providing valuable feedback and guidance throughout the development process. CNIB Sudbury's program lead for accessible technology, Victoria Francis, has also been on board. Godfrey has built nothing into the software that they haven't approved first.
"I can't imagine the difficulties that they have as a sighted person," said Godfrey. "We've had to make adjustments, but the feedback has been very positive and encouraging."
The company has also opened up testing to tech trainers in the Canadian Council of the Blind.
The software will be launched on Jan. 10, 2020 at 176 Lakeshore, Co-Working Offices, which also happens to be the first AccessiBuild-enabled building on the platform. The commercial space is "very inclusive and community-oriented," so Godfrey figured it was a great place to develop this kind of software.
By: Colleen Romaniuk
Language Matters
by Dan Spoone
As I write this article, our nation is focused on the impeachment trial in the U.S. Senate. By the time you read this message, the trial will most likely have concluded. The purpose of this article is not to weigh in on the results of the trial, but to comment on some disturbing language I heard during the trial from both sides of the aisle. Versions of this language were used by the litigators, the senators and the broadcast media.
What language am I talking about? The word "blind" in all of its related forms, such as "blindly," "blindsided," "so obvious that Stevie Wonder could see it," "you would have to be blind to not see (understand) the weight of the evidence."
I'm angry! This cultural stereotype hurts our community. How do we fight language that has been part of our society for centuries?
I asked my Amazon Echo for the definition of the word "blind." She responded with five primary definitions and 33 more definitions. The results really disturbed me. Here are a few examples.
As an adjective:
Unable to see;
Lacking the sense of sight;
Sightless.
As an adverb:
Into a stupor at the point that consciousness is lost.
Several other definitions:
Unwilling or unable to perceive or understand.
Not characterized or determined by reason or control.
Not having or based on reason or intelligence.
Lacking all consciousness or awareness.
Drunk – being in a temporary state in which one's physical and mental faculties are impaired by excessive alcoholic drink; intoxicated.
Hard to see or understand.
Made without some prior knowledge.
To make obscure or dark.
To deprive of discernment, reason or judgment.
To outshine, eclipse.
An activity, organization or the life of concealing or masking action or purpose; subterfuge.
Without the ability to see clearly, lacking visibility.
Without guidance or forethought.
Does this bother you as much as it bothers me? Language matters! Blindness is a characteristic of most of us reading this message, but it does not mean that I'm a man who is blind and, therefore, unable to reason, understand or make a good decision. Our use of language implies that sight is good, and blind is bad. Is this fear? Is it ignorance? Is it just easy to pile onto a minority population with a limited voice to protest? Is it fair? Is it right? Does it continue to happen on a daily basis? Are you upset? Are you angry? What can we do to make a difference?
My belief is that we must first start by letting our politicians, media broadcasters, church congregations, neighbors and family members know that we are hurt and insulted when the word "blind" is used to denote someone with lack of intelligence, understanding or bad intentions.
Leslie and I were at our neighborhood grocery store this afternoon, and we were chatting with several of our neighbors at the deli counter. We brought up the use of the words "blindly," "blindsided" and the reference to "it was so obvious that Stevie Wonder could see it." They all agreed this was terrible, and it started a five-minute conversation. It made a difference! This cultural stereotype did not start yesterday, and it won't end tomorrow.
Here's my challenge to you: don't stay silent! Speak out! Speak up! Speak often! Represent your community. Write a letter. Make a phone call. Send a text. Make your voice heard! Together we can get their attention. It's just not right. Being blind is just fine with me. How about you?
www.ccbnational.net 1-877-304-0968