Request for Espressions of Interest for Developing an Accessible Online Platform

Reference: WBU/KLP/EOI/01
Closing Date and Time: 8th December 2020 at 23:59 EST
The World Blind Union (WBU) has recently secured funding to develop an accessible, online knowledge and learning platform for its members and is now inviting interested ICT companies and service providers to submit their Expression of Interest (EOI) to support in the delivery of this exciting initiative.
About the World Blind Union
The WBU is the leading global voice for an estimated 253 million blind and partially sighted persons worldwide. Our members consist of over 250 organizations in more than 190 countries.
Our work is driven by our vision of a world in which we, as blind and partially sighted persons, can participate fully in any aspect of life we choose. We advocate for equal opportunities, and the protection and promotion of the fundamental human rights of all.
Project background
The availability of a one-stop platform where disability advocates from anywhere in the world can easily retrieve useful information and interact with peers is limited to non-existent at present, and yet the potential benefits are plenty. The WBU therefore seeks to offer its national and regional members access to an accessible, interactive online platform filled with rights-based tools and resources that can support them in their advocacy work, and help ensure our voices are heard. The platform, which will be trilingual (spanish, French and English), will serve as both a repository of digital content as well as a space for exchange between disability advocates. It will look to complement, rather than duplicate, existing learning and training platforms that are available to our members.
An end user consultation is currently underway to finalise the required functionality and usability specifications for the platform, which will be structured around the following three proposed core features: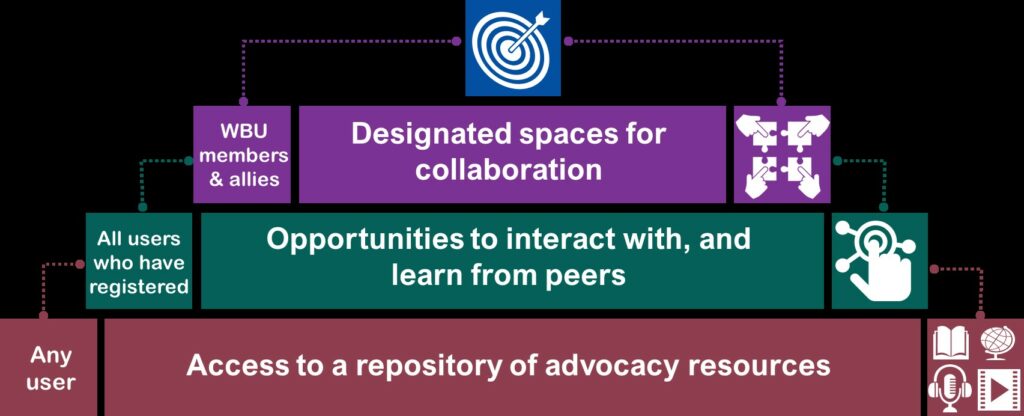 3. Services Required
For this initiative, the WBU is looking to find a suitably qualified contractor to lead the platform design and build workstream, in accordance with the required specifications. The final deliverable should be guided by the principles of Universal Design for which, the contractor will be required to engage with a diverse range of WBU end users throughout the development process. The final product must also aim for the highest level of accessibility possible, successfully meeting at least WCAG (Web Content Accessibility Guidelines) 2.1 Level AA standards. During the assignment, the contracor will be expected to work collaboratively with the WBU project team, providing innovative and constructive advice, options and solutions that ensure a high quality product is achieved.
4. Eligitility Criteria
In order to progress to the next stage of the tendering process, suppliers must domonstrate that they have met the following requirements:
– Evidenced capability to deliver the assignment.
– Demonstrated experience in developing accessible, interactive onoine platforms which meet WCAG 2.1 Level AA standards or above.
– Documentary evidence of a commitment to equality and diversity.
5. Proposed Tendering Process and Timeframes

Stage 1 – This stage of the tendering process will include an evaluation of EOI submissions to determine which potential suppliers have the necessary capability and experience as well as desirable qualifications to provide the required service.
| | |
| --- | --- |
| EOI release date | 24th November 2020 |
| Deadline for receipt of EOI submissions | 8th December 2020 at 23:59 EST |
Stage 2 – On completion of the initial end-user consultation, a formal request for proposals (RFP) containing the tender specification document will issued only to those suitably qualified suppliers that have been selected to participate in the subsequent procurement process.
| | |
| --- | --- |
| RFP release date (only to shortlisted suppliers) | 14th December 2020 |
| Deadline for receipt of RFP submissions | 23rd December 2020 at 23:59 EST |
| Notification of award of contract | 28th December 2020 |
6. How to subit your EOI
Interested potential suppliers are requested to forward their expressions of interest in an accessible format, including the following documents:
– A detailed company profile, including any relevant supporting documents.
– A capability statement with evidence of relevant experience in the delivery of accessible, interactive online platforms.
– A customer reference list with contact details for least three referees.
– Any quality management, accessibility, environmental or other relevant certificates of accreditation your company holds.
– If applicable, a declaration of any actual or potential conflicts of interest.
The above documents should be sent with a covering letter by email to [email protected], with a copy to [email protected], no later than 23:59 EST 8th December. Please include 'WBU Knowledge Learning Platform – WBU/KLP/EOI/01' in the subject line.
After receiving your EOI, a confirmation of receipt will be sent to you via email. Only qualified suppliers that have submitted all the required documents and demonstrated full eligibility with the requirements of this assignment will be invited to participate in the next steps of this tendering process.
Please note that the WBU reserves the right to accept or reject any EOI. Nothing in this EOI shall be taken to form a binding legal contract.