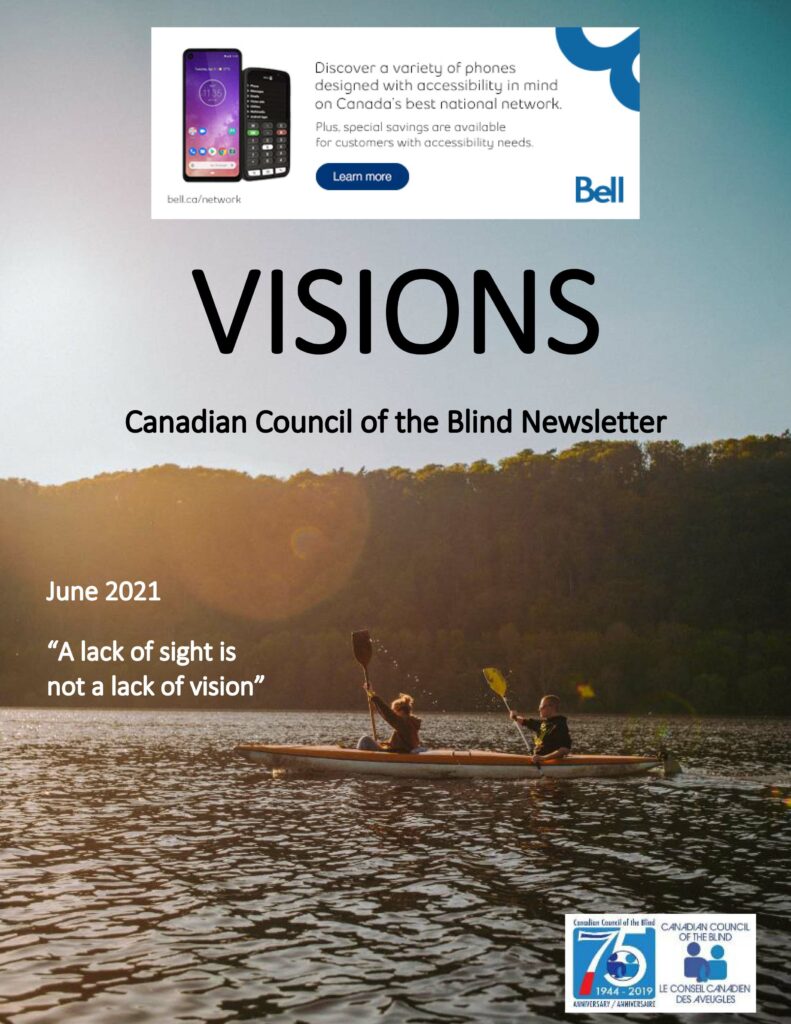 Advertisement: Discover a variety of phones designed with accessibility in mind on Canada's best national network. Plus special savings are available for customers with accessibility needs. Learn more. bell.ca/network Bell.
VISIONS
Canadian Council of the Blind Newsletter
June 2021
"A lack of sight is
not a lack of vision"
President's Message
It is with great honour that I transition into a Leadership Role with the Council.
Having served under John Rempel, Harold Schnellert, and most recently Louise Gillis, I have been the benefactor of a lot of wonderful experience, and I certainly look forward to the challenge Louise has left me, as Louise has definitely made the Council an Organization to be proud of.
I would like to take this opportunity to thank Louise for all her hard work, dedication and leadership over the last decade in her role as President. Under Louise's leadership, the Council became even stronger and well-respected as an national organization. It was not always easy, but Louise persevered through the difficult times and lead the Council toward a more solid foundation. Louise has left the Council very well positioned to continue doing the wonderful work we do, supporting issues that face our community. On behalf of blind and vision impaired Canadians, the Board of Directors and staff, we thank-you for all your tremendous hard work and service.
As the pandemic finally seems to be easing in most areas, we hope that sooner than later Chapters can get themselves back together, and let us be hopeful this in person grounding will in fact become a thing of the past, and we can all get together with each other again.
We have been in contact with many through GTT, and Chapter check in calls, and thank the many who have contributed to keeping in touch with our Members to ensure their safety and necessities are taken care of. Please remember to be cautious until the word is official, and if possible, please remember to get that second shot, as it is of utmost importance.
I look forward to the challenges ahead, and with the support of the Board, staff and Membership, we will take some time over the summer to complete the transition at hand.
I would like to wish everyone the best, stay safe, get some exercise, and sooner than later we will hopefully all be back into the activities we miss dearly.
On behalf of the Board I wish everyone a wonderful summer, and hope September brings us some much needed socializing with Family and Friends,
Jim Tokos
CCB President
Announcements
Every Step Counts: Blind Chicks with Sticks Take a Virtual Cross-Canada Walk
Last year, 7 women who have vision loss took a virtual walk from Vancouver BC to Signal Hill, in Newfoundland. Along the way, they learned more about Canada, motivated each other and maintained good physical health and social connections in the face of a pandemic.
Lois Friesen is a regular participant in the Get Together with Technology's weekly chat sessions on Zoom. Lois's friend, Larena Blanchard, wanted to form a walking group with friends who live in and around Edmonton, Alberta. When travel restrictions and stay-at-home orders were imposed due to COVID 19, they decided to embark on a virtual walk instead. Larena had done a virtual walk with colleagues and had also traveled across Canada with her husband. Everyone was eager to participate, and Blind Chicks with Sticks was launched in April 2020.
Lois was a very enthusiastic participant, and provided GTT members with updates and interesting stories.
Five of the seven members use white canes. For some, especially those with low vision, these canes have become a valuable tool at this time as they help to keep others at a safe distance—particularly for people with little or no peripheral or 'side' vision. Additionally, a white cane helps to identify those with vision loss, and letting others know that they have a good reason for not being able to follow the directional arrows on the floor, or for going in through the out door.
The women in this group walked individually tracking their steps using health apps, Apple watches and Fit Bits as these are accessible with screen-reading/magnification software.
Each week, the group would submit the number of steps they have walked. These are combined into a spreadsheet by Larena's husband, Casey, who then plots their journey using Google Earth. Weekly updates were posted on the group's Facebook page, and included interesting stories about the histories of the places they virtually visited and descriptions of landmarks they'd discovered along the way.
This was truly an exercise for both body and mind.
Each week, the chicks would check in for motivation, encouragement and to exchange tips and strategies for getting their steps done. As everyone's situation is different, there is no competition—every step counts with an emphasis on mutual support. Talk would turn to all aspects of walking, including the best kind of winter boots to wear as they would keep going when the snow was on the ground.
The group would walk indoors and out. Lois said that she likes to walk along Telford lake with her husband. Indoors, Lois walks the halls in the condominium where she lives. Larena described walking in Southern Alberta in the mountains with her family.
Walking around during commercial breaks while watching TV, in the kitchen while heating up a coffee in the microwave, while doing laundry or going to the grocery store were all seen as creative ways to accumulate more steps.
The Blind Chicks with Sticks also took walks in their own neighbourhoods, in malls (when open) and on home treadmills. During a time when many forms of exercise became unavailable, walking is one of the most accessible physical activities that can be enjoyed virtually any time and anywhere.
Every step counts also refers to the accessibility of walking, and that vision loss need not keep anyone from enjoying a walk. Larena had said, "Just because you are blind or have low vision doesn't mean that you can't be fit, healthy and do things independently or with a sighted guide."
On December 6, with 7,228 kilometers walked and 11,852,473steps taken collectively, the Blind Chicks with Sticks reached their goal, and were 'screeched in' on Zoom, supplying their own beverage of choice, and substituting tuna for cod. On January 29, they set out on their next adventure—a virtual walk around Alberta. If you would like to follow their progress, visit their Facebook page:
https://www.facebook.com/Blind-Chicks-with-Sticks-112021257192154
The Blind Chicks with Sticks have demonstrated by example that neither COVID 19 nor loss of sight can stop them. With nicer weather on the way, increased numbers of people receiving vaccinations and the anticipated gradual loosening of restrictions, this may continue to be a great way to be active and stay connected with others.
To hear an interview with Larena Blanchard and Lois Friesen on CKCU FM's Welcome To My World, visit:
https://cod.ckcufm.com/programs/438/49286.html
Perhaps you may be thinking about starting a group and heading out on a virtual adventure. If you are interested in learning more, check out their Facebook page or send an email to [email protected]
Congratulations!
For the second year in a row, Emilee Schevers has won a scholarship from the AEBC—Alliance for Equality of Blind Canadians.
Emilee Schevers is 19 years old, from Kawartha Lakes, Ontario, and a previous scholarship recipient. She was born with a genetic condition called Cone Dystrophy which has caused her to be legally blind since birth.
She is currently a tandem cyclist on Team Ontario in the development program and is working toward her Paralympic dream.
"This was my second year receiving the AEBC Scholarship and it has been an incredible honour.", said Emilee. "This scholarship has allowed me to pursue my educational interests in the field of Early Childhood Education at Mohawk College in Hamilton, Ontario. In my future, I wish to work with children with disabilities to help them succeed as my teachers did when I was younger. "
She continued, "None of it would be possible without this scholarship and I am incredibly thankful for the opportunities it has brought me."
Despite the pandemic, she has even moved into residence in college, living on her own for the first time in her life.
Emilee has enjoyed the transition to online education, as its digital nature has forced teachers to distribute electronic documents, not as an accommodation for her alone but as the norm for everyone. Virtual placements, however, presented some challenges, but she was able to work through them with her teachers.
Emilee went on to explain her involvement with organizations such as the CCB.
"I wear many hats!" she explained. "I am a CCB Youth Representative, CNIB National Youth Council member, and Co-Founder of Tru Faces alongside my sister. Tru Faces has even recently partnered with the CCB Peterborough Chapter to start our Ambassador Program."
Emilee strongly believes in community involvement. "Community is what makes us who we are. My community has taught me leadership, compassion, empathy, and what it means to be a part of something bigger than myself. As someone who grew up in a small town, community was everything. In our community, we have neighbors plow each other's driveways, we gather and support fundraisers for the local curling club, and have pancake breakfasts at the local church. That is just a few of the many things that my community does." She volunteers at the Curling Club to ensure that it can stay open, and volunteers with Cuddles for Cancer, an organization that makes fleece blankets for cancer patients, just to name a few of her volunteer activities. Emilee explained her philosophy: "I spend every day finding the ability in my disability and will continue to push through any barriers to come."
The CCB wishes Emilee all the best in her studies and we know her future will be a bright one!
Read the Report. Sign the Petition. Help Protect Vision Health.
Canada has a vision health care crisis and we have to act now. Every day, people are losing their sight from preventable blindness and the financial burden to our healthcare system, individuals, and communities is in the billions. We're calling on you to join us. If you hurry, together we can demand action from the government to fulfill their commitment made 3 times since 2003 to develop a national vision health plan before another person begins to lose their sight.
Sign the petition now to protect the vision health of millions of Canadians.
You can sign the Petition here:
We encourage you to sign the Petition Right now, as over 8 million Canadians are living with a blinding eye disease that puts them at serious risk of losing their sight. Already 1.2 million Canadians are living with vision loss. The number is growing every day. A new report shows the scale of the crisis: Vision Loss in Canada costs us 32.9 billion dollars in 2019. The impact of vision loss to individuals, communities, and our health care system is nothing short of extreme.
The emerging crisis affects us all — but youth, the elderly, and other vulnerable populations face the greatest risk. Please act now. Over 8 million Canadians are living with blinding eye diseases that can lead to blindness without early diagnosis and treatment… and their time is running out.
Together, we can demand action. You can help three out of four people prevent vision loss or treat to stabilize their sight. You can help ensure regular
eye exams and equitable access to these exams and treatments happens. And you can help urge for more research funding for new treatments to restore sight.
Learn more about the new report at
or in French,
and please sign the petition today.
Your chance to attend the World Blind Union
As a member of the World Blind Union, our organization is happy to invite you to the first World Blindness Summit, an online and fully accessible event
from 25 to 30 June 2021, open to everyone.
What is the World Blindness Summit 21?
This is a cutting-edge and innovative event that embraces the benefits of technologies, creating the first global and accessible online conference.
Features:
On 25 and 26 June: Global Technology & Accessibility Conference (GTAC) and Youth Summit
GTAC: Some of the greatest experts in accessibility and technology, from all over the world and the more innovative and disruptive companies, come together to discuss about the benefit of the latest technologies for inclusion and accessibility.
Youth Summit: An opportunity for youth people to share initiatives, ideas and get to know each other in these challenging times.
From 28 to 30 June: for the first time more than 30 open webinars
You are welcome to participate to our unique program of fully accessible webinars about: new technology trends, inclusive education, parenting, COVID-19, climate change, youth, urban development and many more related topics.
All webinars are opened to everyone, fully accessible and available in 3 languages: English French and Spanish. There is no limit of participants and everyone is welcome to attend once registered.
Why is it unique?
Over 1,000 blind and partially sighted people from nearly 190 countries over the world will participate to share their experiences and practices developed over the past five years, and especially those implemented to cope with the effects of the COVID-19 pandemic in all spheres of life.
Who can participate?
Everyone is welcome to attend, to participate, to listen, to talk, and to share this unique experience. All events of the World Blindness Summit are available in English, French and Spanish.
Why is it interesting to participate?
The achievements and challenges experienced will be analyzed, priorities will be set in this new era beginning by working hard to prevent blind and partially sighted people from being left behind in the digital revolution that has made such great progress in the past months. On the other hand, new strategies will be worked on to give visibility to our reality and above all, to promote everything that contributes to the substantiation of a central goal: to create a new vision of blindness, to enable everyone to fully participate in all aspects of our society.
Who are the organizers?
The World Blind Union (WBU) is the sole voice speaking on behalf of an estimated 253 million blind and partially sighted persons worldwide. WBU counts more than 250 member organizations in 190 countries. WBU ensures blind and partially sighted persons can participate fully in any aspect of life they choose. WBU advocates for equal opportunities, protection and promotion of fundamental human rights of all blind and partially sighted persons, and make sure that their voice is heard.
As a sidelines event of its General Assembly, WBU organizes the World Blindness Summit 21 together with its partners:
ONCE Social Group And the International Council for Education of People with Visual Impairment – ICEVI
You can check out the program here:
https://www.worldblindnesssummit.com/en/schedule/program
It is all free and you have to register here by 5th June:
https://www.worldblindnesssummit.com/en/inscription
To fully enjoy the conference you will need a high speed internet connection and access to Zoom / Teams platforms.
Advertisement: Discover a variety of phones designed with accessibility in mind on Canada's best national network. Plus special savings are available for customers with accessibility needs. Learn more. bell.ca/network Bell.
CCB-GTT PODCASTS
You can subscribe to the CCB Podcast feed by searching for
CCB/Canadian Council of the Blind Podcast on the Victor Reader Stream, or your favourite smart device Pod Catcher. You can use this link to the originating distribution source.
New this week, Kim Kilpatrick, Using the native mail IOS app.
The Government of Canada is hiring!
As part of the Government of Canada strategy for hiring for diversity and our commitment to hiring over 5000 persons with disabilities by 2025, we are pleased to share with you two new recruitment inventories for persons with disabilities in the following fields:
Digital / Information technology
The Government of Canada has the largest technology operations in the country. Our work is fundamental to:
providing secure online access to services
ensuring Canadian values are included in the use of artificial intelligence and emerging technologies
unlocking the potential of open data
enabling the way to the digital age
Policy and Data Careers in the public service are as varied as the number of departments and agencies in the Government of Canada. You could be:
conducting research, studies, forecasts and surveys
participating in consultations and exploring various models to support government priorities
developing policies on guiding government investment programs and economic development activities
developing, analyzing and interpreting qualitative and quantitative information and socio-economic policies and recommendations
Visit this web page to find out more about these and other opportunities available with the Government of Canada. Please note that to be considered for these opportunities, you are required to self-declare as a person with a disability when you apply.
Want to know more? Email us to register for one of our information sessions where we will discuss how to apply, what to expect when applying and answer any questions you may have.
Are you a student? Launch your career with a student job in the federal public service! We offer a variety of jobs across the country in several fields.
We hope that you will consider the Government of Canada for your next career choice.
GC Recruitment Team
[email protected]
Join the conversation:
#MyNextJob
#GCJobs
#NothingWithoutUs
Women of CCB
Come chat, laugh, share a story or listen to a guest speaker at The Women of CCB evening meet and greet.
Open to Women of all ages. Hosted by Leslie and Emilee
We meet every 3rd Tuesday of the month at 7:00 P.M. EST
For the month of June, we have a guest speaker, Laura Feltz Master Results Coach & Hypnotherapist TNLP, MTLT, TCHt
To join please send your name and email to Leslie at [email protected] to be put on the invite list.
Celebrating the Discovery of Insulin.
April 2021 marked the 100th anniversary of the discovery of insulin by Frederick Banting and Charles Best at the University of Toronto. While not often referred to in these terms, insulin may be regarded as a sight-saving medication since controlling one's blood sugar by using insulin is one of the most important things one can do to prevent vision loss as a result of diabetic retinopathy (DR).
DR is a condition that occurs within the eye when elevated glucose levels in the blood due to diabetes cause blood vessels within the retina to swell and leak. This leakage can cause vision loss. Sometimes, new blood vessels may grow into the retina, which can cause further vision loss.
Everyone with diabetes is at risk of developing DR. The risk increases the longer the person has the disease. Almost everyone with type 1 diabetes and most people with type 2 diabetes will develop some symptoms of DR within 20 years of their first diagnosis of diabetes. The risk of developing DR can be lessened if one controls one's blood sugar. After 100 years, the primary method for controlling blood sugar for people with type 1 diabetes is still insulin. We are thankful to Banting and Best for this great discovery.
While elevated blood sugar is a major risk factor for the development of DR, other risk factors for DR include smoking, high blood pressure, high blood lipids, and obesity. Early diagnosis and treatment of DR can minimize any vision loss. For this reason, regular eye examinations are essential for all people with either type 1 or type 2 diabetes. Depending on the stage of the disease, DR may be treated with injections of medications into the eye or by laser or surgical procedures.
Assistive Technology
Introducing the PenFriend 3 Voice Labeling System
Individuals with visual impairments may often need assistance finding specific items around their home or office. The PenFriend 3 Voice Labeling System is one potential solution. According to MaxiAids, the PenFriend 3 is a "best-selling, affordable audio labeler for users who are blind or visually impaired."
The PenFriend 3 Voice Labeling System allows you to label anything and everything with discreet audio labels all in your own voice. This upgraded model of the PenFriend is a slimmer design than the original model and features 4 simple yellow tactile operating buttons against the device's black casing, making it more accessible for those with visual impairments.
Here's how to use the device:
To use, simply allocate one of the coded self-adhesive labels, record and store your message on the PenFriend 3. To play back a recording, make sure that the PenFriend 3 is in the default Recording mode (red light). Touch any label with recordings and you will hear it played back. There is no limit to the length of each message. Auto power-off after 3 minutes.
Overview of PenFriend 3 Voice Labeling System:
With the PenFriend 3, you can:
Label food/freezer items, film/music collections, household objects
Organize letters and other paperwork
Record shopping lists
Leave audio messages
Use it as a portable note taker at the office or classroom
Simply record your message and keep track of it by placing the allocated label in a small notebook
Comes with 8GB internal memory expandable to 16GB with SD card
Up to 250 hours of recording
Comes with:
127 colored labels
10 magnetic labels (great for use on tin cans)
1 key fob with 4 recording spots
Neck lanyard
1 tactile audio instruction card
2 AAA batteries
Use the backup features on your computer to save your recordings using a USB cable (not included)
Visit here to learn more!:https://www.maxiaids.com/Media/Uploaded/300110.pdf
www.ccbnational.net 1-877-304-0968