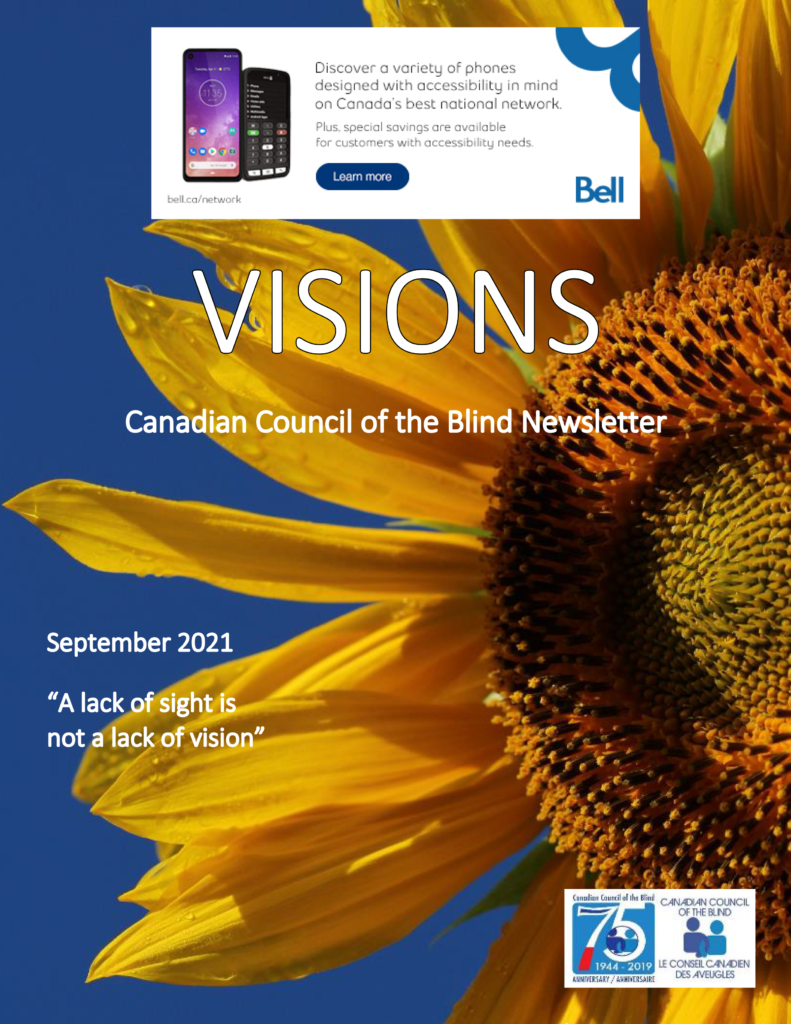 Advertisment: Discover a variety of phones designed with accessibility in mind on Canada's best national network. Plus special savings are available for customers with accessibility needs. Learn more. bell.ca/network Bell.
VISIONS
Canadian Council of the Blind Newsletter
September 2021
"A lack of sight is
not a lack of vision"
President's Message
Happy September! It is now a busy time for all of us at CCB. With the calling of the Federal Election, many procedures are and will be changed due to the Covid restrictions across Canada. It is important that even with short notice, that everyone take the opportunity to exercise their right to vote. Elections Canada has been ensuring the accessibility for those with disabilities are met, including a larger than normal uptake in mail in ballots this Election. We are monitoring and ensuring that all procedures put into place will not affect the impact for persons with vision loss.
September also means back to school for many Canadian youth and students, and the Education dependent on your Province can differ, so it is important to check in with local schools, Colleges, and Universities, as there are daily procedural changes for students for in class and home learning.
Some of our Chapters, again dependent on Provinces, will begin the process of attempting to reunite their Members to enhance their ability to get back together with their peers, and we are looking forward as I am sure all Members are to this opportunity, but please do so with caution. All Chapters should be checking in with their local Health Authorities.
Although travel has also been restricted, it is a wonderful time for us to visit Family and Friends within this great Country, again following procedures by local health authorities, as they differ also from jurisdiction to jurisdiction.
The CCB is continuing to monitor such situations on a daily basis, ensuring the safety of our Members is first and foremost.
We must be vigilant in following health guidelines, to ensure we are doing our part in moving forward and keeping safe, as well as keeping medical appointments to ensure our own health is maintained.
It is of utmost sadness that we grieve for our World Blind Union Regional friends from Haiti, as they continue to feel the effects of numerous setbacks while trying to rebuild, and our thoughts and prayers are with our Haitian counterparts.
On behalf of the CCB Board of Directors and staff, we would like to wish each and all the best, and please stay safe as we slowly return to some type of normalcy.
Jim Tokos
National President
Announcements
Federal Election 2021:
The Federal Election is Monday, September 20, 2021. To find your riding, past results, profile information, list of candidates, you can type your postal code at
https://www.elections.ca/home.aspx
Voting: Tips, Tricks, and best practices:
Join the CCB GTT national call on Wednesday September 8 at 7 PM Eastern time (4 PM Pacific) to talk about voting.
Learn what to expect in the upcoming federal election. Discuss tips and tricks for voting successfully, what tools and assistance will be available, and what could make voting easier and more accessible for you.
We are researching and bringing to the call all of the information we have.
Please come with your ideas, experiences, tips, and questions.
This call will take place over zoom.
If you are unfamiliar with zoom, someone on the GTT team can assist you in learning how to use it.
To receive the registration information, please visit
Gttprogram.blog Or e-mail: [email protected]
If you plan on voting by mail, please apply to vote by mail as soon as possible.
Your local Elections Canada office must receive your completed online or in-person special ballot application by the deadline: Tuesday, September 14, at 6:00 p.m. local time. Your ballot must be returned by Election Day Monday September 20, 2021.
You can also find Important Information and Resources for Voting on the Elections Canada website at: https://www.elections.ca/home.aspx
Accessible Voting:
If you have a disability or know someone who does, Elections Canada has many tools and services to make it easier to vote.
For more information, call Elections Canada at 1-800-463-6868 or 1-800-361-8935 (TTY).
Is my polling station accessible?
All electors are assigned polling stations for Election Day and advance polling days. Make sure your assigned polling station meets your accessibility needs by:
•calling us at 1-800-463-6868 or 1-800-361-8935 (TTY)
Make your voice heard and vote!
We welcome you to join Women of CCB via zoom!
Hosted by Emilee and Leslie. Come chat, laugh, and bring a tea or latté.
Enjoy the company, guest speakers and open discussions every 2nd Tuesday of the month at 7:00 e.s.t. P.M.
If you would like to join in, please reach out to Leslie Yee at: [email protected]
to be put on the contact list.
Zoom invites will only be sent to those requesting to be on the contact list. We look forward to meeting you!
Are you a person with a disability? Are you interested in a career in the digital and information technology fields, or in the policy or data analyst fields?
We are pleased to share with you two recruitment initiatives for persons with disabilities:
Digital / Information technology
The Government of Canada has the largest technology operations in the country. Our work is fundamental to:
providing secure online access to services ensuring Canadian values are included in the use of artificial intelligence and emerging technologies
unlocking the potential of open data enabling the way to the digital age
Policy and Data Analysts
Policy and Data Careers in the public service are varied and the mandates are fascinating. You could be:
conducting research, studies, forecasts and surveys -participating in consultations and exploring various models to support government priorities developing policies on guiding government investment programs and economic development activities
developing, analyzing and interpreting qualitative and quantitative information and socio-economic policies and recommendations
Visit the following web page to find out more about these and other opportunities available in the federal government:
https://www.canada.ca/en/services/jobs/opportunities/government/self-declaring-because-we-care.html
Please note that to be considered for these opportunities, you are required to self-declare as a person with a disability when you apply.
Want to know more? Sign up for an information session! We will explain how to apply to these inventories, the assessment process, and what accommodation measures are available. E-mail us at: [email protected]
Are you a student? Launch your career with a student job in the federal public service! We offer a variety of jobs across the country in several fields.
We hope that you will consider the Government of Canada for your next career choice.
GC Recruitment Team
Join the conversation:
#MyNextJob
#GCJobs
#NothingWithoutUs
Advertisment: Discover a variety of phones designed with accessibility in mind on Canada's best national network. Plus special savings are available for customers with accessibility needs. Learn more. bell.ca/network Bell.
In The News
Province Launches Online Renewals for Ontario Photo Card Holders New Service Provides Fast, Simple and Accessible Digital Solution
TORONTO – The Ontario government is making life easier for Ontario Photo Card holders by providing the option for card renewals online and no longer requiring in-person renewals at a ServiceOntario centre.
The Ontario Photo Card provides Ontarians who do not have a driver's licence with access to their government-issued identification, making it easier for them to do things such as open a bank account, receive a ballot when voting, and perform any other activities that require official identification.
"Our government recognizes that online renewals provide greater convenience and accessibility for people across the province," said Caroline Mulroney, Minister of Transportation. "By giving Ontario Photo Card holders an alternative option to renew in-person, we're helping vulnerable populations and those who have difficulty attending a physical centre keep their ID up-to-date."
"Our digital-friendly government is committed to providing accessible online services that meet the needs of Ontarians," said Ross Romano, Minister of Government and Consumer Services. "The Ontario Photo Card online application is a simple and convenient way for Ontarians to renew important identification anywhere, anytime with the click of a button."
This is the latest service offered as part of the Ontario government's Digital First Strategy, which commits to designing digital products and services that are user-friendly and simpler, faster and better for people to use.
For those who cannot or choose not to renew online, Ontario Photo Card renewals at a ServiceOntario centre will still be available.
In addition to the new online renewal service, the Ontario Photo Card photo image has been extended from a five-year to a 10-year validity period for all renewals. This allows for the same photo ID image to be used the first time you renew your card, either online or in-person.
"The world has changed and government must change with it. That is why we are working to make Ontario's programs and services more convenient, more accessible and more user-friendly," said Peter Bethlenfalvy, Minister of Finance and Minister Responsible for Digital and Data Transformation. "The introduction of online renewals for the Ontario Photo Card is another way we are bringing our province into the 21st century, and moving Ontario onwards."
Quick Facts
The fee for renewing your Ontario Photo Card remains the same at $35.00, whether renewing online or in-person at a ServiceOntario centre.
People can apply for an Ontario Photo Card if you:

do not have a driver's licence

are a resident of Ontario, and;

are 16 years of age and older
UN aims to provide vision care worldwide
New York – New York-The UN General Assembly approved its first-ever resolution on vision, calling on its 193 member nations to ensure access to eye care for everyone in their countries, which would contribute to a global effort to help at least 1.1 billion people with vision impairment who currently lack eye services by 2030.
The "Vision for Everyone" resolution, sponsored by Bangladesh, Antigua and Ireland, and co-sponsored by over 100 countries, was adopted this month by consensus by the world body.
It encourages countries to institute a "whole of government approach to eye care." And it calls on international financial institutions and donors to provide targeted financing, especially for developing countries, to address the increasing impact of vision loss on economic and social development.
According to the resolution, "at least two billion people are living with vision impairment or blindness and 1.1 billion people have vision impairment that could have been prevented or is yet to be addressed."
"Global eye-care needs are projected to increase substantially, with half the global population expected to be living with a vision impairment by 2050," the resolution says.
Bangladesh's UN Ambassador Rabab Fatima introduced the resolution, stressing it's first-ever focus on vision, and calling it "a long overdue recognition of the central role that healthy vision plays in human life and for sustainable development."
She said more than 90 per cent of the 1.1 billion people worldwide with vision loss live in low- and middle-income countries, adding that 55 per cent of blind people are women and girls.
The loss of sight costs the global economy "a staggering amount of $411 billion (U.S.) in productivity each year," Fatima said. Access to eye-care services can increase household spending per capita by 88 per cent "and the odds of obtaining paid employment by 10 per cent."
Although General Assembly resolutions are not legally binding, they do reflect global opinion. Fatima said it was critical for the assembly to convey the UN's "unequivocal commitment to ensure proper eye care facilities for everyone, everywhere, to prevent conditions which can lead to serious and permanent damages."
She called it an "opportunity to change the lives of millions who are living in blindness or with impaired vision."
By Edith M. Lederer, Toronto Star, July 25, 2021
A visually impaired Scarborough girl has won a prestigious award in a North American braille competition.
Janna Cheung, 10, won second place in the Junior Varsity Category at the 2021 Braille Challenge Finals put on by the Braille Institute, which takes place across North America.
Janna is going into Grade 5 this year and in the competition she competed in the Grade 4 category.
She is blind in one eye and has low vision in the other.
"It feels really good. I put a lot of work into it and practiced for years (since Junior Kindergarten)," she said.
Her mother, Mabel Chow, couldn't be more proud.
"She has always been good at academics and learns very quickly," Chow said.
"I read about the Braille Challenge and I wanted my child to participate."
This year's competition took place virtually between June 28 to July 11.
"The Braille Challenge is the only academic competition of its kind in the world for students who are blind or visually impaired. It motivates students
grades 1-12 to hone and practice their braille literacy skills and the winner made it to the top out of more than 1,200 competitors," said Jack Follman with the Braille Institute.
The Braille Institute is a nonprofit offering free programs to people with vision loss since 1919.
Reprinted from the Toronto Sun
Assistive Technology
Introducing…The Companion Cane!
The last year has been pretty tough for everybody, you know that – you were there! And whilst everyone has struggled in some sort of way, there's no doubt certain people have been left behind more than others. One such group is the vision impaired community, who since the very start of COVID-19 have been left with very little clear guidance.
Traveleyes founder, Amar Latif, experienced first-hand this lack of support, particularly in the context of being guided. So, in true Amar style, the cogs started whirring and, thus, an idea was born…The Companion Cane!
'The what now?' we hear you exclaim. Fret not, we will explain everything in detail and we've even made a handy video to show this crafty invention in use! The Companion Cane, in essence, is a device that enables one-on-one guiding from a distance without having to compromise safety. Unlike the white cane, this device is used horizontally with handles at each end – one for a vision impaired person to hold and the other for their guide to hold. You with us so far? Good.
The Companion Cane extends as far as 1.5 metres (handy, right?), but also can be used at 1 metre or as little as 70cm. Originally the Companion Cane was designed to aid with social distancing, but soon we realized 'hang on a minute, this has way more scope than that!'.
Something that most people are lucky enough to take for granted is the idea of just heading out into the countryside for a bit of peace and quiet. It's as simple as chucking on your boots and off you go into the great unknown. For VIs, this isn't an option; how do you explore a new hike alone when you're blind? The Companion Cane allows users to venture out wherever they fancy with their guide and then simply extend the cane to its maximum distance of 1.5 metres to experience walking alone, but in a safe and controlled manner.
Designed with ergonomic handles that provide tactile feedback and used alongside a regular guiding cane, the Companion Cane offers a way for vision impaired people to have some space when out and about and allows a freedom that can be lost in traditional guiding. And when you're finished with it, it collapses down to a handy 34cm that fits in most backpacks or handbags.
Have we piqued your interest? We hope so. If this has tickled your fancy and you'd like to find out more about using the Companion Cane, click the following link to watch Amar demonstrate just how easy it is to use! – https://www.youtube.com/watch?v=cnesPpwux7E
To get your hands on your very own Companion Cane and start exploring with a little bit of space, head to our website here –
The Traveleyes Team
Website: www.traveleyes-international.com
REMINDERS
Membership Madness
Hi Everyone! Becky from the office here. Membership packages have been sent to the chapter contacts of each chapter. Independent membership will be sent shortly.
The Early Bird Draw is back on! Send in your chapter's memberships before October 25 for a chance to win back the memberships paid before this date.
Early Bird Draw Deadline – October 25, 2021
Chapter Rebate Deadline – November 29, 2021
All 2019 Memberships Due – December 31, 2021
White Cane Week Orders Due – December 13, 2021
WCW Insurance Requests Due – December 13, 2021
These dates refer to the time that the memberships arrive in our office either by mail, or by using the new online option introduced last year. https://ccbnational.net/shaggy/membership/
An FAQ that we get every year is what is an AUXILIARY membership. Please find the definitions below.
BLIND – A paid voting member who is blind.
VISION IMPAIRED – A paid voting member who is vision impaired.
SIGHTED – A paid voting member who is sighted.
AUXILIARY – A member who is paying their dues in another chapter, but is also a member of yours. (eg. Sophie is in CCB City Chapter, but she is also part of CCB City Curling Chapter. Sophie is an auxiliary in the curling chapter so she only has to pay her dues once.)
HONOURARY – A member who has been recognized at the national level for their commitment and service. They are the only free voting membership. Chapters may nominate someone for this, but cannot just give it out. A chapter is free to pay the dues of a member they wish to support locally. To get the nomination forms please email [email protected]
VOLUNTEER – A free non-voting member, usually those who help out with the chapter. Sometimes a representative of another group the chapter works closely with.
YOUTH – A member under the age of 18. A parent's signature is needed on their membership sheets.
I hope this helps, and look forward to receiving your chapters' memberships.
Becky
DON'T FORGET DONATIONS!
Donations Received in the office in 2021 are the only ones that can be receipted for 2021. Remember to send those donations in if you want receipts.
www.ccbnational.net 1-877-304-0968