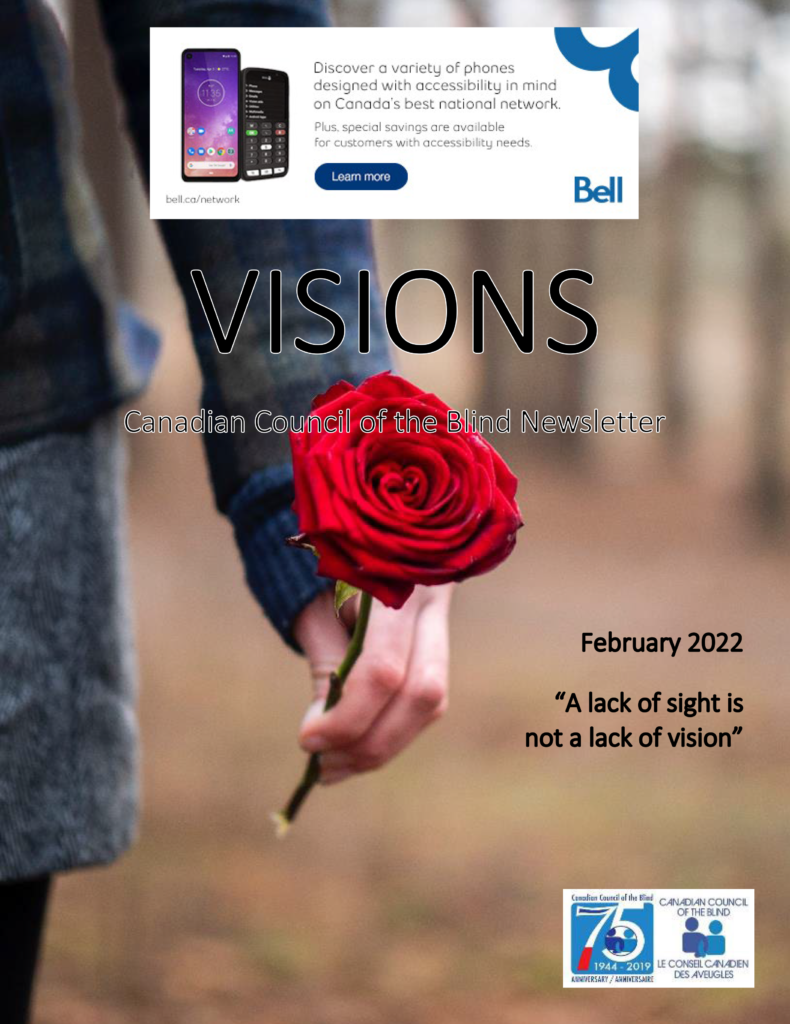 Advertisment: Discover a variety of phones designed with accessibility in mind on Canada's best national network. Plus special savings are available for customers with accessibility needs. Learn more. bell.ca/network Bell.
VISIONS
Canadian Council of the Blind Newsletter
February 2022
"A lack of sight is
not a lack of vision"
President's Message
Happy White Cane Week!
As we turn the page on January, it is exciting that February will bring us White Cane Week, and opportunity to celebrate our abilities proudly. I realize that through conversations with many members across the Country, many are growing tired of issues we face day to day, including the pandemic and the inability to meet with our friends and families. However, we have come this far and let us continue on a positive path toward future events, while respecting public guidelines set forth by local health authorities.
It is important to engage, although virtually, into what programs the CCB continues to offer. Please follow WCW activities, and realize that through our work in advocacy, eye health, and the ongoing implementation process of the Accessible Canada Act (ACA), we are continuing to represent our community well, and we are making a difference.
To mention a few advocacy initiatives we are working on, issues such as self-serve kiosks; self-serve checkouts; bank machines; all of which to many of us with vision loss are inaccessible. We continue to address these issues, as well as other issues which create new barriers for persons with vision loss across Canada.
Also of note, earlier this month, I sent a letter to senior officials in the government, including the Prime Minister, concerning the accessibility of COVID-19 tests and testing locations—the letter appears in this edition of the newsletter for your reference. We continue to act swiftly to ensure that these barriers are quickly identified and minimized, or eliminated completely.
On behalf of the Board of Directors, volunteers, staff, and committees, let us hope the groundhog fails to see its shadow, and bring in an early Spring! Wishing everyone a successful White Cane Week as well as a Happy Valentine's Day! Please keep well!
Jim Tokos, National President
Announcements
Get ready for a different, but still fun and exciting awareness week from February 6 to 12. This year's events will have to be limited due to the pandemic, but will still include innovative local activities. Please visit the CCB website to keep yourself updated on the many exciting events that will be taking place this year across the country. And stay tuned for reports on events in upcoming newsletters!
Toronto Visionaries White Cane Week 2022 Expo Forum: Reforming Ontario's Assistive Devices Program
This year's Forum will be an in-depth presentation on a topic critical to those living with vision loss in Ontario and across Canada. Over the past year, the Canadian Council of the Blind (CCB), in partnership with the Alliance for Equality of Blind Canadians, BALANCE for Blind Adults, the CNIB, Fighting Blindness Canada, and others, conducted a user experience survey of the Assistive Devices Program administered by the Ontario Ministry of Health. The Forum will focus on the results of this important study, including its findings, conclusions, and recommendations.
The presentation will be led by the study's research leads, including Principal Investigator Dr. Keith Gordon, the CCB's Senior Research Officer, as well as Investigators Dr. Chad Andrews and Michael Baillargeon.
Join us virtually!
Please visit the following link to reserve a seat:
DATE: Wednesday, February 9, 2022
TIME: 4–5:30 p.m. EST
THE CANADIAN COUNCIL OF THE BLIND PRESENTS THE PREVENTABLE VISION LOSS AND BLINDNESS SUMMIT
White Cane Week's Summit will be an in-depth discussion by leading experts in eye health, ophthalmology and optometry on just what is preventable vision loss and blindness. The discussion will also look at the main causes of vision loss and blindness and the burden it places on Canada's health system. The panel will discuss where we need to go in considering the state of vision health in Canada, focusing on the following issues: the inescapable reality of unmet need; eliminating the COVID-19 backlog; and a call for comprehensive eye examinations for those most vulnerable, our children and an ever increasing, aging population.
To reserve a virtual seat, please visit:
KEYNOTE SPEAKER: Dr. Diane Van Staden (1)
SPEAKERS: Dr. Marko Popovic (2), Doug Earle (3), Dr. Keith Gordon (4)
DATE: Tuesday, February 22, 2022
TIME: 4:00-5:30 p.m. EST
(1) Dr. Diane Van Staden is an Optometrist, a public health professional and the optometry academic leader at the University of Kwazulu-Natal in Durban,
South Africa. She enjoys an extensive background in public health and development within the field of global eye health and her research interests include a comparison of eye health in various global regions. It is in this context that she was the author of a study published in March 2020 in the Canadian Journal of Public Health, entitled: "The Universal Eye Health Imperative for Canada: An Inescapable Reality of Unmet Need".
(2) Dr. Marko M. Popovic MD MPH (C), Department of Ophthalmology and Vision Sciences, Faculty of Medicine, University of Toronto.
(3) Doug Earle President and CEO, Fighting Blindness Canada.
(4) Dr. Keith Gordon Senior Research Officer, Canadian Council of the Blind.
Aira Helps with At-Home COVID Tests
Testing is serious business. Whether you're fulfilling a negative-test requirement or experiencing symptoms, it's important to work with a trained professional. Aira Agents understand how to direct people through complex tasks. Their skills are developed through hours and hours of experience working with a wide variety of people, on an equally wide variety of tasks. Like a pilot, you want to fly with someone who has accumulated many hours of experience in the cockpit.
Aira's Covid-19 promotion began in March of 2021. Tasks have shifted from scheduling vaccine appointments to assisting with home testing. Using the AIRA APP and our professional visual interpreters, customers have 30 minutes per day to take a rapid antigen or PCR home test.
Details about this promotion can be found by tapping the "Apply a Free Access Offer" button on the Home Screen. Then tap on Promotions. The Aira Covid promotion will appear first in the list. Tap on it to see what's covered or activate the offer. You can also ask your agent during a call about this promotion.
For more, see our web page at https://aira.io/aira-covid-promotion
CANADA POST MAKES MAIL AND PARCEL DELIVERY MORE ACCESSIBLE TO All CUSTOMERS
Delivery accommodation program offers solutions for people with functional limitations and health conditions
As temperatures drop and weather conditions make retrieving items from mailboxes more difficult for some customers, Canada Post wants to ensure everyone continues to have safe and timely access to their mail and parcels.
The Delivery Accommodation Program offers support to residential customers whose functional limitations, limited mobility or other health conditions impact their ability to retrieve mail and parcels from their mailbox.
Accommodation solutions vary and can be provided year-round, temporarily or during winter only.
Accessible solutions
Some solutions make it easier for customers to use their mailbox, such as a key turner, sliding mail tray, mailbox compartment change and/or braille markings. Other solutions help improve customers' access their mail and parcels by assigning them a community mailbox closer to their home, setting up weekly home delivery, redirecting mail to a family member or post office, or a customized solution. As each customer's situation is unique, accommodation requests are assessed on a case-by-case basis.
More than 24,500 Canadians have enrolled in the program since it was launched in 2014 and feedback has been positive.
To learn more about Canada Post's Delivery Accommodation Program and other accessibility initiatives or to submit a request, visit
https://www.canadapost.ca/accessibility
or call 1-844-454-3009.
Breast Cancer Webinar for Blind Women
FRIDAY, FEBRUARY 25 at 12:00 PM – 1:30 PM EST
Please join Accessible Pharmacy Services for the Blind as we discuss accessible breast cancer information, detection and prevention for blind women and their families.
Attendees will be able to download and save an audio description of a breast self-exam, narrated by Dr. Kim Kubek, MD. Dr. Kubek is board-certified in Diagnostic Radiology, an elected Top Doctor of 2020, a member of the Society of Breast Imaging, and the Pennsylvania Radiologic Society, and a board member of BreastCancer.Org.
Agenda:
12:00 – Welcome
12:05 – Dr. Kim Kubek: Breast Cancer Over and Audio Breast Self-Exam
12:50 – American Cancer Society: Accessible Cancer Resources
1:00 – Dr. Jill Lykon: Impact of Cancer Treatment on Medication
1:15 – Dr. Kristin Capece: Cancer Medications
This webinar will have captioning and a live ASL interpreter.
Eligible attendees can receive CE credit through The Commission on Rehabilitation Counselor Certification (CRCC).
To read more in-depth bios of each of our presenters please visit our website: AccessiblePharmacy.com
If you have already registered, you do not need to register again. After registering, a Zoom link and call-in phone numbers will be sent to your email. If you did not receive it, we will be circulating it again to everyone who has already registered.
Questions? Please contact [email protected]
CBC Coverage of the Olympic Games
CBC's coverage of the Opening Ceremony, which was on February 4th, was presented in an accessible manner with closed captioning, described video and ASL integrations. It was also offered in Eastern Cree with live commentary provided by CBC North Cree Unit's Dorothy Stewart and Betsy Longchap. Stewart and Longchap will also provide commentary for select hockey games, with Pujjuut Kusugak and David Ningeongan calling all the action for men's and women's hockey in Inuktitut. Additionally, all of CBC's primetime coverage will be available in described video.
The Olympic Winter Games take place from February 4 – 20. The full event schedule can be found here.
CBC, along with its broadcast partners TSN and Sportsnet, will offer more than 1200 hours of broadcast coverage, with an additional 2500 hours of live sport on CBC Gem, cbc.ca/beijing2022 and the CBC Sports app. CBC Radio One listeners will stay up-to-date with the five-minute LIVE at :25 Olympic Winter Games Report, every hour during regional morning, noon and afternoon drive shows, providing news on Canadian athletes and teams. CBC Radio's flagship news programs World Report, World This Hour and World at Six will also feature live reports and stories from CBC News reporters, gathering information on the ground in China.
Audiences will also be able to stream CBC's coverage of Beijing 2022 live and on demand through Prime Video, and with television service providers
Bell, Rogers, Shaw, Telus and Cooptel. Live event coverage will also be available through fuboTV and RiverTV, and via the CBC Gem and CBC TV apps through connected TV devices Apple TV, Roku, FireTV, Google TV and Chromecast. Additionally, Prime Video users will be able to view CBC/Radio-Canada's CBC 360: Beijing 2022 and Radio-Canada 360: Beijing 2022 channels. Viewers can contact the providers above for more information.
For information about Radio-Canada's coverage, click here.
Reading in the time of COVID: Bringing Book Lovers Together on Zoom
The CCB Listeners Book Club Chapter is made up of blind and partially sighted individuals who love to read, get together, chat, recommend and discuss the books we read every month.
We have been meeting for many years in person at the National office of the CCB in Ottawa, and enjoyed a good discussion about our books over a cup of coffee. We share the responsibility of choosing the books that we will read, which broadens our literary horizons. On occasion, we have had guest appearances from authors.
Happily, we have continued our meetings during the pandemic via Zoom and this has opened the door to welcome people from beyond the boundaries of Ottawa, including other provinces. Therefore, we would like to invite blind or visually impaired people who enjoy reading to join us.
We meet on the first Tuesday of every month from 10:00 am to 11:00 a.m.
Eastern Time to discuss the book that we have chosen for that month.
If you are interested in joining us, you only need to be, or become a member of CCB. Membership is $10.00 per year.
You will need to be able to download the books from the CELA library.
Assistance may be provided through CCB's Get Together With Technology program. If you are new to Zoom, we'll help you to get set up.
For more information and to register, please send an email to Gabriela at [email protected] We look forward to hearing from you.
Submitted by Shelley Ann Morris
CCB Peterborough Chapter's New Partnership
It is with great pleasure that the CCB Peterborough Chapter announces their partnership with Charlotte Cares by Charlotte Products in Peterborough Ontario
We have been very fortunate to have received many donations of gently used visual aids for our lending library, called "From the Blind for the Blind". As a result, we found ourselves in need of an accessible, comfortable, warm place to house and display many of our items.
About Charlotte
Since 1986, Charlotte Products Ltd™ has been helping people everywhere live healthier and safer lives. We are the pioneers of certified green cleaning and a leading performance formulator and manufacturer globally supporting our partners by creating effective, healthy and environmentally responsible cleaning solutions. We combine sustainable, green certified and innovative products with simplified programs, product training and resources by market segment, to inspire our customers to join us as industry experts creating safe healthy spaces. Given today's climate with the current SARS-CoV-2 (Coronavirus) and COVID-19 Disease globally, Charlotte Products shared insight and knowledge transfer has never been more important.
Charlotte Cares, an outreach program by charlotte Products which supports local initiatives, has partnered with us and offered such a space. Their goal is to "Volunteer in our community as often as possible to collectively make a difference and inspire others to participate in creating safe healthy spaces for future generations."
Together, Charlotte Cares and CCB Peterborough Chapter has created a safe, warm space so we can take in members, and anyone from our community who is interested in trying out and seeing if any of our visual aids will suit them and meet their needs.
This service is open to everyone and at no cost to them. We can be reached via email [email protected] to find out what is in our library and set up an appointment to come to the space.
Advertisement: Discover a variety of phones designed with accessibility in mind on Canada's best national network. Plus, special savings are available for customers with accessibility needs. Learn more. Bell. bell.ca/network
Update from Bowls Canada

*This note was passed along to the Visions newsletter from Elizabeth Mayo, a passionate lawn bowler and member and supporter of CCB. We would like to wish Elizabeth luck in upcoming events!

My name is Don Caswell. I am the Interim Performance Manager for Bowls Canada Boulingrin. One of my responsibilities is in the continued development of Para Bowls within the BCB framework. On that note I have some exciting news to share with you today.

Commonwealth Sport Canada has submitted, on our behalf, an expression
of interest to participate in the B2/B3 Mixed Pairs event in the Birmingham
2022 Commonwealth Games. The Games run from July 28, 2022 to August 8, 2022. I will keep you informed as we move along
with the Commonwealth Games initiative.

The other good news is that we have finalized the plans for the first BCB
Sanctioned National Para Bowls Championship. It will be held in Windsor,
Ontario from September 11, 2022 to September 17, 2022. It will include all
classifications and should stand as an example of the good things happening in bowls.
Advocacy
At-Home COVID Testing
In our continuing advocacy efforts to ensure blind Canadians are receiving equal health care related to the COVID-19 pandemic, Jim Tokos, CCB National President, recently sent the following letter to the Prime Minister, as well as select Members of Parliament.
We at the Canadian Council of the Blind (CCB) are writing to you today on behalf of over 1.5 million people who are blind, deaf-blind, and partially sighted and who once again are experiencing special and unique challenges due to the impact of the Covid19 pandemic. More specifically we are concerned about the Inaccessible Covid Tests at a time when self-testing is critical.
We appreciate that the Canadian government is working with the provinces to distribute free at-home Covid-19 tests to households in Canada. It is our sincere hope that these tests, as well of those offered for sale by independent retailers, are accessible and can be used independently by someone with limited or no vision. We want to provide supports so that individuals will be able to self-test and know their personal health situation and then follow up with appropriate next steps, based upon test results. Presently it is clear that self-testing is imposing yet another access barrier for our population, a matter that the Accessible Canada Act is working to prevent.
Further, as more and more in-person testing locations are declining to test while health facilities are in crisis this matter takes on even greater urgency.
The Canadian Council of the Blind will communicate any updated information to our members once we receive any updates.
FBC Screens Off for Sight Campaign
Saturday, March 19, 2022 at 6 p.m.
Canadians spend 11 hours a day looking at a screen. This can lead to red, watery, or dry eyes, eye fatigue, difficulty focusing, nearsightedness, headaches, and retinal damage.
Fighting Blindness Canada challenges you to give your eyes a break and turn off your screens for 24 hours. Your participation will raise awareness for sight-saving research and give your eyes a much-needed rest!
Become a fundraiser!
Register and create your own fundraising page
Share the challenge with friends and family
Post a link asking for donations to support your 24-hour challenge
Use all your social networks and ask others to join you
Raise funds for vision loss research.
For more information visit: www.fbcscreensoff.ca
Advertisment: VIA Rail Canada, Ready for your comeback?
In The News
How Guide Dogs for the Blind is honoring Betty White
Betty White was a longtime supporter of Guide Dogs for the Blind (GDB), and they are honoring her by naming one of their Golden Retriever puppies after her.
White, who died Dec. 31 at 99, was a lifelong animal lover who supported GDB among other animal organizations. CEO Christine Benninger told TMZ that White was a friend of the association for 35 years.
The puppy, who has been named Betty Rose, will go to a puppy raiser when she's around 6 weeks old. Betty herself was a raiser. She adopted a Golden Retriever named Pontiac who was her dog for many years.
GDB is the largest guide dog school in North America.
The following story is continued from the January 2022 Visions newsletter entitled:
The School That Created a City for the Blind
During the pandemic, Mahnke taught students about the Covid-19 infection curve using raised charts printed on swelling paper. When the school closed to stop the spread of the virus, teachers posted models to home-schooling students. Each model is tested by pupils at the school, further refined with their input, and produced in the school's in-house workshop.
In recent years, the Carl-Strehl-School has started accepting a limited number of sighted children, who learn alongside their blind classmates using multisensory materials, which in their case also incorporate sight. Research has shown that children and adults learn better when they can grasp new information with multiple senses, and not just visually. Mahnke says in his own experience, "multi-sensory experiences lead to much deeper and longer-lasting learning".
For Portz, it was not just the school that broadened his world. He fondly recalls moving around Marburg with confidence, assisted by beeping traffic lights, talking bus stops, and a sighted population very used to interacting with the blind. Bus drivers in Marburg are trained to stop to give blind passengers easy access, shop assistants routinely deal with blind customers, and many restaurants offer menus in Braille script. He's encountered some of these elements in other cities, but never in the form of such a comprehensive web.
"In Marburg, all these individual elements are very well-connected, and there are few gaps," he says. "It's also the mentality in Marburg. There's the Blista, and many stay on to study at the university, so there are many blind people, and every institution is confronted with that, sooner or later."
Uwe Boysen is a retired blind judge and former president of Germany's association of blind and visually impaired students and professionals, the DVBS, which was founded in Marburg. He attended the Carl-Strehl-School and then studied law in Marburg in the late 1960s.
In his opinion, the sense of community and self-help that has evolved in Marburg plays a crucial part in sparking innovation: "It gives you courage, it makes you dare to try out new things."
That self-help spirit shaped Boysen's own educational path.
Professional opportunities for blind people were more limited when he was a student, though he estimates there were about the same number of blind judges in Germany as there are today, over 100, also because of the war blind. He and his blind peers invented many aids on the fly, swapping recorded tapes of their textbooks, and later, using their legal skills to campaign for more rights.
Bahaddin Batmaz, a blind software developer and accessibility trainer in Marburg, argues that many of its accessible features hold important lessons for innovation as a whole. One is that good design benefits everyone. He gives the example of the talking bus stops, which announce the next bus and its destination when a button is pressed. In his experience, many sighted people find this function convenient, too. Similarly, when he makes a website more accessible to screen readers, its search ranking usually jumps as well, because the underlying technology is the same.
"Linking together technological innovations, and the human and social factor, is hugely beneficial," he says. "If you're not constantly wondering how to cross the road, you're less stressed. You're not already totally overwhelmed by this stupid road, and then you're also more open for innovation, and more accepting of others."
Dago Schelin, a sighted filmmaker and media studies researcher at the Philipps University, comes to a similar conclusion in a case study of Marburg as a model for inclusive innovation. He and his co-authors describe it as a "smart city for the blind", and argue that "Marburg appears to specialise in an alternative mode of smartness". Instead of revolving around digital technologies, this type of smartness is more human-oriented. It centres on supportive interactions between differently abled people, and on accessible institutions. Schelin and his co-authors suggest that Marburg might become "a reference for prospective smart cities", with accessibility perhaps becoming "one of the criteria for a city's smartness status."
I think the most difficult barriers are the ones in people's heads – Leonore Dreves Schelin, who is from Brazil, experienced this innovation-boosting effect himself when he moved to Marburg in 2014. He met blind people interested in filmmaking, and developed multisensory methods for teaching them. "It strengthened my notion that filmmaking is a community effort," he says.
Leonore Dreves, a blind software developer in Heppstadt in southern Germany, leads the science, technology, engineering and mathematics sub-group of the DVBS professional association. Most members of the group work in information technology, a comparatively accessible sector. But even there, too many digital barriers remain, according to Dreves. Changing human attitudes is also part of the challenge: "I think the most difficult barriers are the ones in people's heads. In my own case, as a woman and blind person, I had to prove myself for a long time before my colleagues accepted that I can do it just as well as them."
Around the world, blind innovators are slowly dismantling some of those barriers. The chemist Mona Minkara is designing an inclusive STEM curriculum, the computer scientist Chieko Asakawa is developing accessible artificial intelligence, and the astronomer Wanda Díaz-Merced is using sound to study space, to name just some.
In Düsseldorf, Portz continues to work on making his own environment more accessible. Sighted friends help him with his image-heavy textbooks, describing charts and pictures. During the pandemic-related university closures, he listened to his recorded lectures at double speed, slowing down for the more complex bits. He still discusses new ideas for science materials with his former teacher, Mahnke, and continues to feel inspired by his old school. "It gave me a super strong push," he recalls of his time there. "I realised what was possible, and what can be made possible."
BBC News
www.ccbnational.net 1-877-304-0968