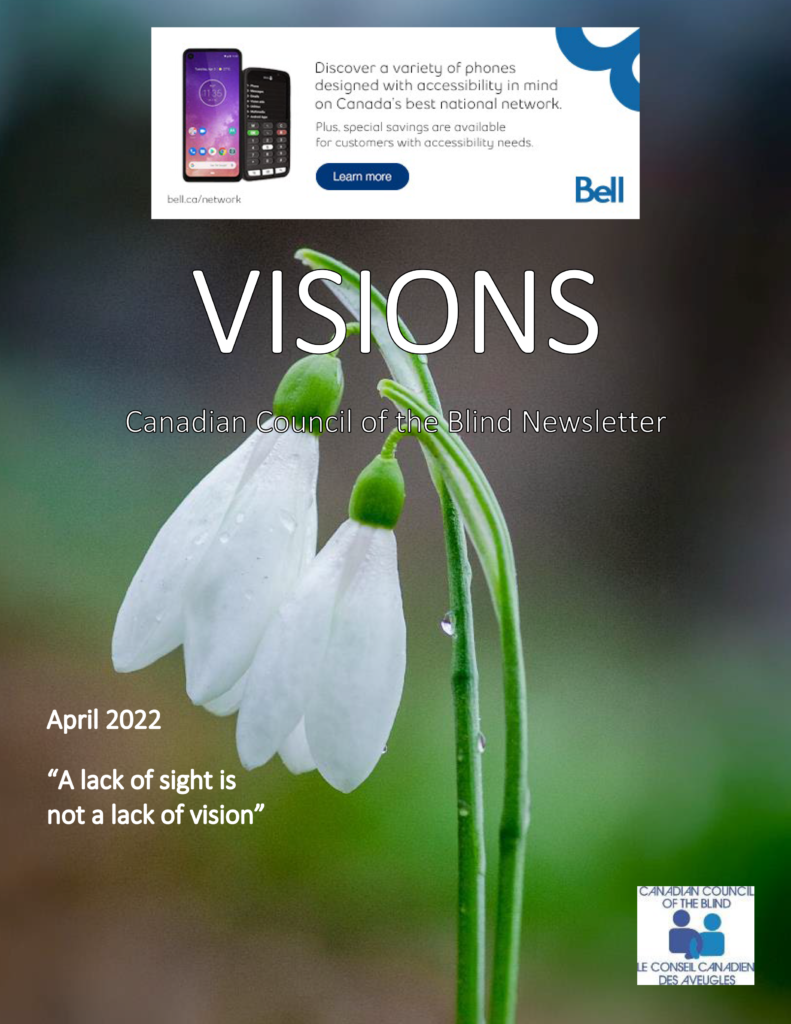 Advertisement: Discover a variety of phones designed with accessibility in mind on Canada's best national network. Plus special savings are available for customers with accessibility needs. Learn more. bell.ca/network Bell.
VISIONS
Canadian Council of the Blind Newsletter
April 2022
"A lack of sight is
not a lack of vision"
From the Desk of Mike Vrooman
Greetings to all CCB Members!
I have been asked to share with you a little bit of my personal story, and my role to date as a member of the Board of Directors for CCB National.
I entered the world of the Visually Impaired in 1987 when I was diagnosed with a rare form of macular degeneration. I had been active in sports all my life, and at the time of my diagnosis thought sports would no longer be an option for me. Then I discovered sports for the visually impaired. This discovery lead to building relationships with people across the country and internationally. I continue to golf and curl with both sighted and visually impaired people. My family, friends, community, and involvement with CCB have supported me, encouraged me, and enriched my life.
I was asked to Chair the Bylaw Committee about 2 years ago, and was honoured to work with several members of CCB for 18 months as we worked through all the changes. This was no small task, and I was very proud of the work that was accomplished by the Committee as we finished. The new Bylaws were passed at the last Annual General Meeting.
I am looking forward to seeing what CCB may have in store for me next as a Board Member. CCB does so much for so many, and I am honoured to give back as a member of the Board of Directors.
Regards
Mike Vrooman
2nd Vice President, CCB National
Announcements
A few weeks ago, I was asked by the city of Ottawa along with others in the blind/low vision community, to participate in a meeting where we were introduced to some new electric buses being piloted here.
I am totally blind and a very independent traveler, I have been advocating for many years for electric vehicles to make more sounds. We need to hear them in order to read traffic safely at intersections, to know when a ride share or taxi or adapted transit vehicle has arrived, to hear a vehicle pulling out of a driveway or parking lot, and more.
I was very concerned about these buses. We met at city hall and boarded the bus which had some nice accessibility features. The accessibility seating area had seats like theatre seats which pull down and pop up when you stand up. This is nice as my guide dog was able to fit in beside me and it was easy to find and sit in these seats. The interior bus announcements over the speakers were louder and clearer because the bus motor itself was quieter. The bus was extremely quiet.
It is equipped with a system to make a sort of white noise sound out of its external speaker at all times so it can be heard by people outside.
We rode the bus to a high traffic area where we exited the bus and stood at the stop for several minutes. The driver went past us several times so we could hear the bus approaching and leaving the stop.
The sound was different but easily heard over traffic as it approached. Hearing that plus the external bus announcement out of the same speaker, made it easy to target the door. The sound comes out of a speaker just to the left of the front door of the bus. The sound of the exterior announcement was loud and clear.
We had one concern and expressed it to city staff. Would we be able to hear one of these buses waiting at an intersection that we might be crossing? They have agreed to allow us to test this at another time.
I was quite pleasantly surprised with these buses, and I am always grateful when we are consulted and our feedback is heard.
By Kim Kilpatrick, Founder and coordinator, Get Together with Technology (GTT) program, CCB Staff
Atlantic Sports & Recreation Weekend
The Atlantic Sports & Recreation Weekend will be held in St. John's from May 20th to the 23rd, 2022. We will be welcoming Blind & Visually Impaired Athletes and their escorts and friends to the Newfoundland & Labrador provincial capital for a weekend of Sport, Recreation, Social activities and of course fun.
Schedule of Events
Thursday, May 19th – Friday, May 20th
Friday, May 20th, 2022
Sunday, May 22nd. 2022
We are excited to see you all and we hope you will have a great weekend filled with fun, friendship and happy memories.
For more information, please contact Hosting Committee Chair Elizabeth Mayo at [email protected] or call at 709-229-7205.
Announcing "We're With U" Concert for Ukraine
On Saturday, April 16th (Sunday, April 17th in Australia and New Zealand), the global online blind community is joining together for We're With U, a benefit concert to help blind people who have been affected by the atrocities in Ukraine.
In the name of the event, the letter U rather than the word "Y O U" stands for Ukraine. The official social media hashtag for the event is #BlindWithU.
The purpose of this note is three-fold:
1. Listen. Mark your calendar for Saturday April 16th at 11 AM Pacific, 2 PM Eastern time in North America, 7 PM in the UK, and Sunday morning at 4 AM in Eastern Australia, 6 AM in New Zealand.
2. Participate. If you're a blind performing artist, you know that music has power. Please discuss what you'd like to do by sending an email to [email protected] Submissions need to be received by 11:59 PM Eastern time in North America on April 8, 2022.
3. Support. World Blind Union will manage funds. Details of donations are still being worked out.
For more information, please visit:
(unlike the name of the event, the With You is spelled out in this URL.)
This concert is all about community. Everyone is invited to listen, making a donation is entirely optional. As we get closer, we will share details about where and how you can listen.
In Touch-BBC Program Highlights Experience of Visually Impaired in Ukraine
On this program, we speak to three Ukrainians, two of whom are visually impaired, about their efforts to help refugees cross the border into Poland to escape the ongoing war.
You can download the episode or read the full transcript at the following link:
https://www.bbc.co.uk/programmes/m0015b0d
Call for Participants: Standing Up for Vision Health
The IFA's Eye See You Programs' goal is to raise awareness about emerging vision-related policies, facilitate timely access to educational resources on biosimilars, connect Canadians to experts in vision health, and create opportunities for Canadians to engage in the discourse surrounding biosimilars in ophthalmology.
The IFA is looking for participants for a patient video series focused on experiences with biosimilars. To be part of this series you need to have switched from an originator biologic to a biosimilars medication.
If you are interested in participating, please contact Ms. Anais Diaz, Project Officer, [email protected] for more information.
Advertisement: VIA Rail Canada, Ready for your comeback?
Elections Canada is Recruiting Returning Officers
Elections Canada is currently recruiting returning officers in several ridings across Canada. This is a great opportunity to take part in democracy and embrace new challenges.
If members of your network are seeking new opportunities and are well-organized, committed leaders in their community, encourage them to apply now.
Federal returning officers are responsible for the delivery and control of federal electoral events within their riding. Their work is by nature impartial and non-partisan, and they must conduct all business accordingly.
If you have any questions or feedback, please do not hesitate to contact us.
For more information, visit www.elections.ca or Elections Canada's social media accounts.
Advertisment: Discover a variety of phones designed with accessibility in mind on Canada's best national network. Plus, special savings are available for customers with accessibility needs. Learn more. Bell. bell.ca/network
In The News
Canadian cross country legend McIver makes history with 16th gold at Paralympics
It was a happy coincidence that Brian McIver wore the number 16 bib on Saturday.
Canada's cross-country skiing legend took home his 16th Paralympic gold as German alpine skier Gord Scheufelder tied for the most wins by a Winter Paralympic man.
McKeever wrote a golden final chapter to his brilliant career, claiming victory in his last singles event at the Paralympic Games in Beijing, along with his guide and longtime friend Graham Nishikawa.
The 42-year-old from Canmore, Alta has swept the podium in all three individual cross-country events in four consecutive Paralympic Games.
He said it was never about making history for McKeever, it was about one race at a time and enjoying the ride.
"I never thought about [the record]," McIver said. "And to be completely honest, that wasn't the point.
"It was just about trying to have a good day, and that's what we've always done, we just tried to have the best day on that day. It's very hard to get performance on demand.
"And with the fact that we've been doing this for years… I'm proud of what we've done here. Especially as a bunch of elderly veterans."
McKeever – who began losing his sight at age 19 due to Stargardt's disease, an inherited degenerative condition – covered the 12.5-kilometer course in a time of 33 minutes 6.6 seconds on Saturday. He and Nishikawa were the last skaters to push the starting line. They systematically selected the playing field with synchronized skate strokes en route to victory.
Nishikawa collapsed after crossing the finish line.
"(McKeever) is in amazing shape. He definitely put me under. I just got off work today and completely spent the line," Nishikawa said.
"We've had such a long journey together, so it was really nice to be able to do it again and I just wanted to make sure we had a good race today.
"Brian makes it look easy, but I had a front row seat to see what he's doing, which is incredible. He works so hard. He's very professional and loves to skate. It's been such a fun day for me."
Sweden's Sebastian Modine, who won the silver with guide Emil Johnson Haag in 33:59.1, praised McIver for his outsized contributions to cross-country skiing.
"Brian is amazing," Modine said. "He has been pressing at the front for many years and shows what a Barra athlete can do. He has raised the bar for quality in our circuit and in Barra sports.
"We should be thankful for everything he has done for us."
And Ukrainian Dmytro Soyarko and mentor Oleksandr Nikonovich came in third place.
McKeever's historic win comes nearly two years from the day the global COVID-19 pandemic spread across the globe, bringing Canadian athletes to a standstill amid travel restrictions and closing training facilities.
McIver said the pandemic has made him appreciate competition in Beijing more.
"It's hard work," he said. "You want to stay on top, to maintain the lifestyle we are accustomed to, travel, experiences, adventures, all of these things are very close and dear to our hearts.
Ottawa City Council vs Vulnerable People over Electric Scooters
Will Ottawa City Council Green-Light a 3rd Pilot with Electric Scooters, Using Vulnerable People with Disabilities, Seniors and Others as Unwilling Guinea Pigs, Even Though E-Scooters Have Been Proven in Ottawa to Endanger Their Safety and Accessibility?
March 23, 2022: Ottawa City Council is scheduled to debate and decide whether to use vulnerable people with disabilities, seniors, children and others as unwilling guinea pigs in a third e-scooters pilot project, that would again unleash dangerous e-scooters in public places. Ottawa City Council needs to stand up for people with disabilities, and to stand up to the relentless corporate lobbyists for the e-scooter rental companies who profit from their deployment in Ottawa.
The 2020 and 2021 Ottawa pilots produced overwhelming proof that e-scooters endangered people with disabilities, seniors, children and others. A silent menace, e-scooters, appearing out of nowhere, were ridden on sidewalks in Ottawa and other cities that ban them from sidewalks. Uninsured, unlicensed, untrained, unhelmeted joy-riders, racing at 20 KPH, endanger the safety of innocent pedestrians, especially people who can't see them coming or quickly dodge them.
Left strewn on Ottawa sidewalks, e-scooters have been tripping hazards for blind people, and an accessibility nightmare for wheelchair users.
According to Ottawa's own survey, 83% of respondents encountered mis-parked e-scooters. 79% encountered e-scooters illegally ridden on sidewalks. The AODA Alliance had warned the Ottawa mayor's office of these dangers the night before City Council voted to approve the first e-scooter pilot back in 2020. The mayor's office ignored these dangers.
Last month, Ottawa's City-appointed Accessibility Advisory Committee strongly recommended that Ottawa not again allow e-scooters.
Disability organizations and every speaker with disabilities presenting at Council's committees opposed e-scooters, fearing injuries. Montreal rejected e-scooters after a pilot. Despite a corporate lobbyists' feeding frenzy, Toronto City Council unanimously said no to e-scooters.
Also, despite all this overwhelming evidence against e-scooters, Ottawa City Staff, cheerleading for e-scooters, have shown insufficient concern for disability barriers. They parrot the e-scooter corporate lobbyists' inflated sales pitch.
In the face of these dangers, it was wrong for Ottawa's Transportation Committee to endorse a third e-scooter pilot at its March 2nd meeting.
E-scooter corporate lobbyists promise unproven spiffy new technology on their e-scooters, to magically prevent these safety dangers. Ottawa should not trust their bloated sales pitch!
It was also wrong for that Transportation Committee to fail to effectively accommodate AODA Alliance Chair David Lepofsky's blindness at that meeting. This impeded his effectiveness when making a deputation there against e-scooters. Lepofsky has had to file a complaint with Ottawa's Integrity Commissioner.
It's wrong to give City staff a blank check to green light a pilot if they like these unproven new gadgets. It's wrong for Ottawa's City staff and Transportation Committee to approve using Ottawa residents, including people with disabilities, seniors, and others, as unwilling guinea pigs to test out corporate lobbyists' sales pitch.
There are news reports from around the world documenting very serious injuries that e-scooters have caused. In the latest fatality, a teenager was killed in London England while riding an e-scooter.
City Council should just say no to e-scooters. It should tell City staff not to come back with a proposal, unless this promised technology has been independently and thoroughly proven to eliminate dangers to people with disabilities and others.
As an example of City staff's absurd solutions that marginalize the safety of people with disabilities, while purporting to show concern for this, they recommend that e-scooters have braille contact information for reporting complaints. Blind people can't read braille on an e-scooter, racing by on a sidewalk. If they trip over an e-scooter, abandoned on the sidewalk, they are not about to grope around to see if there's braille on it. Ottawa staff advanced this recommendation even after being told of its obvious absurdity.
Ottawa has too many barriers impeding people with disabilities. It should not knowingly create more barriers, giving e-scooter corporate lobbyists an undeserved third kick at the can.
Resources for Tax Related Information
CCB BC-Yukon Division recently hosted a webinar where they discussed taxes, and corresponding benefits which can be claimed.
Please find useful links and resources on taxes below:
File My Return:
This service is for eligible individuals with a lower or fixed income. If you're eligible, you'll receive a letter inviting you to use this automated phone service to auto-file your income tax and benefit return. To be eligible, you must have a lower income or a fixed income or simple tax situation that remains unchanged from year to year.
File My Return:
https://www.canada.ca/en/revenue-agency/campaigns/file-my-return.html#toc0
or 1-800-959-1110
Credits:
Disability tax credit (DTC)
https://www.canada.ca/en/revenue-agency/services/child-family-benefits/child-disability-benefit.html
T2201 Disability Tax Credit Certificate:
https://www.canada.ca/en/revenue-agency/services/forms-publications/forms/t2201.html
Registered Disability Savings Plan:
RC4064 Disability-Related Information – 2021:
https://www.canada.ca/en/revenue-agency/services/forms-publications/publications/rc4064.html
RC4065 Medical Expenses – 2021:
https://www.canada.ca/en/revenue-agency/services/forms-publications/publications/rc4065.html
GST/HST Credit:
https://www.canada.ca/en/revenue-agency/services/child-family-benefits/goods-services-tax-harmonized-sales-tax-gst-hst-credit.html
Home Accessibility Credit:
https://www.canada.ca/en/revenue-agency/services/tax/individuals/topics/about-your-tax-return/tax-return/completing-a-tax-return/deductions-credits-expenses/line-31285-home-accessibility-expenses.html
Benefits:
Overview of child and family benefits:
https://www.canada.ca/en/revenue-agency/services/child-family-benefits.html
Canada Child Benefit (CCB) :
https://www.canada.ca/en/revenue-agency/services/child-family-benefits/canada-child-benefit-overview.html
RC66 Canada Child Benefits Application includes federal, provincial, and territorial programs:
https://www.canada.ca/en/revenue-agency/services/forms-publications/forms/rc66.html
CCB young child supplement:
https://www.canada.ca/en/revenue-agency/services/child-family-benefits/ccb-young-child-supplement.html
Child Disability Benefit (CDB):
https://www.canada.ca/en/revenue-agency/services/child-family-benefits/child-disability-benefit.html
Benefits payment dates:
https://www.canada.ca/en/services/benefits/calendar.html
Child and family benefits calculator:
https://www.canada.ca/en/revenue-agency/services/child-family-benefits/child-family-benefits-calcu
lator.html
Benefits Finder:
https://benefitsfinder.services.gc.ca/hm?GoCTemplateCulture=en-Ca
Digital Services and Tools:
My Account for individuals:
https://canada.ca/my-cra-account
Netfile:
Where to mail your paper T1 return:
https://www.canada.ca/en/revenue-agency/corporate/contact-information/where-mail-your-paper-t1-return.html
AUT-01 Authorize a Representative for Offline Access:
https://www.canada.ca/en/revenue-agency/services/forms-publications/forms/aut-01.html
Direct Deposit:
https://canada.ca/cra-direct-deposit
T1-ADJ T1 Adjustment Request:
https://www.canada.ca/en/revenue-agency/services/forms-publications/forms/t1-adj.html
Get your taxes done at a free tax clinic:
https://www.canada.ca/en/revenue-agency/services/tax/individuals/community-volunteer-income-tax-pr
ogram/need-a-hand-complete-your-tax-return.html
Scam Awareness:
Scams and fraud:
https://www.canada.ca/en/revenue-agency/campaigns/fraud-scams.html
Protect yourself against fraud:
https://canada.ca/taxes-fraud-prevention
Report a scam to the Canadian Anti-Fraud Centre at
or call 1-888-495-8501
Contacting the Canada Revenue Agency
https://www.canada.ca/en/revenue-agency/corporate/contact-information.html
General Enquiries phone number: 1-800-959-8281
Benefits Enquiries phone number: 1-800-387-1193
www.ccbnational.net 1-877-304-0968