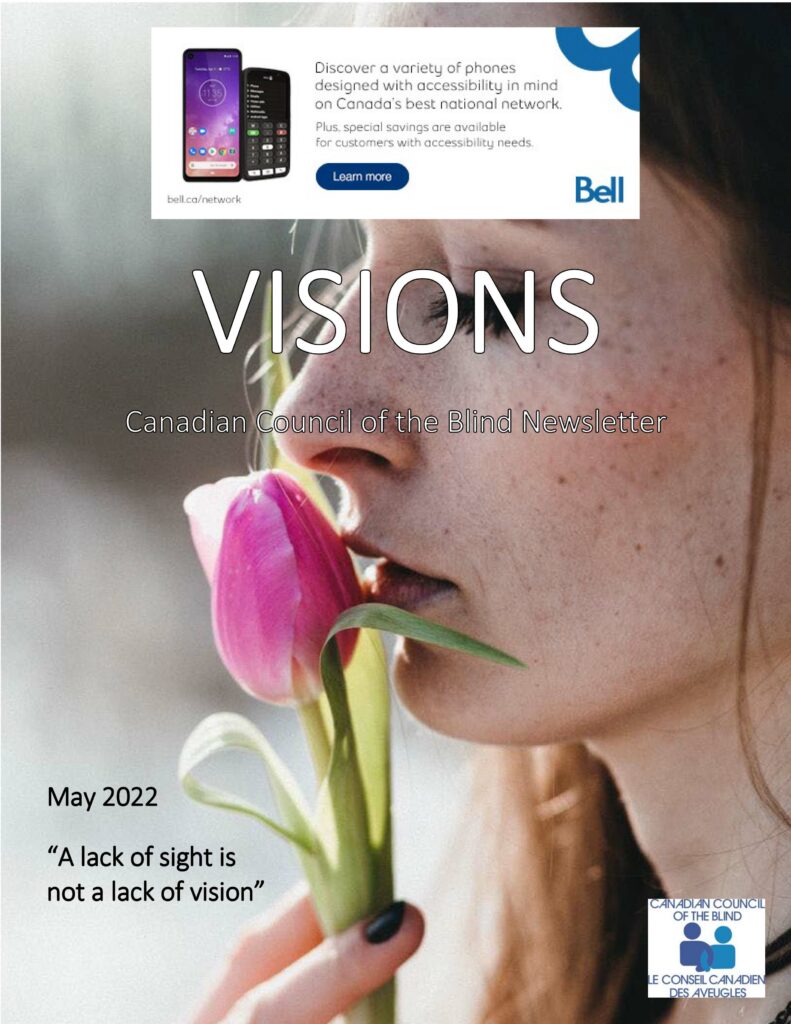 Advertisment: Discover a variety of phones designed with accessibility in mind on Canada's best national network. Plus special savings are available for customers with accessibility needs. Learn more. bell.ca/network Bell.
VISIONS
Canadian Council of the Blind Newsletter
May 2022
"A lack of sight is
not a lack of vision"
From the President's Desk
Welcome to vision health month. The Council, along with our many partners and sponsors, have events and activities planned to educate and support preventable vision loss in Canada. This includes events in Ottawa and Toronto, and in conjunction with the events will be a second edition of our signature White Cane Magazine.
It is heartwarming to witness many of our Chapters returning to in person activities; albeit with continued care and caution to ensure safety in these transitional times. We are also welcoming some warmer weather to support events that have been planned by clubs and chapters for the spring and summer, including Atlantic Sports and Recreation Weekend which will be held in St. John's NL on the Victoria Day Weekend.
Our National Board along with their subsequent committees continue their tireless work with Governments to support the Accessible Canada Act (ACA), as well as balancing to ensure awareness and implementation of our initiatives on eye health and eye care remain strong.
The CCB continues to pride itself in its wonderful Get Together with Technology (GTT) program which continues to bring us to new heights on upcoming and breaking technology, and we thank our GTT team for their never ending commitment to embracing new technologies.
I would like to take this opportunity to extend a few congratulatory notes. First, to Dr. Leo Bissonnette, who has been selected to serve on the Government of Canada wayfinding and signage Technical committee. This is a great honour to be chosen from many applicants, and Leo certainly has the passion, background, and will represent the community well.
Our utmost congratulations to Leo for his being chosen to this Federal Government Committee and Leo will be a true value in this role to enhance the Accessible Canada Act. The CCB family is so proud to have Leo selected, and we thank him for all he continues to do as a key advocate in the blind/low vision community in Canada.
Secondly, I would like to extend my sincere congratulations to Emilee Schevers, for receiving the President Award from Mohawk College for student excellence; accessibility leadership. This is an outstanding achievement, and we are all proud of her outstanding accomplishments.
Keep up the wonderful work young lady! You certainly make the community proud.
On a somber note, on April 8th 2022, we were saddened to hear that our Community lost a tireless advocate and Human Rights activist. We at CCB wish to extend our thanks to the late John Rae for his tireless work for the blind community.
On behalf of the Board, staff, volunteers, partners and friends of the Council I would like to wish everyone a safe and activity filled May, and I would be remiss if I did not wish all the wonderful Mothers a Very Happy Mother's Day.
Sincerely,
Jim Tokos, National President
Announcements
On Saturday May 28, 2022, the CCB Toronto Visionaries Chapter, Canadian Council of the Blind, hosts the 2022 Experience Expo, the only major exposition and consumer show for people with vision loss in Canada. The Experience Expo is an interactive, hands-on exhibition featuring dozens of exhibitors, products and services covering every aspect of the experience of living with vision loss, and is open to those with seeing disabilities, their friends and families.
It actually feels great to be planning a major public event after being locked down for the past two years," says Ian White, CCB Toronto Visionaries Chapter President. "The pandemic has hit those with disabilities really hard. Especially for people with vision loss, it's meant greater isolation, and restricted access to everything from healthcare to supports and services."
As an organization dedicated to breaking the isolation that so often accompanies vision loss, and that promotes peer-to-peer mentoring and the building of social networks for those with visual impairment, the CCB Toronto Visionaries has seen how COVID restrictions have disproportionately impacted the blind community.
"To finally be able to come together face-to-face as a community again," says White, "to share information, to see the range of supports and services available to those with vision loss, to see what's possible, and to celebrate our resilience in the face of adversity; it just feels fantastic! It's what the Expo is all about!"
What can you find at the Experience Expo? Coming to the Expo gives you the chance to get connected with information on new adaptive technologies, recreation and leisure, tactile art and accessible entertainment, sport & fitness, transportation, education, employment, government supports, advocacy issues and more.
The White Cane Week Experience Expo is an all-day event comprised of the consumer show, followed by the Visionaries Forum, a panel discussion hosted by the CCB Toronto Visionaries, focusing on the right of a patient to full disclosure of the range of treatment options available. The day closes out with a celebratory community dinner for all guests and exhibitors, with a cash bar, music and a grand prize draw.
Times:
Registration is not required for the Experience Expo or the Visionaries Forum, but is required for the Community Social Dinner. See the visionaries website at www.ccbtorontovisionaries.ca for more information and registration details.
The Experience Expo will be held at the Miles Nadal Jewish Community Centre, 750 Spadina Avenue, Toronto, at the corner of Bloor Street West. Admission is free. All are welcome!
http://www.ccbtorontovisionaries.ca/WCW.php
CCB Toronto Visionaries Chapter, Canadian Council of the Blind
416 760-2163, [email protected] , Twitter: @CCB_Visionaries, Facebook: @ccbtorontovisionaries
We are grateful to the following for their generous support:
Allergan Canada, Accessible Media Inc, Bausch and Lomb, Bayer, Fighting Blindness Canada, Labtician Thea, Novartis, Hoffmann La Roche, and Via Rail Canada.
A new Storytelling show all about blindness and COVID, by Kim Kilpatrick:
As some of you may know, when I am not teaching tech, hosting zoom calls, etc, I spend a lot of time storytelling. I perform in schools, at festivals, and in theatres and have traveled to many Canadian cities with my shows. I have also been honoured to be featured in performances by Vocaleye and also the Toronto Visionaries.
Coming up on June 2, is the premier of my third one-woman show, Dangerous touch, the adventures of being blind in a socially distanced world. This show is live in Ottawa but is also live streamed. You can stream the show for a week after its premiere if you buy a ticket.
Here is the link to the show, and I hope many of you can attend!
https://www.ottawastorytellers.ca/all-ost-events/2022/6/2/signature-series-dangerous-touch-the-adventures-of-being-blind-in-a-social-distance-world
CCB Men's Group
Come join us for a cup of coffee or beverage and talk about some of the topics impacting men with visual impairments or blindness. Our 2nd meeting will be on May 24th and will be focusing on The Canada Disability Tax Credit & the Registered Disability Savings Plan.
The topics of the upcoming Men's Group will be as follows,
Topic 1 – The Canada Disability Tax Credit
– What is the Disability Tax Credit?
– Do You Qualify for It?
– The Benefits of the Disability Tax Credit
– How do you apply for the Disability Tax Credit
Topic 2 – The Registered Disability Savings Plan
– What is the registered Disability Savings Plan
– Do You Qualify for It?
– What are the benefits of opening up an RDSP?
– How Do You Apply for the Registered Disability Savings Plan?
There will be time to answer any questions that you may have that we have not addressed in the above list of topics.
This will be a zoom meeting, so if you would like to join please email Shane Cashin at: [email protected]
So that he can email you the zoom link and put you on our mailing list for future Men's Group Meetings.
We are looking forward to chatting and learning from each other at our meeting on March 24th, 2022 at
– 4:00PM Pacific Time; – 5:00PM Mountain Time; – 6:00PM Central Time; – 7:00PM Eastern Time; – 8:00PM Atlantic Time; – 8:30PM Newfoundland Time.
Chat then!
Shane & Surander
CCB National Men's Group
Get into the Swing with Blind Golf Canada
Hello Friend,
My name is Gerry Nelson and I am President of Blind Golf Canada. It is our hope that you and your blind or partially sighted child will come out and join us in our Blind golf Canada introduction to golf!
In 2021, Blind Golf Canada partnered with Todd Keirstead and his ParaGolf Canada initiative. Along with ParaGolf Canada, we are creating pathways for individuals of all abilities to explore recreational and/or competitive options in the sport of golf.
The AMI Media Western Canadian Championships will be hosted in Calgary Alberta July 4th-July 6th.
The Ontario Provincial and the ISPS Handa Canadian Open Championships will be held in Simcoe, Ontario August 7th-August 13th.
It is our pleasure to extend an invitation to your child to come out and join us for some fun and to experience what golf is all about. Many of our members, coaches, and local golf professionals, will be on hand to provide some fun-filled instruction for your child.
Our first junior clinic will be held on Monday, July 4th so we are hoping for youth 10-18 years of age who are blind, partially sighted, or are coping with any other sort of disability.
In Ontario, our junior golf clinic and ParaGolf Canada All Abilities Charity Scramble will be on August 7th and kick off these two Championships.
As well, we are hoping for juniors aged 10-18 who are coping with vision loss or any other disability to come out and try golf.
We want these clinics to be inclusive, fun, and engaging for all youth and provide the opportunity to continue learning and playing golf in their future years. Golf can be played by all and "those of "all abilities. We can still play"
Introducing the Talk Description to Me podcast
Where the visuals of current events and the world around us get hashed out in description-rich conversations. J.J. Hunt is an innovative Audio Describer and a natural-born storyteller. Christine Malec is a perpetually inquisitive member of the blind and partially sighted community who's always wondering about something. In Talk Description to Me, their discussions plunge into current events and topical issues to explore the content of important images, and help place vivid descriptions in their cultural context. Lively, hard-hitting, witty, vibrant, and fun, this is conversation with a view!
Here is a page with links to listen to various services including Apple and Spotify Podcasts.
Website with direct links to the various podcast services –https://talkdescriptiontome.buzzsprout.com/
Email – [email protected]
Twitter – @TalkDiscription
Facebook – https://www.facebook.com/Talk-Description-to-Me-105458024573428/
Advertisement: VIA Rail Canada, Ready for your comeback?
First Annual Canadian Congress on Accessibility – May 26-27, 2022
On behalf of Employment and Social Development Canada (ESDC), I am pleased to invite you to attend the First Annual Canadian Congress on Accessibility on May 26-27, 2022.
The theme for the event is Innovating Together: Celebrating and Driving Disability Inclusion in Canada.
This virtual event provides an opportunity to bring together persons with disabilities, disability organizations, public and private sector organizations, employers, innovators and thought leaders to exchange ideas and ground breaking insights to help shape accessible and inclusively designed communities and workplaces across Canada.
This first Canadian Congress on Accessibility (CCA 2022) is more than just a conference – it's the Government of Canada's new annual milestone event to kick-start National Accessibility Week (NAAW) celebrations. NAAW is a time to celebrate the contributions of persons with disabilities and promote accessibility and inclusion in communities and workplaces across every province and territory.
This virtual, interactive and inclusive event is free and open to the public.
CCA 2022 will feature:
To ensure everyone has an opportunity to attend and participate, we are making sure the event is accessible. The virtual platform contains built-in pre-sets to ensure it is Epilepsy safe, ADHD friendly, and accessible for persons with low vision or those who are blind. The platform meets the Web Content Accessibility Guidelines (WCAG) requirements at the 2.1 AA level and allows participants to customize content and colour.
The event will provide English, French, American Sign Language and Langue des signes Québécoise interpretation. Registration will be opening in April 2022. Please check out the Canadian Congress on Accessibility website https://pheedloop.com/CCA2022/site/home/ and follow #InnovatingTogether on social media for more updates.
We are thrilled to host this event and we look forward to seeing you at the Congress!
Accessible COVID-19 Rapid Testing Instructions
The National Network for Equitable Library Service (NNELS) is pleased to offer accessible COVID-19 Rapid Testing Instructions
(https://trk.cp20.com/click/cftj-2iuqsj-yb60sx-dcq7ch27/) for blind and low vision individuals in alternative formats. Since these tests became available to the public, people with print disabilities seeking to perform these tests have had to acquire visual assistance to access the instructions and read the results. Getting assistance has been challenging for many users due to safety and privacy concerns, and financial barriers have prevented some users from accessing assistance remotely, including lack of access to a smart phone and subscription fees for remote assistance services.
The NNELS team is proud to be able to help improve access to the testing process for people with print disabilities, a process informed by our extensive experience producing and remediating digital materials for our patrons and publishers.
Currently, rapid test users need to ask their family or friends to walk them through the process while others leverage remote visual interpreter services through remote assistance services like Be My Eyes or Aira. In some countries, tests are done through house visits, or samples taken by the user and then sent back to a lab for analysis.
Though all these methods offer access, they are far from ideal as the user may not be afforded the opportunity to conduct the test on their own time and with the greatest independence possible.
To begin addressing this challenge, we have produced accessible rapid test instructions in EPUB, docx and electronic braille formats. All images contain alt-text, and, optionally, tactile graphics in both electronic and hard copy formats are available to supplement the instructions. What this means is that users will now be able to perform most of the testing process independently and privately.
Sighted assistance is still required to read the results, but users will only need to spend 2 minutes or less with someone sighted thereby reducing the chance of exposure and call time. All the accessible versions of the instructions have been thoroughly checked by persons with disabilities to ensure that descriptions are clear without being overly verbose.
We recognize that accessible instructions are only one part of access. We hope that by offering these instructions, we can provide individuals another choice, and encourage manufacturers to make the entire process non-visually accessible. NNELS will continue to advocate alongside organizations around the world until blind and low vision users are able to perform rapid tests and access the results fully and independently for ensured privacy and autonomy.
You can find the instructions in alternate formats, including EPUB3 and BRF (Electronic Braille) below:
* Rapid Response: COVID-19 antigen rapid test device product insert
(https://trk.cp20.com/click/cftj-2iuqsj-yb60sy-dcq7ch28/)
* Procedure card: COVID-19 antigen rapid test device
(https://trk.cp20.com/click/cftj-2iuqsj-yb60sz-dcq7ch29/)
* Fiche de procédure : dispositif de test rapide d'antigène COVID-19
(https://trk.cp20.com/click/cftj-2iuqsj-yb60t0-dcq7ch26/)
* Rapid Response : COVID-19 antigen rapid test device encart du produit (https://trk.cp20.com/click/cftj-2iuqsj-yb60t1-dcq7ch27/)
For more resources, visit our COVID-19: Accessible Information
(https://trk.cp20.com/click/cftj-2iuqsj-yb60t2-dcq7ch28/) page.
Do You Take Eye Drops for Glaucoma? Please fill out this survey.
Fighting Blindness Canada is conducting a survey to learn about people's experiences using eye drops for glaucoma or high eye pressure. We need your help to improve treatments and support for those with glaucoma.

The survey will take approximately 10-15 minutes to complete.
If you have any questions or would like assistance with completing the survey, please contact Dr. Jennifer Pereira at [email protected] or at (647) 667-8864.
Establishing a New Braille File Standard with the eBRF
Imagine reading an interesting article or editing a hefty document with no way to navigate by page or heading, only able to scroll down one line at a time.
Braille readers experience this tedium whenever they access digital braille files, making reading at home, in the classroom, and in the workplace a slow process. We think it's time to take the braille file into the 21st century. In collaboration with leaders from across the field, APH is developing a new, revolutionary braille file standard that will be accessible on both braille displays and embossers and will change the way students, teachers, and transcribers interact with braille and tactile graphics. We're calling it the eBRF.
Why is there a need for an eBRF?
Today, the standard braille file accessible on braille displays and embossers is known as the Braille Ready File or BRF. This braille txt file is formatted entirely using just blank lines and spaces. As a result, readers can't easily navigate through a big file or take advantage of other conveniences, like links for footnotes and endnotes. There are also no ways to join braille content and embossed graphics in the same electronic experience. The eBRF will solve these issues by providing braille text and tactile graphics in one file with enhanced navigation.
This new standard will build on information already being added by the transcriber. We don't have to reinvent the workflow of getting the content from the transcriber to the braille reader to take advantage of this existing information. We just need to change how files are saved and opened. The ideal eBRF will be easy to create for transcribers, fit within an existing file standard, greatly improve the navigation experience, and empower users by bundling tactile graphics and braille.
What is the eBRF project?
The goal of the eBRF project is to create a new braille file standard that seamlessly contains both braille and tactile graphics. This interactive file will include formatting, like headings, tables, and glossaries. Enhanced navigation will allow students to effectively jump to sections, chapters, or pages and utilize links to access footnotes or other referenced material. Users can also decide the format they would like to view tables in, whether it be spatially or in a listed form. The eBRF will be easy to create and open and will work on single- and multi-line braille displays, and embossers can emboss both Braille and graphics in a single print job. The eBRF, used with displays like our upcoming Dynamic Tactile Device (DTD), will display full pages of braille text, graphics, and even braille music, giving students access to instructional materials at the same time as their sighted peers. Read our DTD blog to learn more.
A field-wide effort
APH has been working collaboratively with international braille authorities and organizations, such as The DAISY Consortium, National Library Service (NLS), Braille Authority of North America (BANA), International Council on English Braille (ICEB), Royal National Institute for the Blind (RNIB), Austrian Association for the Blind, Duxbury Systems, National Network for Equitable Library Service (NNELS), and many more, to seek their input and feedback.
Access for all
While APH is spearheading this work, it is ultimately the braille community that will own this standard. At present, we have received great feedback from our partners on the first draft of the eBRF. However, this draft is only the beginning. Many changes will be required before we get to the final specification.
We hope to have the eBRF ready for all to access without too much delay as a new file standard is needed for those who utilize electronic braille.
"The effort that has been undertaken to create an eBRF format for braille reading is truly ground-breaking. With so much braille being read on electronic devices, efficient navigation is critical to the success of electronic braille for students, professionals, and even the casual braille reader," said Judy Dixon, President, International Council on English Braille. This new eBRF standard will not only benefit users of the Dynamic Tactile Device, but it will also help braille readers everywhere read more efficiently regardless of the device used. It puts power in the hands of braille readers in a way that was not previously possible.
Stay tuned to aph.org and APH News for updates on the eBRF and the Dynamic Tactile Device.
Accessible Voting in Ontario
Please find below lots of great resources concerning the upcoming provincial election in Ontario.
Download the Elections Ontario app from the App Store or Google Play and create an account to access:
The app has been designed to comply with the Accessibility for Ontarians with Disabilities Act and is compatible with assistive technologies.
Voting locations
Elections Ontario works to ensure that voting locations meet our site accessibility standards, where possible. To confirm the accessibility of your voting location, visit voterinformationservice.elections.on.ca when the election is called.
Election officials can bring the ballot outside the voting location to make the process more accessible. You can also apply to transfer your voting location if another one better meets your accessibility needs by contacting your returning office before election day. Service animals are allowed.
Assistive voting technology
Assistive voting technology lets voters listen to their ballot choices and cast their ballot secretly and independently. It will be available at returning offices from May 21 to June 1. On election day, June 2, assistive voting technology is available by appointment only; walk-in requests to use the technology on election day are not guaranteed but will be accommodated where possible.
Voters can choose one of three controller options:
Accessible format requests
Voting information can be provided in accessible formats upon request.
Requests can be made by contacting
[email protected] or by calling our office at 1.888.668.8683 (TTY: 1.888.292.2312).
Voting by mail
To vote by mail, you will need to submit a completed application form and copy of one piece of ID.
When the election is called, apply to vote by mail:
Elections Ontario must receive your application form and copy of one piece of ID showing both your name and current residential address by 6 PM (Eastern Time) on May 27.
The ID you need to vote by mail is different. Find examples of accepted ID at elections.on.ca/id-requirements.
Once your application has been reviewed and approved, a voting kit with a ballot will be mailed to you and you will be unable to choose another voting option. You can use the prepaid envelope to return your voting kit within Canada or drop it off at your local returning office.
Elections Ontario must receive your completed voting kit by 6 Pm (Eastern Time) on June 2 to be counted.
Contact Information
To book an accessible voting service, contact your returning office. Find your returning office contact information at
www.voterinformationservice.elections.on.ca or by calling our office at 1.888.668.8683 (TTY: 1.888.292.2312) when the election is called.
For general information, visit www.elections.on.ca
Email: [email protected] or call 1.888.668.8683 (TTY: 1.888.292.2312).
Appointment Opportunity at the CHRC
The Government of Canada is seeking applications from diverse and talented people in Canada for the position of Chief Commissioner of the Canadian Human Rights Commission.
About the role
The Chief Commissioner is a full time appointee to the Canadian Human Rights Commission as provided under the Canadian Human Rights Act, and is appointed by the Governor in Council on recommendation by the Minister of Justice and Attorney General of Canada.
The Chief Commissioner is the Chief Executive Officer of the Canadian Human Rights Commission, and has supervision over and direction of the Commission and its staff.
About the Commission
The Canadian Human Rights Commission is Canada's human rights watchdog. We work for the people of Canada and operate independently from the Government.
The Commission helps ensure that everyone in Canada is treated fairly, no matter who they are. We are responsible for representing the public interest and holding the Government of Canada to account on matters related to human rights.
How to apply
Candidates should apply via the Governor in Council Appointments website.
The deadline to submit applications is May 26, 2022.
Those requiring accommodation should contact the
Privy Council Office to discuss options for submitting their candidacy.
Further information regarding this appointment opportunity is available on the Governor in Council Appointments website.
Advertisement: Discover a variety of phones designed with accessibility in mind on Canada's best national network. Plus, special savings are available for customers with accessibility needs. Learn more. Bell. bell.ca/network
www.ccbnational.net 1-877-304-0968