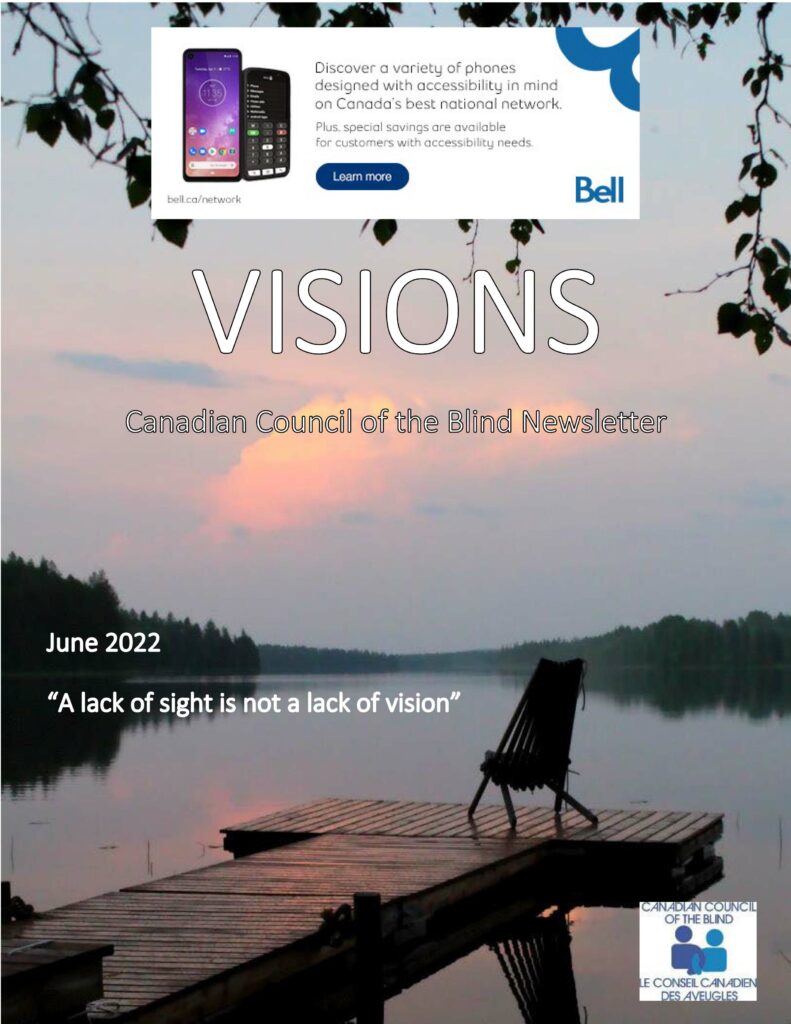 Advertisement: Discover a variety of phones designed with accessibility in mind on Canada's best national network. Plus special savings are available for customers with accessibility needs. Learn more. bell.ca/network Bell.
VISIONS
Canadian Council of the Blind Newsletter
June 2022
"A lack of sight is not a lack of vision"
From the Past-President's Desk
I hope everyone is well! I wanted to stop by to celebrate some of CCB's recent accomplishments!
CCB hosted the very well-received Vision Health Summit, held in Ottawa on May 16. This was followed by a gala dinner the following evening, where our supporters and award winners got a chance to celebrate and be recognized in person.
On May 25th and 26th, some of our CCB members attended the first annual "Canadian Congress on Disability Inclusion 2022, sponsored by Employment and Social Development Canada. Recordings will be available at a later date on their website. Presentations were made by Hon. Carla Qualtrough, several Deputy Ministers and a variety of persons with disabilities regarding barriers, removal of barriers, and notable accomplishments across Canada. Watch for next year's event.
The Canadian Ophthalmology Society (COS) is hosting their meeting and exhibition in Halifax this year from June 9th -12th, and I will be attending to represent CCB. COS has been working with the Council in several ways with the most recent being the Cost of Vision Loss Study, therefore it is important for us to be involved in their events as we have been over many of the previous years.
As members of our Council are very familiar with Ophthalmology, it is important to attend these meetings to learn about new treatments and technology for eye conditions that can be improved. More information will be coming in future newsletters, so stay tuned!
The Atlantic Provinces hold an annual sports and recreation weekend in different communities which has been on hold for the past two years. From our chapter here in Sydney, we were only able to send two participants due to the unavailability of rental vans and cost restraints for air travel. Both participants had a wonderful time and won some medals.
Meanwhile at home, on the Saturday, with our volunteers we were invited to travel to a volunteer's home in the country to have a BBQ and some games of washer toss, ladder golf, and darts. As there were only a few of us, we were then able to drive to a close by canal to watch the fishers off load their lobster catch and walk around the canal to learn the history of the area. At the end of the day we enjoyed a wonderful meal together for the first time in two years. This event, along with ASRW, was a huge factor in maintaining positive mental health, which is so important these days.
Thanks to all our volunteers who work with our chapters to support our community members in our pursuit of a happier, healthier life!
Louise Gillis, CCB Past-President
Announcements
This year's ASRW was an amazing event, showcasing CCB's member's abilities, along with solid peer support and sportsmanship! The host committee would like to extend big congratulations to all who participated in the many fantastic events.
Jim Tokos, CCB President, can personally attest to this great event, as he attended the ASRW, and was totally impressed with the members as well as the event itself.
The weekend started with Friday nights CCB idol, where folks displayed their wonderful talents, followed by a jam session afterwards. Saturday's variety of sports activities began with Bowling that took place at Plaza Bowl and saw some fantastic competition! This was followed with washer toss, track and field, shot put, javelin, discus, horse shoes and swimming. What incredible abilities from our participants!
This was all followed up with folks unwinding and kicking up their heels at a dance later Saturday evening.
On Sunday, we moved on to Darts, and table bowling, with a crib tournament in the afternoon. On Sunday evening, we capped it off with a wonderful banquet, where we had a number of Government dignitaries and special guests attend.
To conclude another fabulous ASRW weekend, one of the main highlights was 9 out of province participants got screeched in. They are now honorary Newfoundlanders!
This year's games were a total success and CCB was proud to see such wide participation from the Atlantic Provinces.
We cannot express enough thanks to the excellent service provided by The Capital Hotel. Between the superb food, extensive knowledge of sighted guide to knowing the clock system when serving the meals, along with allowing us to perform some of our events right on sight, and wonderful hospitality, we could not have picked a better location for everyone to stay.
We would like to thank the city of Mount Pearl for allowing us full access to their track and field facilities, plus The Summit Centre to complete the swimming event free of charge. In addition, the city of St. John' s, V.o.C.M, provincial government of Newfoundland, many Lion' s clubs and local businesses contributed Financially to the sports weekend.


We would be remiss if we didn't mention the significance and importance of our valuable volunteers. Without you assisting and supporting the Members they would not be able to participate in this year's ASRW. You all attended despite the risks of contracting Covid and we are so happy that you all got to attend. You could feel the excitement and camaraderie throughout the whole weekend! On behalf of the local committee, we thank you and I'm so happy that we pulled off another successful games! Needless to say, a good time was had by all.
We look forward to the games next year in Miramichi, New Brunswick, May 19 to May 21, 2023.
Respectfully submitted by E.A. Baker ASRW host committee: Elizabeth Mayo, Glenda Browne, Shane Cashin, Lori Shea and Karen Young.
In Memory
In Memory: It is with a heavy heart that I inform everyone of the passing of our long time Board Member and friend Jerome Kuntz. the CCB
family has lost a big supporter of the Council, and we thank Jerome for his many years of service. Please read on in the obituary below to learn more about this wonderful man.

-Jim Tokos, CCB President

Jerome passed away at Regina Wascana Grace Hospice, Regina, SK, with his wife Lynn by his side, on May 28, 2022 at the age of 85.

Jerome was born in Vantage, SK, blind from birth. Every year from
Grades 1 through 12, he rode the train to Brantford, ON, to attend the
Ontario School for the Blind. From 1982 onwards he worked in Regina
as a piano tuner/technician, often for the Regina Public School system. As a boy, Jerome discovered the world of amateur (ham) radio.

As a totally blind person, radio opened up the world to him and he was
and avid member of the amateur radio community his entire adult life.

Jerome had a wide array of friends across both the blind and sighted
world and delighted in being active in many endeavours. He
participated in many public service events through the Regina Amateur Radio Assoc., was on the national Board of Directors for the Canadian Council of the Blind, was a member (past-President) of Regina Lions Clubs, volunteered with the CNIB, gave talks to the RCMP recruits on how best to handle the blind, enjoyed blind bowling and cribbage, was a lifelong Roughrider fan, and was a devout member of the Catholic
Church. Jerome accepted his blindness with courage and grace. He
approached the world with affability and gentleness. His ultimate
legacy will be that same spirit reverberating through the many hearts
and minds he touched.
Advertisement: VIA Rail Canada, Ready for your comeback?
2022 White Cane Week Experience Expo is back! And it was a Great Success!
On Saturday May 28, after two long years away, and with the lifting of many of the restrictions imposed by the pandemic, the CCB Toronto Visionaries re-launched the White Cane Week Experience Expo, the only major exposition and consumer show for those living with vision loss in Canada!
Held at the Miles Nadal Jewish Community Centre (MNJCC) in downtown Toronto, this year's show featured 33 exhibitors representing every aspect of living with visual impairment, a slightly shorter format, and hourly door prizes.
"It was really gratifying to see how many of the service providers, product vendors, sports and recreational groups, and support programs came out to exhibit this year. It's great to be back!" said Ian White, CCB Toronto Visionaries Chapter President.
But, he admits, mounting the Expo was a risk. "We just weren't sure how people were going to react. First, we had to shift the Expo from February to May because of the Omicron variant. Then, although things are opening up after COVID, there's still some anxiety out there about gathering in large numbers. But the enthusiasm of those who came out, both exhibitors and attendees, far outweighed the slightly smaller numbers."
The Visionaries and MNJCC worked together to make sure people felt as comfortable as possible. Masking and hand sanitization are mandatory in the MNJCC facility, and more than 40 Visionaries volunteers made sure everyone complied, handing out free masks and placing free hand sanitizer on every vendor table. The Expo layout included generous aisles and extra space between exhibitor tables to provide opportunities for distancing. And windows were left open to provide additional ventilation in the 6000 square foot exhibition hall.
"There were so many variables at play, we didn't really know what to expect," said White. "But everyone was so excited to finally have the opportunity to get connected again after not being at an in-person event for over two years."
Along with the exhibitor show, the CCB Toronto Visionaries hosted the 2022 Visionaries Expo Vision Health Month forum, a panel discussion with Dr. Chad Andrews, Sarah Shephard, Patient Advocate, John Adams, patient's Rights Advocate, and Dr. Keith Gordon, CCB's Senior Research Officer, discussing best practices – a patient's right to informed consent and full disclosure for whatever the treatment, including all of the informed therapies, their side effects, dosage frequency, all options, and costs (which should never influence what a patient is prescribed) before a treatment decision is made.
The Forum discussion was live-streamed to a wide audience, and a recording of the proceedings will be available on the CCB National website shortly.
The day was capped off with a celebratory dinner, the Visionaries Community Social, which featured music, a cash bar, and the draw for the Experience Expo Grand Prize, a luxury trip for two to Ottawa on VIA Rail's business class, and a two-night stay in one of Ottawa's premier suites hotels.
"For me," says White, "the best part of the day was the buzz in the room, the voices of people who've come together to share information and get connected with the services and supports they need, and to explore the possibilities that are out there for those with vision loss. Rolling this vital peer-to-peer networking opportunity together with the discussion on the importance of defending our rights, as patients, as people. Bringing all this variety together in one place at one time, it really shows how important an organization like the CCB is, especially in uncertain times. Drawing community together, sharing information, and talking about what matters. It's really what the Canadian Council of the Blind is all about."
View from a Participant at the Expo
My name is Leslie Yee, chair of the CCB Peterborough chapter and a National Board member, and this was my first time attending the Expo.
The expo was filled with organizations representing different parts of our vision loss community. You could talk to people representing radio and TV like AMI. You could learn about clay making with Hands of fire, or running with Achilles International. Talk to the Blind Hockey association, or learn about blind curling and sailing.
The Expo also had many representatives showing the latest in technology, whether it was a magnifier or computer software. I could have spent all day just playing and testing these items!
After the expo, I attended the forum, where the panelists talked about how the health system works, but more importantly how to advocate for yourself in regards to your own vision loss and who to reach out to for help and advice. It was very informative and educational.
My hat goes off to Ian and everyone involved in organizing and running such a delightful event!
Coming out of the past two years we need to reconnect with organizations and people to continue our journey in maintaining independence and confidence, as well to help reduce the feeling of loneliness or isolation. The Experience Expo and forum 2022 gave each person in attendance the opportunity to do just that!
CCB Toronto Visionaries Chapter launches Live2Learn Inclusive Design Research Conference
Saturday June 25, 2022. 9:15AM to 4:00PM (EST)
In our everyday lives, people with vision loss are faced with an often overwhelming series of challenges that make pursuing our goals difficult or even impossible. Barriers exist in so many areas that it sometimes feels like we're constantly battling to do the simplest things, things that our sighted counterparts do seemingly with ease.
The challenges are legion. From the simple, independent task of reliably identifying the clothing in a closet, to trying to make sense of the rich information captured in the graphic content on the web; from the aspiring chemistry student faced with the hundreds of photo images of complex proteins in a textbook, to the artist who wants to collaborate with distant colleagues virtually; from preparing for a job interview, to watching a tennis match on TV, the things that sighted people do every day present enormous barriers to our ability to learn, create, interpret the world around us, and live independently with confidence. And often, the constant facing of barriers undermines our confidence in our own abilities, undercuts our perception that we are capable, and reinforces the stereotypical image of those with vision loss as incapable, incompetent, and handicapped.
But every now and again, we discover that someone has invented a creative solution to those barriers, opened a window to accessibility that allows us to overcome those challenges and pursue an activity, build a skill, or live a little more independently. It engenders a sigh of relief, and in some cases, can be transformative, allowing us to fully participate in an arena where previously we were blocked from participation.
But we rarely, if ever, get to meet the people who are the creators of these transformative, barrier-breaking solutions.
Who are they? What drives them to take on the task of finding solutions on our behalf? How do they come up with the ideas and translate them into practical, concrete means to enhance our access to the wide variety of interests we pursue, or want to pursue, or would pursue if only there was a way?
There are literally thousands of people – researchers in a hundred disciplines – engineering, material science, disability studies, chemistry, industrial design, computer science, and so many more – who are thinking, exploring, creating and designing solutions that tackle the real-world barriers that confront us daily. They are producing ground-breaking research that will inform the work of future designers who will break down even more barriers, creating products, programs, apps and other solutions that will avoid barriers to inclusion from inception. And they have already come up with some absolutely incredible solutions to a host of everyday challenges.
The CCB Toronto Visionaries Chapter has reached out to this diverse array of researchers to see what they're up to, to find out what barriers they're tackling on our behalf and what they think might be coming in the near and not-so-near future. And we've made it possible for a diverse sampling of these creative minds to present their research in a one-day conference, where they can talk about exactly the kinds of solutions that matter to people with every level of vision loss.
Focused on inclusive design research, the Live2Learn Conference seeks to highlight cutting edge research on practical solutions to real problems faced by those living with blindness and low vision.
Here are some of the speakers we've got lined up for the Live2Learn Inclusive Design Research Conference:
Keynote Speaker:
Dr. Peter Coppin, Associate Professor in the Faculty of Design and Inclusive Design, and Director of the Perceptual Artifacts Lab (PAL), OCAD University, Toronto.
Guest Speakers:
The Live2Learn Inclusive Design Research Conference will be held virtually on Zoom, on Saturday, June 25, 2022. See the registration links below to register as an attendee.
Conference Schedule:
9:00AM, Zoom room opens.
9:15AM, Introductory remarks, land acknowledgement.
9:30AM, Keynote Speaker: Dr. Peter Coppin, OCAD University.
10:00AM – 2:40PM, Six 40-minute presentations with 5-10minutes of Q&A; includes a 40-minute midday break and an opportunity to network and connect directly with those interested in inclusive design research.
2:40PM – 3:55PM, Panel discussion on Inclusive Design Research: Challenging Times, Creative Solutions – Where do we go from here? Panelists will be announced shortly.
3:55PM – 4:00PM, Closing remarks, thanks & Conference close out.
Registration:
Access to the Conference is absolutely free!
To receive the Zoom links to attend the conference, please register here:
https://us02web.zoom.us/meeting/register/tZckcOuppjktHNGLGBlyTugEI_0HVWRvIj97
For questions or additional information, please contact Christopher Schiafone at [email protected] or call 416 760-2163. You can also visit the conference webpage at http://www.ccbtorontovisionaries.ca/live2learn.php
Please join us on Saturday, June 25, 2022 to meet some of the inclusive design researchers who are tackling some of our greatest barriers, helping us overcome some of our most daunting challenges, and transforming our world.
Warm regards,
Ian White, President, CCB Toronto Visionaries Chapter,
Canadian Council of the Blind
CCB Men's Club
Come join us for a cup of coffee or beverage and talk about some of the topics impacting men with visual impairments or blindness. Our 3rd meeting
will be on June 28th and will be focusing on Relationships.
We will be touching on the following: Dating Apps, social opportunities, Date night ice breaking suggestions, etiquette and attitude, lessons learned from our own lived experience and mutual support.
This promises to be a fun meeting that could go into overtime. There will be time to answer any questions that you may have that we have not addressed in the above list of topics.
This will be a zoom meeting if you would like to join please email Shane Cashin at [email protected]
So that he can email you the zoom link and put you on our mailing list for future Men's Group Meetings.
We are looking forward to chatting and learning from each other at our meeting on June 28th, 2022 at: 4:00PM Pacific Time, 5:00PM Mountain, 6:00PM Central, 7:00PM Eastern, 8:00PM Atlantic, and 8:30PM Newfoundland.
Chat then!
Shane & Surander, CCB National Men's Group
Advertisement: Discover a variety of phones designed with accessibility in mind on Canada's best national network. Plus, special savings are available for customers with accessibility needs. Learn more. Bell. bell.ca/network
Announcing the 2022 Braille Literacy Canada Symposium
Braille Literacy Canada (BLC) will be holding its second annual virtual braille symposium on Friday, June 17th, 2022 from 1 – 5 PM EDT (10am-2pm Pacific/11am-3pm Mountain/Saskatchewan, 12pm-4pm Central, 2pm-6pm Atlantic). This event will be of interest to braille readers, educators, transcribers, parents, producers and anyone else with a passion for braille literacy!
The schedule of events is as follows:
1:00pm EST: Revitalising Braille through a Grass Roots Community (Matthew Horspool and Dave Williams, Braillists Foundation)
2:00pm EST: Hadley's Braille for Everyday Use (Douglas Walker and Dr. Kim Walker, Hadley)
3:00pm EST: What is the science of reading, and what does it teach us about braille contractions? (Dr. Robert Englebretson, Rice University)
4:00pm EST: Walking Through Paths to Literacy for All Things Braille (Kate Borg, Texas School for the Blind and Visually Impaired)
Each presentation will be approximately 30 minutes long, followed by a 15-minute question-and-answer period, and then a 15-minute intermission.
The event will be free of charge to members (or members of organizations who are corporate members of BLC) and $20.00 for non-members. Interested in becoming a BLC member? Annual membership is $20 – check out our membership section https://www.brailleliteracycanada.ca/en/membership for more information!
Registration will close on Wednesday, June 15th, 2022. Live automatic captioning will be provided through Zoom, and written transcripts of the presentations will be made available after the event. Once you have submitted your registration, your request will be reviewed and a Zoom link will be e-mailed to you within a few days. Email any questions you have to [email protected] <mailto:[email protected].
Visit here to REGISTER.
https://us02web.zoom.us/meeting/register/tZ0rcuqgqTgoHNE6DUAxovR0glJTq4v53gFQ
We had a great day at the Ontario Parasport Games. Our Nova Scotia Goalball team with me, Mason and our 13-year-old Harry beat the Ontario men's provincial team in the gold medal in the competitive D1A. We also had Yvon as our back up player and Linda and Robyn coaching as well as Broden helping out all of our teams. Our Nova Scotia juniors with Nick, Matt, Griffin and Edward lost a close 11-8 game in the 3 vs 4 game against the team that had two men's national team pool players on it from BC and Quebec. The NS Juniors beat them in their first game of the tournament. It was a great experience for the junior boys having some good close games in a senior men's tournament.
We also had Samir, who is one of our players on one of our rec teams, win the gold medal in the D1B competitive division with two players from Ontario who are on our women's national team.
In the rec division we had the Bluenosers win gold. The Bluenosers consisted of Edward, John and Alexis B. Atlantic won silver. Atlantic consisted of Ashlee, Samir, Alex (from NB!), and Linda (player/coach). The Blizzards beat the Ontario team in the rec division in the 3 vs 4 game. The Blizzards consisted of Yvon, Alexis N, Emily and Samantha. Unfortunately, they did not give out bronze medals. The gold and silver medals they did give out were some of the nicest medals I've seen in a provincial or national level event.
You can watch the games on our Blind Sports Nova Scotia Facebook page.
It was a great experience for all on the court as well as making friends off the court. I'm very proud of all the players. Thanks again to our coaches Linda and Robyn. Thanks to Broden for helping out!
Submitted by Peter Parsons
www.ccbnational.net 1-877-304-0968