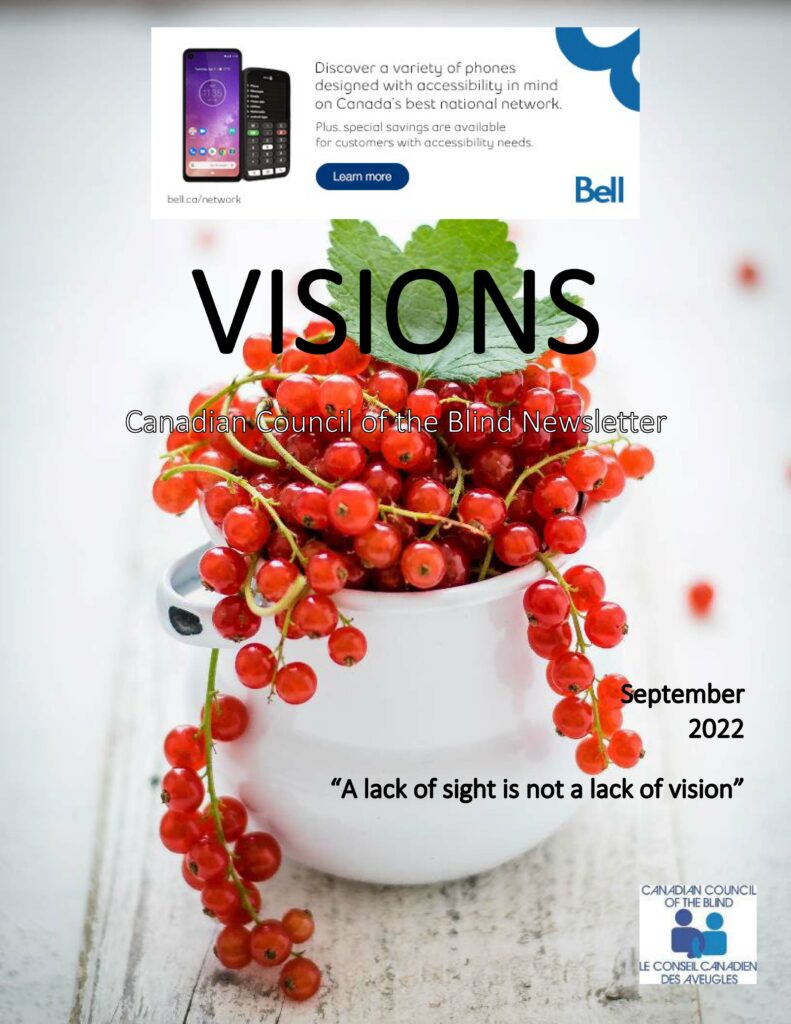 Advertisement : Discover a variety of phones designed with accessibility in mind on Canada's best national network. Plus special savings are available for customers with accessibility needs. Learn more. bell.ca/network Bell.
VISIONS
Canadian Council of the Blind Newsletter
September
2022
"A lack of sight is not a lack of vision"
From the President's Desk
Welcome back! I hope you had lots of opportunities to enjoy and take advantage of the wonderful summer visiting friends and family. I also hope you were able to take advantage of the many activities the CCB had to offer, from sport competitions to group outings to the arts, theatres, and many BBQ's held across the country. It was great to see so many of us getting back together safely, and I'm looking forward to the many more events planned for the coming months.
With a heavy heart, we sadly lost a former president in August, with the passing of Dr. Geraldine Braak from Powell River, British Columbia. Geraldine was CCB National President for 8 years, and also a wonderful mentor to many, and we have lost a great leader. This newsletter will highlight the career of Dr. Braak, outlining her many awards and accomplishments. Thank you Gerry for your wonderful contributions, you will be missed dearly.
September also brings the return of committee work, an important and integral part of the Council, giving direction to the needs and accessibility of our members. Advocating to ensure their needs and environment is always as barrier free as possible. We at CCB remain on the cutting edge of ensuring we are an important voice in advocating for persons with vision loss across Canada, along with our many partners. Also through our many partners, we advocate tirelessly to ensure persons across Canada receive the best treatments possible in a timely and affordable manner to push the needle on preventable vision loss and blindness.
I would be remiss if I did not thank our CCB GTT team for their outstanding work within the community. The GTT team is always at the cutting edge of new technology, and offers ongoing support for all, regardless of your personal technology status. Please take advantage of the wonderful programs our GTT team continues to offer.
On behalf of the National Board of Directors, partners, staff and many volunteers, I wish everyone the best in their return to what is shaping up to be an exciting time for CCB, as we continue to be proactive in addressing our member's needs as our top priority. Please join in as we move forward, and thank you for your ongoing support.
Jim Tokos
National President
Advertisement: VIA Rail Canada, Ready for your comeback?
Announcements
It is with great sadness we at the CCB say good bye to an amazing leader, mentor and friend. Her sage advice remains even though she is gone.
Geraldine (Gerry) Petronella Maria Braak (van den Heuvel) 1936-2022 passed away peacefully on August 6, 2022.
Gerry was predeceased by her parents, her husband John and her siblings Hubert, Josephine and John. She is survived by her brother Bill (wife Mary); her daughter Diana (husband Craig) and son Steven; her granddaughter Rozanna and grandson Ryan (Bonnie), and great-granddaughter Kaitlyn; her nieces and nephews Elly, Steve, David, Joyce, Shauna, Jeff and Diana and their families; and so many others in Canada and the Netherlands.
Gerry was born on December 2, 1936, in Brunssum, the Netherlands. In her teens, she immigrated to Canada with her family, landing in Halifax and making their way to Saskatchewan. It was in Saskatoon where Gerry met her future husband of 64 years John. They married in Kitimat, BC, and in 1960 made Powell River their family home. Gerry's visual disability was slow to progress, becoming completely blind by the age of 52.
However, her enthusiasm to change the world's view of all disabilities was not slow. Her passion for enriching the lives of persons with disabilities started in Powell River; she felt a local chapter of Canadian Council of the Blind (CCB) was required, so became the White Cane Club of Powell River.
Gerry and others created the Powell River Model Community Project for Persons with Disabilities (MCP), which has been used as a model for communities around the world. Within that purview they also started Jump Radio. Her pride and joy is a section in the local library which she worked hard to have created: Accessible Books: Talking Books for People with Print Disabilities. Gerry's journey took her across Canada educating governments and private corporations to ensure safety of those with disabilities is a top priority.
She worked directly with the Bank of Canada, on the "talking bill readers" and adding braille to bills, and with Air Canada and Canadian Airlines to ensure access for all disabled passengers was available and safe. Eventually that journey led her to the Rick Hansen Foundation, where they joined forces to continue that enrichment for persons with disabilities.
Her journey continued with her husband John, travelling all over the world with the World Blind Union; whether in Egypt, Hong Kong, Australia, India, Jamaica or Powell River, that enthusiasm and passion never waned.
Gerry's sense of power to enrich the lives of persons with disabilities also gave her mention with the governments of Canada and British Columbia, becoming a recipient of the Order of Canada (Officer) and the Order of British Columbia. Over the years, she received numerous "lifetime honours, including an honorary Doctor of Law degree. A "coffee table" book dedicated to 50 of the 7,000 recipients of the Order of Canada was published; Gerry was one of those selected.
Through her advocate career, Gerry was a president and director of the CCB, and a director of the Canadian National Institute for the Blind. With more than 30 years of dedicated work, her accomplishments are too many to mention.
Further Thoughts on Geraldine's Contribution to the World Blind Union (WBU)
Geraldine Braak was a determined and dedicated woman whose legacy will long endure. In addition to her many significant achievements here at home, Geraldine worked tirelessly in support of the international blindness movement through her many years of service to the World Blind Union. She represented Canada as a delegate to the WBU, and in particular was a driving force behind the establishment of the WBU Women's Forum which helped to lead the way to the WBU's commitment to support women with sight loss throughout the world.
Geraldine worked on the organizing committee which brought the 1996 WBU General Assembly to Canada; an event which saw hundreds of delegates from blindness organizations all over the world come to Toronto to meet together, share experiences, and learn from one other. It is still remembered as a truly inspiring occasion.
Geraldine Braak may have been without sight, but she possessed strong and powerful vision.
-Charles Mossap
Women of CCB are returning via zoom
Our zoom get-togethers are every second Tuesday of the month at 7pm Eastern / 4pm Pacific.
Save the date of Tuesday September 13th for our first gathering.
Join in for the fun, laughter and maybe a special guest! Meet wonderful women from across Canada experiencing vision loss and let's share our stories.
If you would like to join us and are not already on the mailing list, please send an email to Leslie at [email protected] to be added.
Submitted by Leslie Yee
CCB National Men's Group
Come join us for a cup of coffee or beverage and talk about some of the topics impacting men with visual impairments or blindness. Our 1st meeting of the season will be on September 27th and will be focusing on Travel.
We will be touching on the following Travel – Tips & Tricks
There will be time to answer any questions that you may have that we have not addressed in the above list of topics.
This will be a zoom meeting if you would like to join please email Shane Cashin at [email protected] so that he can email you the zoom link and put you on our mailing list for future Men's Group Meetings.
We are looking forward to chatting and learning from each other at our meeting on September 27, 2022 at
Chat then!
Shane & Surander, CCB National Men's Group
CCB Rocks!
We have some exciting news! We have a wonderful opportunity to do some outdoor climbing at the CNIB Lake Joseph Holiday Centre the second weekend in September, (Saturday September 10 & Sunday Sept. 11)! We'd be delighted if you can join us!
Here are the details:
In 2020 an outdoor climbing wall was installed at the Lake Joseph Holiday Centre that has 3 levels of difficulty accommodating beginner climbers to advanced.
Please see the detailed description of the wall at the end of this message, below our signatures.
The plan is for us to travel to Lake Jo on the morning of Saturday Sept. 10 in time for lunch, start climbing in the afternoon, enjoy supper, enjoy a camp fire & stay overnight. Sunday morning after breakfast there will be more time for climbing, then lunch and return home in the afternoon.
Lake Joseph staff will oversee the climbs, provide instructions and ensure that all safety measures are in place. All you need to bring for the weekend are comfortable running shoes, clothing appropriate for an autumn weekend, towels & face cloths, and your adventurous spirit!
Accommodation: The cost per person for accommodation is $155 for a single room and $135 per person in a shared room. This price includes accommodation, 4 meals and access to all that Lake Jo has to offer.
Transportation: We will have access to a bus at a cost of $100 per person for the return trip. The bus can accommodate 15 passengers, accompanying guide dogs & luggage. For the trip north the bus will pick us up at the CNIB Community Hub, 1525 Yonge Street, Toronto, ON on Saturday morning (September 10), and return there on Sunday afternoon.
Please let us know as soon as possible if you can join us for this amazing adventure. We will need a final list of participants by September 1st. Payments to CNIB Lake Joseph will be required by September 7, and the payment process options will be emailed to each person as soon as you let us know you can join us.
In the meantime, we will be working with Lake Joseph staff to finalize bus pick up & drop off times, required forms such as general waivers and information concerning food restrictions, allergies, emergency contacts, etc.
Hey folks, this is a fabulous opportunity for us to get back into climbing, or to try out the sport if you haven't climbed before. Climbing is a very tactile sport; in fact, we were probably born to climb!
Please see the details below our signatures regarding the Lake Joseph climbing facilities kindly prepared by Emily Harrison, Guest Services Coordinator,
CNIB Lake Joe.
So let's get climbing!
Myra & Tammy
Email: [email protected]
(CCB Rocks President)
Tammy Adams, Secretary, CCB Rocks
Email: [email protected]
Description: The Lake Joe climbing wall:
Our three walls are as follows:
◦ Green Wall-Easy: No incline, no jut-outs, large and consistent footholds, and handholds. Additionally, this wall has actual holes in the wall for you to place your feet and hands for increased accessibility, like climbing a ladder
◦ Blue Wall-Medium: The wall angles toward the participant, no jut-outs, smaller and less consistent footholds and handholds
◦ Red Wall: Hard: first portion has the wall angling toward the participant with small and challenging footholds and handholds. Then a large jut-out which requires the participant to stretch and climb over to a wall portion that angles away from the participant as they mount the jut-out. Once over the jut-out the wall goes straight to the top with the smaller and inconsistent foot/hand holds.
Bowls Canada Boulingrin (BCB) is pleased to announce Windsor Lawn Bowling Club will host the 2022 Canadian Para-bowls Championships. The events are expected to take place from September 11 – September 17, 2022.
The inaugural Para-bowls Championships is anticipated to feature both a singles event, as well as a team event for bowlers who are visually impaired or physically disabled.
The event will be open registration, meaning provincial play downs won't be necessary to qualify.
Ted Merritt, chair of the host organizing committee, said "The Windsor Lawn Bowling Club is very excited to be named the host club for the 2022 Canadian Para-Bowls Championships. It will be such an honour to host the inaugural Canadian Para-Bowls Championship where these athletes can show everybody that they belong and can perform on any stage just like the rest of the world's athletes."
With Windsor LBC having two greens, it is anticipated that the first few days will feature the Para-bowls singles discipline, followed by Para-bowls team events. The Para-bowls events are scheduled to take place from September 11-17.
With an unknown number of athletes descending on the Windsor club for over a week, the safety of all participants and volunteers will be paramount. The event will see increased safety mechanisms in place to keep COVID-19 at bay such as increased cleaning and sanitizing. Further measures for 2022 will include the elimination of sanctioned social events, no centralized accommodation and no organized shared transportation. While these measures will be a significant change from previous years, they were deemed necessary to ensure the likelihood of having safe competitions in 2022. Further COVID-specific requirements will be determined closer to the event in consultation with local public health authorities.
As the official awards and recognition supplier for BCB, Nothers the Award Store will provide all medals and awards for the event.
For more information, please contact Jake Schuknecht at [email protected]
Ontario Artist Only Canadian Selected to Conduct Workshop at Global Art Symposium
Artist and CCB member with the Peterborough Chapter, Lynda Todd is the solo Canadian artist at the Curious Mondo Art Symposium 2022 that debuted on August 15 – 19, 2022.
Todd, the only Canadian, joined 14 other artists worldwide from the US, UK, Greece, Egypt, United Arab Emirates and more, at the symposium.
Curious Mondo, based in Salt Lake City, Utah, is a known platform for live-stream workshops and courses and has an audience in over 32 countries. Over 10,000 new people watch each day. There were three workshops each day, and these can be watched on your own time after the fact as well.
Todd explains, "As a visually impaired artist I am used to giving and receiving detailed step-by-step instructions. My goal is to encourage others to embrace their creativity".
Todd started her art journey three years ago as a fluid pour artist and has expanded to resin and sculpted art. She is presently working on a new exhibit of tactile art, opening up opportunities for the visually impaired and blind to enjoy art in a more intimate way.
Todd won the Spirit of the Hills Fine Art Award in 2021 and the life-time achievement Holnbeck award for her volunteer work in the Peterborough community.
Todd describes her workshop, "I will teach how to create a work of art with resin, how to mix resin, what you can use to tint your resin and safety precautions. Participants will learn doming, casting, coating and so much more. Tips and tricks will be offered throughout the class and she will go over techniques and applications for resin.
Even if you've never used resin, alcohol inks or acrylic paints, everything you need to know is covered in the class to get you started and 'embrace your creativity'.
For more information please contact Lynda Todd at 705.760.4899.
Contact me for workshop upcoming dates or to schedule private group or individual lessons.
Advertisement: Discover a variety of phones designed with accessibility in mind on Canada's best national network. Plus, special savings are available for customers with accessibility needs. Learn more. Bell. bell.ca/network
Advocacy
Municipal Election Action Kit — Ask Candidates for City Council or Mayor Anywhere in Ontario to Pledge Not to Allow Electric Scooters in Your Community!
October 24, 2022 is the date of municipal elections in Ontario. Ontarians will vote for their next mayors and members of city council. Ontarians with disabilities need your help in this election.
More and more, people with disabilities are endangered by electric scooters racing silently at high speeds on sidewalks, roads and park paths around Ontario. These create twin dangers for people with disabilities, seniors, children and others.
A silent menace, e-scooters, appearing out of nowhere, are ridden on sidewalks in Ottawa and other cities that ban them from sidewalks. Uninsured, unlicensed, untrained, un-helmeted joy-riders, racing at 20 KPH, endanger the safety of innocent pedestrians, especially people who can't see them coming or quickly dodge them. Left strewn on sidewalks, e-scooters have been tripping hazards for blind people, and an accessibility nightmare for wheelchair users.
Several major disability organizations, as well as several municipal accessibility advisory committees have called on city after city to not allow e-scooters, and to enforce any ban on them that is in place.
Yet despite this, some Ontario cities like Ottawa allow e-scooters. Others, like Toronto, have not allowed them, but are not effectively enforcing the ban on riding them in public.
Ottawa has allowed e-scooters for two years, over the strong objections from disability community. According to the City of Ottawa's own survey, 83% of respondents encountered mis-parked e-scooters. 79% encountered e-scooters illegally ridden on sidewalks.
Some people own their own e-scooters and ride them in public. There is nothing in place to stop stores from selling e-scooters to the public, even when it is illegal to ride them in public in most parts of Ontario. In some cities, people can also rent e-scooters.
Corporate lobbyists for e-scooter rental companies have kept up a feeding frenzy of lobbying city councils. They laugh all the way to the bank, while victims of e-scooter injuries sob all the way to their hospital's over-crowded emergency ward.
It's not good enough to just ban e-scooters from sidewalks. In every city that has banned e-scooters from sidewalks but allowed them on the roads, people still keep riding e-scooters on sidewalks. No city can afford to have a cop on every sidewalk to police those weak rules.
Let the candidates know that this issue of safety and accessibility matters to you! Ask any and every candidate for mayor or City Council member in your community to make the "No E-scooters Pledge." Don't allow e-scooters anywhere in public, roads, sidewalks or anywhere else. Don't allow them, whether they are rented or privately owned. Don't allow this new dangerous disability barrier to be created. It will make our society even more inaccessible for Ontarians with disabilities.
We are talking about the motorized kick-style scooters that a person stands on to ride. We of course seek no restrictions on mobility assistance devices for people with disabilities, such as the powered scooters on which a person sits when riding them.
The Accessibility for Ontarians with Disabilities Act requires Ontario to become accessible to people with disabilities by 2025. Creating new barriers flies in the face of that requirement.
Please spread the word about this issue. Urge friends and family members to call on any candidates for mayor or city council in the October 24, 2022 Ontario municipal elections to make the "No E-Scooters Pledge!"
Accessible BC Act: Expression of Interest for Technical Committees on Employment Accessibility and Accessible Service Delivery
Do you encounter accessibility barriers in your daily life? Do you have experience in employment accessibility or accessible customer service? Are you an accessibility expert? We need your expertise!
The Accessibility Directorate at the Ministry of Social Development and Poverty Reduction is recruiting members for two new technical committees to provide expertise in developing two new accessibility standards: 1) for Employment Accessibility and 2) Accessible Service Delivery.
Over a period of 12 months the Technical Committees will develop initial recommendations to present to the Provincial Accessibility Committee. The Committees will meet approximately every 4 weeks for 3 hours.
We are seeking approximately 13 to 15 members for each Technical Committee with a wide range of experience including:
To apply please review the enclosed material at the end of this message. You will be invited to complete a questionnaire. Please complete the questionnaire by 11:59 pm Pacific time on September 16, 2022.
Applicants will be notified on the outcome of their application at the end of the selection process.
If you have a question or require assistance to apply or an alternate means of completing the application, please contact at:
Expression of Interest
Technical Committees on Employment Accessibility and Accessible Service Delivery
About the Technical Committees
The Accessible British Columbia Act enables the government to develop standards that identify, remove and prevent barriers for people with disabilities.
The Technical Committees will play an integral role in the standards development process by assisting the Provincial Accessibility Committee to develop recommendations to the Minister on proposed accessibility standards in relation to employment accessibility and service delivery.
Over a period of 12 months the Technical Committees will develop initial recommendations to present to the Provincial Accessibility Committee. The Committees will meet approximately every 4 weeks for 3 hours. The Technical Committees are subject to the direction of the Provincial Accessibility Committee and direction from the Minister; for more information, please refer to the Terms of Reference for Employment Accessibility And Accessible Service Delivery.
Experience
We are seeking approximately 13 to 15 members for each Technical Committee with a wide range of experience including:
We are committed to establishing committees that reflect the diversity of people in British Columbia. We encourage people from diverse backgrounds to consider applying to the Technical Committees. Preference may be given to candidates who self-identify as a person with a disability, with lived experience of disability, or who identify as Indigenous (First Nations, Métis, Inuit) please outline in your application your lived experience and any intersectional identity factors.
This information will not be made public.
Expenses and Remuneration
In accordance with Treasury Board Directives, the Minister will reimburse or pay an allowance to Technical Committee members for reasonable travelling and out of pocket expenses necessarily incurred in carrying out their duties.
Additionally, in accordance with Treasury Board Directives, remuneration will be paid to Technical Committee members who are members of the Provincial Accessibility Committee, or persons with disabilities, who are not otherwise compensated.
How to apply
To apply please complete the questionnaire available at
https://www.external-surveys.sd.gov.bc.ca/s.asp?k=166033558358
by 11:59 pm Pacific time on September 16, 2022.
Applicants will be notified on the outcome of their application at the end of the selection process.
If you have a question or require assistance to apply or an alternate means of completing the application, please contact at:
www.ccbnational.net 1-877-304-0968