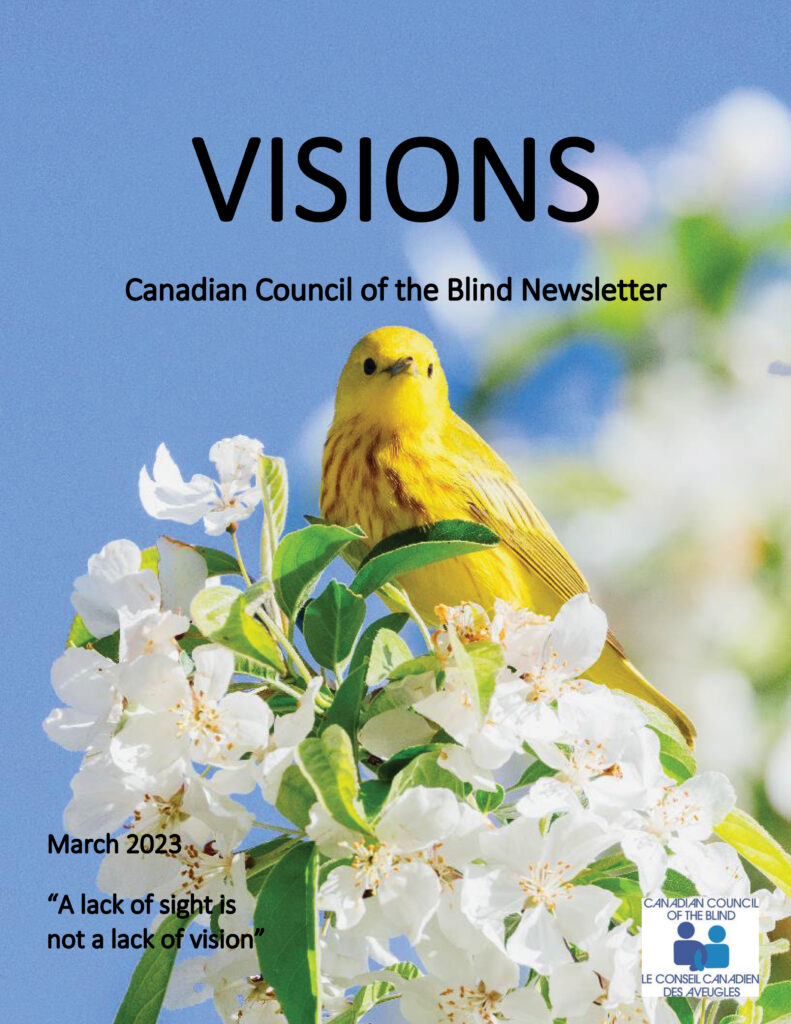 VISIONS
Canadian Council of the Blind Newsletter
March 2023
"A lack of sight is
not a lack of vision"
From the President's Desk
To start off, I wish to thank everyone for their contributions across Canada which made White Cane Week 2023 a great success. It certainly was reflected in the many innovative ways that our Members chose to demonstrate their abilities, as well as education and awareness to the public; many of which will be shared through our newsletter and social media.
The Council, on behalf of its Membership has officially made a written submission to Government, in particular the Senate to ensure the strengthening of Bill C 22; which is currently making its way through the Federal Government. We at CCB wish to enable our Member's, and the bill contains language that will ensure a better quality of life for those living with vision loss, and all disabilities across Canada. The emphasis is on Federal supports over and above any Provincial and Territorial benefits. There is a strong message to the Federal Government to ensure there are no claw-backs on any social programs that are currently in place in said Provinces and Territories. We strive to ensure Members and their families have the ability to lead a life free of poverty, and a system which enables our citizens living the experience have the opportunities to make a better life for themselves and their families.
We continue to engage and expand our Committee work to avail our Members requests, through partnerships to ensure our voices are heard, and we are well represented in the decision making process. This is so vital to our needs, as living the experience allows us that opportunity, and we must always ensure we take an active role in speaking up for ourselves, free of repercussion.
The Council will continue with White Cane activities in May (Vision Health Month) with a strong emphasis on the message "Nothing About Us Without Us." Stay tuned!
On behalf of the National Board, staff, committees, sponsors, and volunteers, I wish everyone a very happy Spring season, and let us get out there and enjoy outdoor activity to the fullest, as March is upon us, and winter will soon be in the rear view mirror.
Jim Tokos
National President.
Announcements
Ontario Joins Other Provinces in Approval of Luxturna for Public Funding.
The Canadian Council of the Blind (CCB) applauds the Ontario Minister of Health's announcement on Tuesday, February 28, 2023 that the Novartis treatment Luxturna® is now available through the Ontario public health plan for patients with vision loss due to inherited retinal dystrophy caused by confirmed biallelic RPE65mutations. Ontario has now joined Quebec, Alberta, and Saskatchewan for public coverage of the treatment.
"The CCB fully endorses Minister of Health Sylvia Jones' decision to fund Luxturna," stated Dr. Keith Gordon, the CCB's Senior Research Officer. "The funding of this innovative therapy provides hope that people living with the RPE65 gene mutation will be fully able to participate in life. We commend the Ontario government for making this possible."
The Canadian Council of the Blind (CCB) applauds the Ontario Minister of Health's announcement on Tuesday, February 28, 2023 that the Novartis treatment Luxturna® is now available through the Ontario public health plan for patients with vision loss due to inherited retinal dystrophy caused by confirmed biallelic RPE65mutations.
"Novartis is proud to play a part in helping to change the outlook on IRDs and, for the first time, giving physicians the tools they need to treat patients in the best possible way. We are pleased that Ontario is making this much-needed treatment option available, bringing optimism and hope to children and young adults in need," said Andrea Marazzi, Country President, Novartis Pharmaceuticals Canada Inc. "Our goal is to ensure that all eligible patients in Canada have the same opportunity."
Background:
Luxturna® was approved by Health Canada in October 2020 for individuals who are impacted by Leber congenital amaurosis (LCA). The pan-Canadian Pharmaceutical Alliance (pCPA) announced on September 16, 2022 that a letter of intent had been finalized with Novartis Pharmaceuticals Canada Inc. The CCB immediately requested that the Government of Ontario accept the pCPA letter of intent and establish treatment sites for Luxturna®, taking action to ensure that this ground-breaking treatment was readily available and accessible to those in need. The CCB remains dedicated to continuing our efforts to have those remaining provinces approve publicly-funded coverage.


What is Luxturna®?
Luxturna® is Canada's first approved targeted gene therapy for LCA. It is inserted via surgical injection into the eye under the retina, which provides a working copy of the RPE65 gene that acts to restore the vision cycle. Evidence from clinical trials has demonstrated that this one-time treatment can safely improve vision and the ability to function independently as soon as one month after receiving the treatment. Over 90% of treatment recipients had improvements to their night vision, and over 70% had full restoration.
The need is urgent for those eligible for treatment. Without access to Luxturna®,Canadians with LCA will continue to lose photoreceptors (approx. 10,000 per day) – vision loss occurs rapidly after age 18, eventually to a point where Luxturna® will not be effective and they will be blind. They have no other treatment option.
What are inherited retinal dystrophies (IRDs)?
Inherited retinal dystrophies are progressive and visually-debilitating diseases caused by the ongoing occurrence of photoreceptor cell death since birth. IRDs affect 21,000 Canadians.
LCA is an extremely rare type of IRD. Currently, 40 Canadians are on the waiting list for the treatment in Canada, with an estimated 20 of them being in Ontario. The impact that LCA has on individuals is severe and encompassing to many aspects of one's life. Typically, vision loss starts at birth and progresses to blindness by their twenties. Additional symptoms include eye oscillations, slow/absent pupil reactions, heightened light sensitivity, far-sightedness, and cornea building.
Pembroke White Cane Club
After almost three years of not meeting in person, the Pembroke White Cane Club (PWCC) began meeting again with a reduced number of members. You could say that we are a small but enthusiastic group. We are busy trying to find ways to reach out to others in the blind community here in Pembroke/Petawawa area. If there are any of your wonderful people out there who may know of anyone in our area, please let us know.
Since we just began meeting, we did not have time to plan much to mark White Cane Week here, but we did have the City of Pembroke proclaimed February 5th to 11th to be WCW in the City.
We hope to do more next year as we slowly rebuild our club.
Submitted by Gerry Frketich on behalf of the PWCC
CCB Sydney Chapter
On Monday February 6, 2023. Members of CCB Sydney Chapter and Curling Chapter attended the Proclamation of White Cane Week in the Cape Breton Regional Municipality with raising our CCB flag in front of City Hall. The flag was there all week to remind residents that this is White Cane Week – a time of awareness regarding living with sight loss and the prevention of blindness.
CCB Sydney Curling Chapter
The team curled against a strong sighted team and they came out winners! (7-3). They also went bowling with several of their volunteers who wanted to use simulators and try bowling with them on.
This was an "eye opener" for them as their sight loss members beat them!
BC-Yukon Blind Bowling
In celebration of White Cane week, the Kamloops White Cane Club CCB invited local politicians to participate in a Friday, Feb. 10, event at the Falcon Lanes bowling alley in Valleyview. City council members and staff faced off with the Kamloops Blind Bowling Team in the lanes.
To read more of the article, follow the link:
https://www.kamloopsthisweek.com/community/kamloops-white-cane-week-organizers-seek-to-educate-6499748
CCB Summerside Socialites
The CCB Summerside Socialites had a great afternoon at Sobeys in Summerside, Prince Edward Island. They are a new chapter and this was their very first time promoting White Cane Week! They had a White Cane Week information table with all kinds of handouts and assistive devices on display such as a Perkins brailler, magnifier devices, and the main attraction which was a variety of white canes. Their members enjoyed meeting people in their community. There were lots of great questions about White Cane Week, Council of the Blind, and about their chapter. It was a successful afternoon and all had a fantastic time spreading awareness and making a difference in the community. They look forward to many more White Cane Weeks from here on!
CCB Peterborough Chapter
The CCB Peterborough Chapter had a table set up at Activity Haven!
Tabling is a fantastic way to get the community involved and educated!
To end the White Cane Week celebrations, CCB Peterborough Chapter got together and enjoyed some delicious cake!
St. John's, NL
On February 1st, the President (Chair) of the E.A.Baker Club, Karen Young, was on 590 VOCM during the On Target Newfoundland Show for an hour, that went province wide talking about White Cane Week and the CCB's programs. It was very well received by members and the general public alike.
Every year the CCB E.A.Baker Chapter, out of St. John's, NL, celebrates White Cane week by participating in various activities.
What made this year's week so special was that we were able to participate fully for the first time since 2020. We managed to mark the White Cane week in 2020 literally days before COVID-19 shut down activities for nearly 2 years. Read on to find out the activities our chapter took part in.
February 5th, 2023 @ Boston Pizza – our first Dining in the Dark. We had a great turn out for what we hope will be a new White Cane Week tradition. Blindfolds were given to attendees to wear while eating. Those who came out were happy with their experience and it was a real learning experience for all.
February 6th, 2022 @ Government House –
Lieutenant Governor July M. Foot signing the official provincial proclamation of White Cane Week from February 5th-11th, 2023, with members of the E.A. Baker Chapter of the CCB. The Government House was bathed in White in observance of White Cane Week
February 7th, 2023 – Crib Game at the Lions Chalet between the St. John's Lions Club and the CCB. Unfortunately for our members, the Lions won by a score of 1999 to the CCB's score of 1908. Fun was had by all in attendance!
February 10th, 2023 – Games and Activities with Academy Canada's Therapeutic Class @The CNIB in St. John's, NL.
CCB National Men's Group
Come join us on Tuesday, March 28th, 2023 for our upcoming Monthly CCB
National Men's Group Chat via Zoom!
The CCB National Men's group is an informal discussion held on the 4th Tuesday of each month. We discuss topics that have a particular importance to our male members. In the past we have discussed topics such as the Canadian Registered Savings Plan, Tax Credits, and Relationships, travel and even had some light hearted discussions as well.
To join, please email Shane Cashin at [email protected] and request to be put on the list.
We will inform the members on our mailing list of this month's topic before the meeting when we send out the zoom link. We are always looking for suggestions for upcoming group meetings.
Please note, if you have received an invite in the past for previous Men's groups meetings, you are already on the list and should receive an email on or before March 25, 2023.
Advertisment: VIA Rail Canada, Ready for your comeback? www.viarail.ca
News from Uber
Uber announced the 1-833-715-8237 phone number for people with Service Animals, who are denied service. Employees are trained to handle such calls. Please note that this line is now active 24/hours a day in both the U.S. and Canada and that this is only for issues pertaining to Service Animals.
About Brailley
Meet Brailley the mascot of CCB Comox Valley Chapter. The dog is very life like and will have people interested when we are out promoting CCB. His harness was made by Charles Reid. We will be able to talk to children as they will be dragging parents to see the dog. There will also be a white cane with the dog and may make a lot of parents more comfortable as the children ask questions.
In the News
Ollie's Dream
Three years after cancer robbed him of sight, Ottawa 10-year-old is dreaming of a pro skateboarding career.
During the toughest part of his cancer treatment three years ago, Ollie Acosta-Pickering and his family put together a list of reasons for him to get better.
Near the top of that list, even higher than them, his family jokes, was skateboarding.
By then, Ollie needed motivation. The rare, aggressive cancer -anaplastic large cell lymphoma — he had been diagnosed with months earlier had spread to his brain and spine, leaving the eight-year-old Ottawa boy blind and in need of intense pain medication. He went through two relapses after initial treatments. His body looked like a pin cushion from the constant poking and prodding, said his mother, Dawn Pickering,
Meanwhile, his health-care providers faced shrinking treatment options to coincide with new barriers caused by COVID-19. A planned stem cell transplant with an overseas donor had to be cancelled when air travel shut down early in the pandemic.
Still, he never stopped asking whether he could return to skateboarding — a sport he started before he became ill.
Those pleas intensified after Ollie, now 10, went into remission with the help of a last-ditch drug designed to treat lung cancer. That enabled him to undergo a successful stem cell transplant in the summer of 2020. His sister Abby, 11 years old at the time, was the donor. He is now cancer free.
Ollie said it is a good sport for him now that he has lost his sight because skateboarding is about feel. "I wanted to get back on my skateboard so badly after the stem cell transplant."
His mother wasn't surprised. The ever-active Ollie had organized games of floor hockey at CHEO while undergoing chemo, hauling an intravenous drip line behind him as he played. But skateboarding was another level for a child who had been through what her son had. "Part of me was just like … why would I ever let you, blind after a stem cell transplant and cancer, get on a board? You could kill yourself."
But after learning about a Canadian National Institute for the Blind program in Calgary to help blind and low-vision youth skateboard and then finding a local instructor eager to work with Ollie, she agreed.
"It was one of the things that really motivated him to get well, so how do you say no?" she said. "You can't work this hard to save your child and not let them live."
Today, a year and a half after he returned to skateboarding, Ollie is making remarkable progress with his instructor, Jordan Wells, whose day job is working with special needs children at an Ottawa elementary school. The two have developed a close bond.
"It comes down to the trust that we have for each other, making a lot of these things possible," said Wells.
Last week, after a few false starts and at least one fall, Ollie successfully "dropped in" to a bowl at The Yard, the indoor skateboard park in City Centre where he takes lessons. The maneuver involves dropping down from a flat surface into a steep bowl, five feet deep, on his skateboard. Wells was coaching him and waiting at the bottom.
Ollie then repeated the trick, cheering each time and hugging Wells.
Another instructor, watching from the sidelines, shook his head in amazement, saying it is one of the scariest things he has ever done.
"The amount of courage it takes to do this is off the charts," he said.
In December, Ollie did the trick for the first time with an audience —a video crew from the Canadian Cancer Society. After falling twice, Wells told his student he didn't have to attempt it, but Ollie was determined.
At the top "he took some deep breaths and calmed himself," said Pickering.
"I held my St. Christopher medallion and said 'Please help me'," Ollie recalled.
When he succeeded, members of the video crew were in tears.
The video is part of a new campaign from the Canadian Cancer Society promoting palliative care and urging policy-makers to remove barriers so more people can get access to it.
For Ollie, it was a game-changer during a bleak period. It helped better manage his intense pain. It also provided counselling; art and music therapy; and other support that helped his whole family.
"These things brought the light," said Pickering. "They gave him purpose to try to get through."
Respite and end-of-life care are key components of palliative care, said Pickering, but it is about more than that.
Although they never had to take advantage of it, Pickering said Ottawa is lucky to have Roger Neilson House, the pediatric palliative care hospice on the grounds of CHEO for end-of-life care.
"Children spend their last days with their families there in the most beautiful way possible, and are treated with dignity and humanity."
But only about 15 per cent of people with life-limiting illnesses get access to palliative care, says the Canadian Cancer Society.
While palliative care was part of the support that helped Ollie and his family get through his ordeal, he is now focused firmly on the future. And he is making plans.
"Skateboarding will always be my thing," he said during an interview with his support dog Hope nearby. "I am focusing all my attention on becoming a pro boarder in the future." Ollie conceded that he would have to do well at school because he might need another job.
Ollie would also like to be a paralympic athlete. He briefly interrupted an interview to ask Google whether skateboarding was a Paralympic sport. Not yet, but probably soon.
By Elizabeth Payne
Calgary Taxi Driver Fined, Suspended After Refusing to Give Ride to a Blind Woman & Her Guide Dog
A Calgary cab company has fined and temporarily suspended one of its drivers for refusing to give a ride this week to a blind woman and her guide dog.
Kim Kilpatrick is from Ottawa and just so happens to be in Calgary with her guide dog, Ginger, to perform a show downtown about living with guide dogs.
"It's a really sort of shocking experience," Kilpatrick said. "I don't just have a dog in the car for the heck of it, she's going to get me from the car to my destination."
Kilpatrick said she used an app to book the taxi after her show last Sunday afternoon at Lunchbox Theatre, located at the bottom of the Calgary Tower.
She said when it arrived the driver told her the dog wasn't allowed in the vehicle because he didn't want any dog hair inside.
Kilpatrick said she told him that was illegal and he had to take the service dog.
In response, she said, the driver told her the dog could go in the trunk — a suggestion she called "appalling."
Kilpatrick eventually cancelled the ride and booked another taxi from the same company without any problems.
Kilpatrick said she later called dispatch to complain and was told to order a pet-friendly taxi next time.
"Like it was my fault," she said.
Kilpatrick complained to Vehicle For Hire, the city department that oversees taxis and rideshares. It confirmed it is in the midst of an investigation.
A spokesperson for the taxi company, Calgary United Cabs, initially said he wasn't aware of the incident. But after looking into it further, he said they've temporarily suspended the driver pending the results of the city's investigation.
"This is not supposed to happen with any human being," said Rajeev Gopinath, marketing manager for Calgary United Cabs.
Gopinath said he plans to apologize directly to Kilpatrick.
On Wednesday evening, he said the driver was fined $700 and would need to redo in-office training in order to reactivate his vehicle following the suspension.
The suspension is set to last until noontime Thursday.
The rights of a blind person and their service dog are protected under both municipal and provincial legislation.
The Alberta Human Rights Act also states that no one can be denied accommodation, services, goods or facilities that are available to the public, based on their physical disability.
Complaints are handled through the Alberta Human Rights Commission.
The Blind Persons' Rights Act, and the accompanying Service Dogs Act, both provincial legislation, state that "no one shall discriminate against or deny accommodation, services, or facilities where the public is admitted or charge for the use of them, because the person is a blind person accompanied by a guide dog."
Related fines are worth up to $3,000. Complaints can be filed with local police.
And then there are specific municipal bylaws. Calgary's bylaw states "a driver must not refuse a passenger because they require that their service dog accompany them." The specified penalty is $700.
A city spokesperson said this topic is covered in a driver's mandatory training. And they encourage anyone who's been refused a trip to report it through 311.
"There is no excuse for refusing a guide dog as our municipal legislation states," said Cory Porter, acting deputy chief for Vehicle for Hire, in an email to CBC News.
A spokesperson for the Canadian National Institute for the Blind (CNIB) says they receive complaints almost weekly from guide dog handlers who say they've been denied access somewhere – whether that's a taxi, rideshare, restaurant or grocery store.
"This kind of thing happens all the time, and it needs to stop happening," said Larissa Proctor, manager of guide dog advocacy at CNIB.
Proctor said it's a matter of businesses educating their employees about the laws that protect people with disabilities.
She says guide dogs are not pets; they help people get to doctor appointments, job interviews, pick up their children, and anywhere else they need to go.
Proctor, who is blind, said she's experienced similar incidents to what happened to Kilpatrick.
"It never stops being embarrassing. It never stops being shocking. It never stops making you feel like you are less than everyone else around you because you can't get from point A to point B," Proctor said.
She said there may be times when a service refusal is legitimate, such as when someone is allergic to dogs. She says in those cases, it's important to ensure it's on record with the employer and accommodate the customer appropriately.
Kilpatrick hopes her experience can serve as a lesson for service providers.
"I don't know, they could come to the show, and they could find out," she said.
Meanwhile, Gopinath says the company has now issued a message to its entire fleet, notifying them of the law and saying they must accept service dogs. If they don't want to, the message says, they will lose their job.
"We are giving more importance to humanitarian consideration, we value that," Gopinath said.
By Colleen Underwood, CBC News
Visually Impaired Greenwood, N.S., Teen Teady to Ski at Canada Games
Hayden Denouden skis cleanly down the hill, moving across the slopes and around the gates with apparent ease.
The visually impaired athlete does it with the help of a guide, Zianne Khalifa, skiing ahead of him.
"Me and Zianne, we have a mic set on our helmets and she basically tells me when to turn," Hayden explained.
Hayden, 14, doesn't have any depth perception or peripheral vision. What most people can see 200 feet away, he can only see in 20 feet. It hasn't stopped Hayden from competing, who lives with his mother Cheyanne d'Entremont, stepdad Trevor West and sister Gracie in Greenwood
He has been skiing since he was five years old. Initially, it was recreationally but he got into racing when he was nine
"I really enjoy the speed and the satisfaction of getting it right," Hayden said.
Khalifa, a Bedford native, was approached by the president of the Martock Ski Race Club during her second year competing at the under-18 age category. "I was a racer before and then I went straight from racing into guiding," she explained.
It really means the world to me to be able to continue (in the sport)."
Hayden's dedication, commitment and willingness to learn the sport makes his mom smile with pride. "He's brave.… He's always done what other able-bodied, sighted kids have done," d'Entremont said.
"I was excited because he didn't let his disability stop him." She said it is vital these opportunities are available for youth. "I think it's super important for their confidence, their self-esteem and not only in sport, (but) in life.
Now Hayden is getting ready to compete on a national stage. "The Canada Games was like my big dream since I was like 12," Hayden said. "I am really, really excited to go there. I'll be able to compete against other para athletes. I've never competed against another VI, visually impaired, skier, so I will finally be able to do that, which is going to be awesome.
"I am going to try my very best and hopefully get on the podium."
By Jason Malloy
Onley Laid to Rest
Former Ontario Lieutenant Governor David Onley was laid to rest this month. Mr. Onley was well known to Ontario, and in particular GTA, television viewers for many years on City TV back in the 70s through the early 2000s. As an occasional viewer of City TV I knew his name but was unaware he had a disability or used some type of mobility device. As a non-disabled person at that time it likely would have not resonated with me had I known.
However, after losing my eyesight in the early 80s then becoming involved in the emerging disability community in the mid to late 80s there was purpose in knowing of his television presence. Whether he knew it or not Mr. Onley made a presence. He helped to create a legacy for other people with disabilities.
Mr. Onley paved a way forward, not to use his example as a cliché.
I had the opportunity to meet Mr. Onley on at least one occasion and an opportunity to catch one or two of his keynote addresses. Though he will never know Accessibility Hamilton Alliance (AHA) exists today due in some part to his efforts, it does. The mission of AHA is to pursue accessibility in a way that meets the needs of people with disabilities, seniors and taxpayers.
The Alliance will do all it can to engage persons at the highest levels of government, business, and education whether elected or otherwise in an effort to impress upon those in charge the importance of accessibility for the good of the community and for the good of the public purse. Some of the highest priorities for AHA include transportation, outdoor dining, the presence of e-scooters on City streets and roadways, snow removal, employment and understanding through awareness and education. There are a good many issues to address across the City and beyond.
With the inspiration of David Onley at its root, the Accessibility Hamilton Alliance is well-positioned to help Hamilton to become again the beacon of accessibility across the province and country. Thank you David Onley for being the face of disability and accessibility these many years. May you rest in peace.
By Tim Nolan
Eyes and Eyesight
Medical practice tends to divide its clients — you and me — into specialties defined by body parts: ophthalmology, neurology, gastroenterology, psychiatry and the like. But in fact, the human body doesn't function in silos. Rather, it works as an integrated whole, and what goes awry in one part of the body can affect several others.
Authors have written about the potential harm of hearing loss to brain health, as well as to the health of our bones, hearts and emotional well-being.
Untreated hearing loss can increase the risk of dementia. Even those with slightly less than perfect hearing can have measurable cognitive deficits.
Now, a growing body of research is demonstrating that vision loss can affect the brain's function, too. As with hearing, if the brain has to work extra hard to make sense of what our eyes see, it can take a toll on cognitive function.
The latest study, published in JAMA Network Open in July, followed 1,202 men and women aged 60 to 94 for an average of nearly seven years. All were part of the Baltimore Longitudinal Study of Aging, and had vision and cognition tests every one to four years between 2003 and 2019.
The researchers found that those who scored poorly on initial tests of visual acuity — how well, for example, they could see the letters on an eye chart from a given distance — were more likely to have cognitive decline over time, including deficits in language, memory, attention and the ability to identify and locate objects in space.
Other vision issues, like with depth perception and the ability to see contrasts, also had deleterious effects on cognitive ability.
The lead researcher, Bonnielin Swenor, an epidemiologist at the Johns Hopkins Wilmer Eye Institute, said that the new study "adds to mounting longitudinal data showing that vision impairment can lead to cognitive decline in older adults."
Correcting poor vision is good for the brain.
Lest you think that the relationship is reversed — that cognitive decline impairs vision — another study that Dr. Swenor participated in showed that when both functions were considered, vision impairment was two times more likely to affect cognitive decline than the other way around. This study, published in 2018 in JAMA Ophthalmology and led by Diane Zheng from the University of Miami Miller School of Medicine, included 2,520 community-dwelling adults ages 65 to 84, whose vision and cognitive function were periodically tested. She and her co-authors concluded that maintaining good vision as one ages may be an effective way to minimize the decline in cognitive function in older adults.
"When people have vision loss, they change the way they live their lives. They decrease their physical activity and they decrease their social activity, both of which are so important for maintaining a healthy brain," Dr. Swenor said. "It puts them on a fast track to cognitive decline."
But identifying and correcting vision loss early on can help, Dr. Zheng said. She suggested regular eye checkups — at least once every two years, and more often if you have diabetes, glaucoma or other conditions that may damage vision. "Make sure you can see well through your glasses," she urged.
When glasses alone aren't enough
There are "vision impairments that glasses won't fix," Dr. Swenor said, like age-related macular degeneration and glaucoma. Retinal disease began to compromise Dr. Swenor's vision in her mid-20s. Those with problems like hers can benefit from something called low vision rehabilitation, a sort of physical therapy for the eyes that helps visually impaired people adapt to common situations and help them function better in society.
Dr. Swenor, for instance, can see objects in a high-contrast situation, like a black cat against a white fence, but has trouble seeing the difference between similar colors. She can't pour white milk into a white mug without spilling it, for example. Her solution: Use a dark-colored mug. Finding such accommodations is an ongoing task, but it enables her to continue to function well professionally and socially.
Society, too, needs to help people with visual impairment function safely outside the home. Most things in hospitals are white, for example, which creates safety hazards for people with diminished contrast sensitivity. As a driver of 50 years, I've noticed that road barriers that used to be the same color as the road surface are now more often rendered in high contrast colors like orange or yellow, which undoubtedly reduces crashes even for people who can see perfectly.
"We need to create a more inclusive society that accommodates people with vision impairment," Dr. Swenor said.
Home improvements may foster brain health
People who have trouble with depth perception can also incorporate helpful design features into the home. Placing colored strips on stair risers, varying textures of furniture and color-coding objects can all improve the ability to navigate safely. People who can no longer read books may also listen to audiobooks, podcasts or music instead, Dr. Swenor said.
The link between visual impairment and cognitive impairment "is not a doomsday message," she added. "There are many ways to foster brain health for people with vision loss."
New York Times
www.ccbnational.net 1-877-304-0968