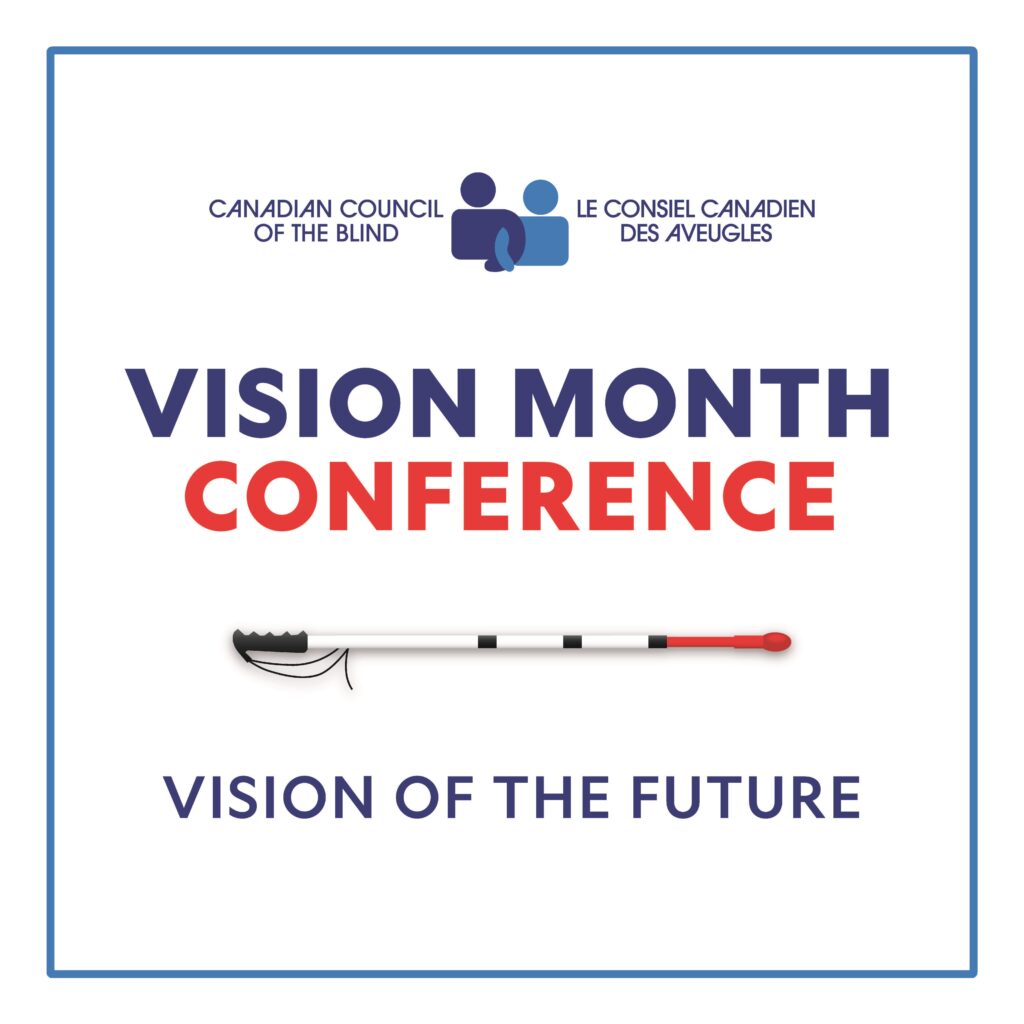 VISION OF THE FUTURE
VISION MONTH CONFERENCE
The Canadian Council of the Blind Vision Month Conference will take place on Tuesday, May 16th from 10:00 a.m. to 2:00 p.m. (EST) Eastern Standard Time at Christ Church Cathedral in the Great Hall, located at 414 Sparks Street in Ottawa, Ontario.
Topic: New Treatments for Eye Disease – a Vision of the Future
Speakers:
The Honourable Judy Sgro PC MP, Humber River – Black Creek, Ontario
Dr. Keith Gordon, Senior Research Officer, Canadian Council of the Blind
Dr. David Maberley, Chair, University of Ottawa Department of Ophthalmology
Dr. Elise Heon, Staff Director, Ocular Genetics Program, Sick Children's Hospital and Professor of Ophthalmology, Department of Ophthalmology and Visual Science, University of Toronto
Dr. Ike Ahmed, Professor, Department of Ophthalmology and Visual Sciences, University of Utah, Director, Glaucoma & Advanced Anterior Segment Surgery (GAASS) Fellowship, University of Toronto
Dr. Larissa Moniz, Director Research and Mission Programs, Fighting Blindness Canada.
DATE: Tuesday, May 16, 2023
TIME: 10:00 a.m. – 2:00 p.m. EST
LUNCH: Light lunch to be served from 12:00 – 12:30 p.m.
The past few years have seen the advent of new drugs, devices and treatments that have significantly improved the outlook of people with eye diseases that would have previously led to vision loss. This CCB conference will explore new treatments for eye diseases that are already in use, as well as those expected to reach the marketplace in the next few years. We are privileged to have three of Canada's foremost ophthalmologists enlightening us on the following topics:
New treatments for retinal diseases – wet AMD and geographic atrophy
Biosimilar drugs in the treatment of retinal diseases
New gene therapies for the treatment of eye disease.
Luxturna – the first gene-based therapy for the treatment of eye disease.
New methods for the surgical treatment of glaucoma
We are also privileged to have the Honourable Judy Sgro PC MP with us to update us all on the status of Bill C-284 – An Act to establish a national strategy for eye care. Bill C-284 is expected to have undergone its second reading in the House of Commons. The Conference will feature expert discussion on some of the issues faced in the development of a new treatment for eye diseases and in gaining approval for marketing and reimbursement of these treatments.