Topic: Ontario's Assistive Devices Program Moderator: Dr. Keith Gordon (Senior Research Officer of the Canadian Council of the Blind); Panel: Ian White (President of the CCB Toronto Visionaries), Mike Potvin (Editor of White Cane Magazine), Samantha Moore (CCB Coordinator of Public Relations and Youth Programs), and Minette Samaroo (President of the Toronto Chapter of the Alliance for Equality of Blind Canadians)
Register here:
https://zoom.us/webinar/register/WN_hUgBCGuCSySUMclwVKl6sQ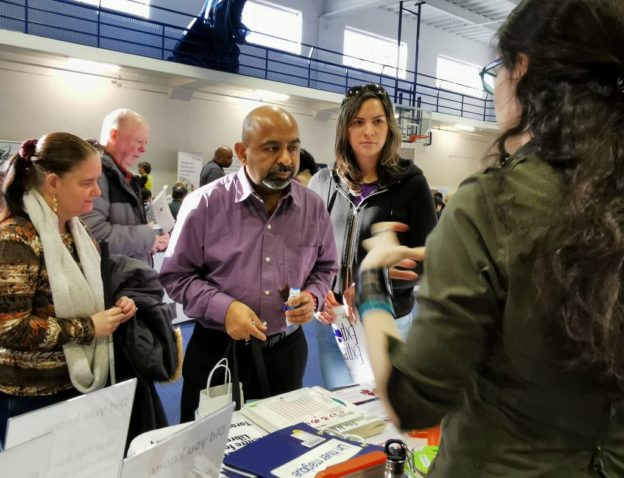 In 2022, the CCB Toronto Visionaries chapter of the Candian Council of the Blind, will once again host the White Cane Week Experience Expo, the only major exposition and consumer show for people with vision loss in Canada!
The Expo features dozens of exhibitors addressing every aspect of living with vision loss, contests and giveaways, and plenty of community-building.
The Experience Expo is an interactive, hands-on exhibition featuring dozens of exhibitors, products and services covering every aspect of the experience of living with vision loss.
Get connected with information ont new adaptive technologies, recreation and leisure, tactile art and accessible entertainment, sport & fitness, transportation, education, employment, government supports, advocacy issues, and more. Come to the Expo and experience the passion, creativity, wide range of activities, tools and tips for people living with vision loss.
Watch AMI's profile ofthe 2018 Expo on AMI Inside.
Contact us for more information.
List of exhibitors from last years, 2020 WCW Experience Expo:
AMI (Accessible Media Inc.)
Alliance for Equality of Blind Canadians
Amazing BPS Racing Cane Challenge
BALANCE for Blind Adults
Bauch + Lomb
BELL Mobility Inc.
Blind Sailing Canada
Blind Tennis
Braille Literacy Canda
CCB Dragon Boat Toronto Chapter
CCB Hands of Fire Chapter: Blind Sculpture Group
CCB Rocks Chapter
CCB Mississaugua VIP Chapter
CCB Mysteries Chapter
CCB Onatrio Visually Impaired g\Golfers (OVIG)
CCB Road Runners Chapter
CCB Toronto Visionaries Chapter
CCB Toronto Visionaries & Lions Bingo
CELA (Centre for Equitable Library Access) and the Toronto Public Library
CNIB Foundation
Discover Your Dance Flow (Michael Haltrecht)/Vivian Chong's graphic memoir and show
Fighting Blindess Canada
Get Together with Technology Program
HT Consulting
Humanware Technologies
Inclusive Design Research Centre, Vision Technology Service
Jobstart
Dr. Ana M. Juricic, Low-vision optometrist
Magnet, Ryerson University
Med-Fit
Metrolinx
Miles Nadal Jewish community Centre & ReelAbilities Film Festival Toronto
Ontario blind Sports Association
Ontario Chamber of Commerce, Discover Ability Program
Ontario Misitry for Seniors and Accessibility
PAL Reading Services Inc.
Say Hello 2 Blindness
Shop CNIB/Frontier Accessibility
Special Needs Computers Inc.
Spinal Cord Injury Ontario
Toronto Blind Curling Club
Toronto Ice Owls Blind Hockey Club
Trailblazers Tandem Cycling
VIA Rail
Vision Aids Inc.
Vision Loss Rehab Ontario (a CNIB organization)