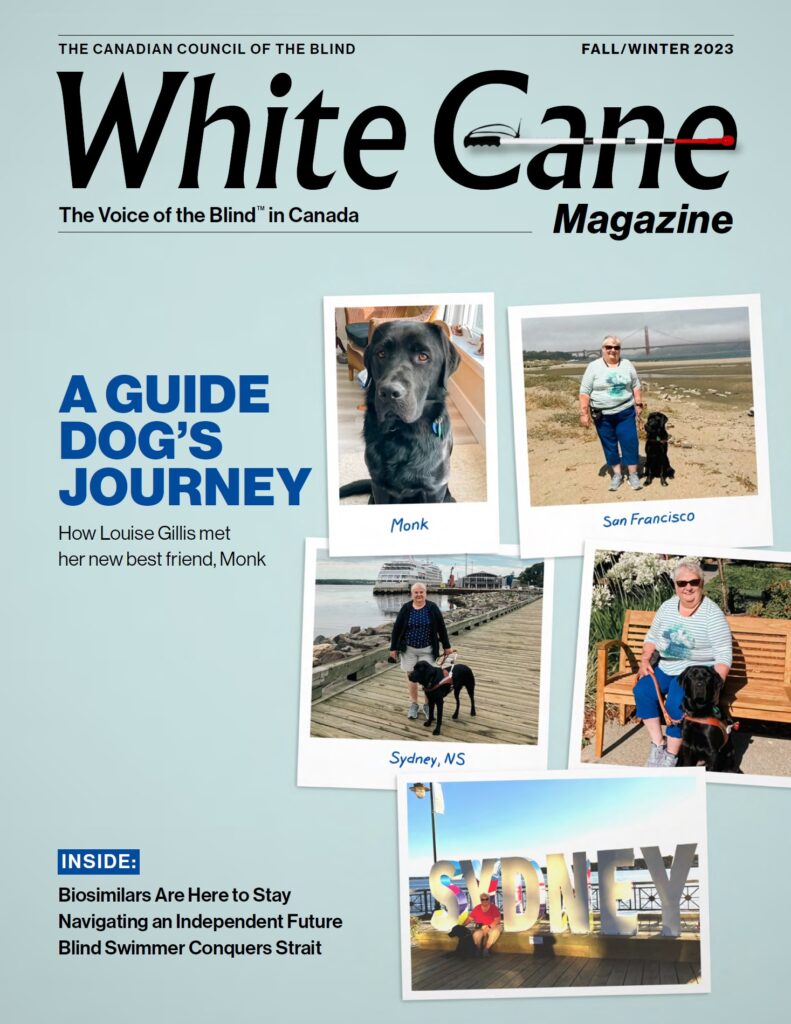 Welcome to CCB's Fall/Winter issue of White Cane Magazine Fall/Winter 2023, dedicated to advances in Vision Health. Check out this issue of White Cane Magazine and learn more about your Vision Health:
Learn How Geographic Atrophy Affects Millions
Learn How Those Living with Vision Loss are Striving Towards an Accessible Canada
Learn About the New Hope for Patients Living with Inherited Vision Loss
Learn why Biosimilars are Here to Stay and What Your Options are in Treatment
Learn About Navigating an Independent Future: Mobility and Guide Dogs
Learn About the Key Goals of Bill C-284: A National Strategy for Eyecare
Learn About the Latest Innovations in Glaucoma Research
Learn Why Physicians, Not Policies, Should Determine Appropriate Patient Care
Learn How Canada's Optometrists are Uniting People to Combat Childhood Myopia
Learn How a Blind Swimmer Conquered the Strait of Georgia
Learn How a New App Helps It's Vision Impaired Users Apply Their Makeup
Learn About Fighting Blindness Funding Transformative Research into Retinal Degeneration
Learn About a New Affordable Option for Reading Audio Books
Learn about AMI's Fall Lineup Including New and Returning Programs
It's a Great Issue Accessible in Word and PDF Formats.
Enjoy the Read!
NOTE TO WORD READERS USERS:
The Word version of CCB's Fall/Winter issue of White Cane Magazine represents the latest publication – cover to cover – in a text-only format with imagery described, accessible hyperlinks and optimized for the screen reading experience.